Maverick: "I think they have been the happiest days of my life"
After his first contact with the Aprilia, Viñales confesses that he has left the past behind: "We all have the opportunity to leave things in the past."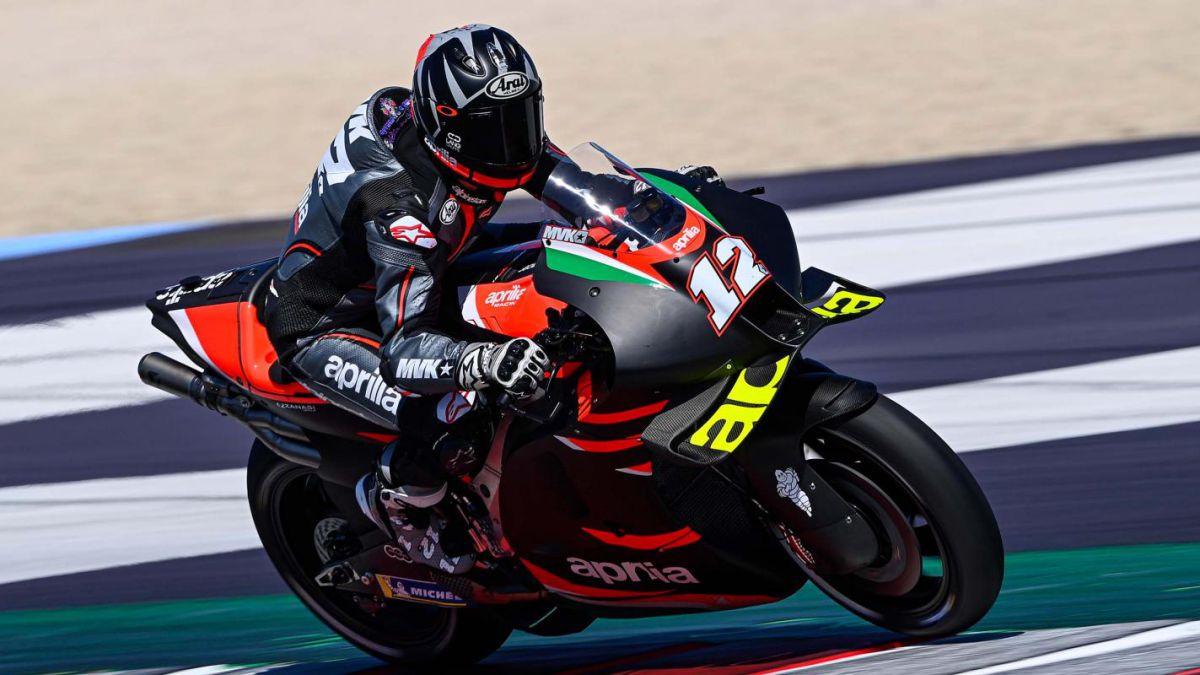 Maverick Viñales was already wearing his new colors. And, also, a new smile. After two days of testing and laps at the Misano circuit with his new Aprilia, the Spaniard gave his first video conference to the press, where he explained the good feelings that, from the beginning, he felt with the Aprilia. Of course, he admitted to being "very nervous" to try a different engine. Not because of the fact of facing his MotoGP career with a new brand, but because he had always ridden with four inline engines and the RS-GP is characterized by the V4.
However, despite arriving "without too many expectations", the one from Roses was pleasantly surprised with his new mount, with which he will already debut next weekend in the MotoGP World Championship. It felt so good that, he says, the third outing on the Italian track was enough to realize that he was ready to race in Aragon. "I realized I wanted to race right away," says Maverick, with a smile that had long since disappeared from his ride on Yamaha.
"I thought it is the best way to prepare for 2022. I am used to riding a completely different motorcycle, but I think that in Aragón I will understand the motorcycle even better. Also, being with Aleix (Espargaró) will help me because it is fast and I will be able to learn quickly how this bike works. I feel strong, very strong. And that is the really positive thing ", adds the one from Roses who, on his second day with the Aprilia, set his best time at 1.32.4, that is, just 1.4 of the record he has held in Misano since 2020 (when he took pole) and half a second of the best time that Aleix set that same weekend, a 1.31.912.
"In testing it is difficult to be really fast, but here I had a Ducati reference and we were close," he adds. In fact, it was even faster than Michelle Pirro, Borgo Panigale's brand tester, also present in the test these two days. On the bike, he indicates that "it is very easy to handle", although he confesses that he still needs much more adaptation. He especially emphasizes that he must "change the braking style" because on the Aprilia he has already noticed that it is very different. But for this, there will be his boxing partner, Aleix, who he says is "very strong when braking." "I have to learn from him," adds Viñales, who does not set limits for Aragon. The goal is to "learn as much as you can" and, if any results come in, "you will be welcomed" .
Leave the past behind
After everything that has happened with Yamaha, this has been the first time that the press has been able to speak directly with Maverick Viñales. For this reason, there was also an interest in knowing how he had lived the whole situation with his old factory. He admits to being surprised to be able to ride a MotoGP already, something that was far from his thoughts: "I was hoping to have to wait until November to get back on a bike. This opportunity is fantastic and Aprilia has given it to me." It even seems, to say the least, incredible that Yamaha let him ride with another brand before the end of the season: "It's fair, we all have to have the opportunity to put things in the past."
"They have possibly been the happiest days of my life, it is the time when I am happiest, because after five years there (at Yamaha), with ups and downs, I did not understand many things," he explains. "After everything that happened, I just thought that I wanted to keep racing, that I would not give up. Until I reach my goals, I will continue with more strength and determination. I will push hard from my first lap in Aragon. Now I know my situation in Aprilia, I have to push hard, I have to keep doing it, "Maverick concluded, already counting the days until the next race.
Photos from as.com