Good debut for Yabusele in a Real Madrid at half throttle
UCAM Murcia was three-quarters superior, but Laso's men were about to give him a scare. Premiere of the four white signings: Heurtel, Williams-Goss, Hanga and Yabusele.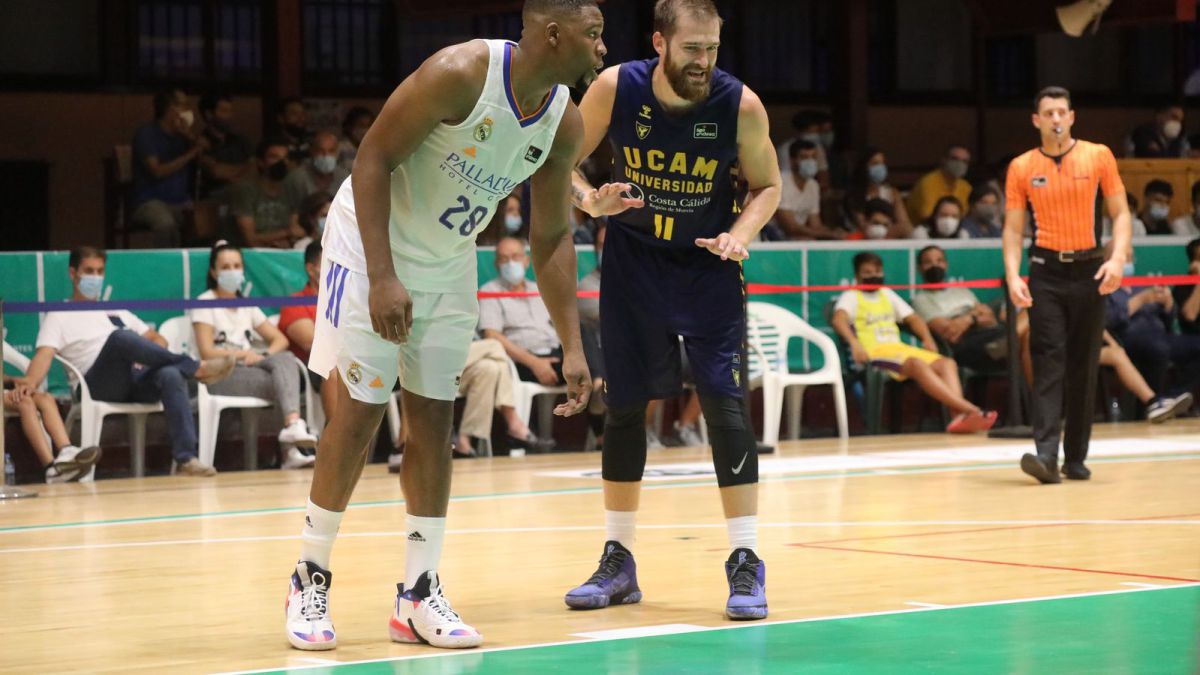 Real Madrid 2021/22 started this Wednesday against UCAM Murcia in Albacete (80-84), although it did so with a little delay. Fabien Causeur scored the first basket of the course when the varsity team had already been ten up (0-10). Later, the French guard chained seven points to reduce distances (7-10). He did it together with one of the four Madrid signings this summer. Nigel Williams-Goss was the starter accompanied by Causeur, Taylor, Poirier and youth squad Vukcevic.
The Olympic internationals, with the exception of Rudy Fernández (he was the innocent hand in the draw for the qualifying Windows for the 2023 World Cup), joined the group on Tuesday, but a day later they were already under Pablo Laso's orders, except Alberto Abalde. At 3:16 to the end of the first quarter, quadruple change of Real Madrid with three premieres (Hanga, Yabusele and Heurtel) and Llull, who put the 22-14 in favor of the whites.
Laso bet on two bases on the track for many minutes and with Poirier, one of those newly arrived Olympians, still somewhat confused, the young Eli Ndiaye (17 years and 2.04) had his moment. A mate of his progressing from the corner made it 26-14 for Madrid. Spectacular! But Murcia, shouting quietly, managed to turn the score around and go four up at half-time (36-40) .
Juan Nuñez, another of the pearls of the white quarry, started after passing through the changing rooms with Williams-Goss. Again two bases on the track. Madrid did not improve in this third quarter and Murcia, with some good minutes from Thad McFadden, went 15 up (41-56), 16 at the end of this round (49-65) .
Madrid was heroic and was about to scare a completely disappeared UCAM. A 2 + 1 by Yabusele (the best premiere of this Wednesday), with a character mate, lowered Murcia's income to only eleven points (65-76). On the next play, another of the signings, Adam Hanga, stole the ball and Madrid fell below ten. Tightening on defense and with UCAM somewhat out of place, Laso's men managed to get within just four points with another Yabusele basket after Causeur's steal (74-78). But Madrid became obsessed with three-point shots and squandered a good chance to get into the game for good with a Williams-Goss shot.
Real played at half throttle, but they have two other opportunities to continue their progression (against Unicaja on Friday and Saturday, rematch against UCAM Murcia in the Costa de Sol Tournament). You will have to improve against the clock. In 10 days the season starts with the first title at stake. Tenerife awaits the 11th in their Super Cup.
Photos from as.com