"I asked to train in my position and Cholo and Miguel Ángel thought it best for me to leave"
Saúl connected with Ibai Llanos on his Twitch channel: "A player of my name and getting out on loan is a gamble. It doesn't make any sense to go out, but I need to find myself again."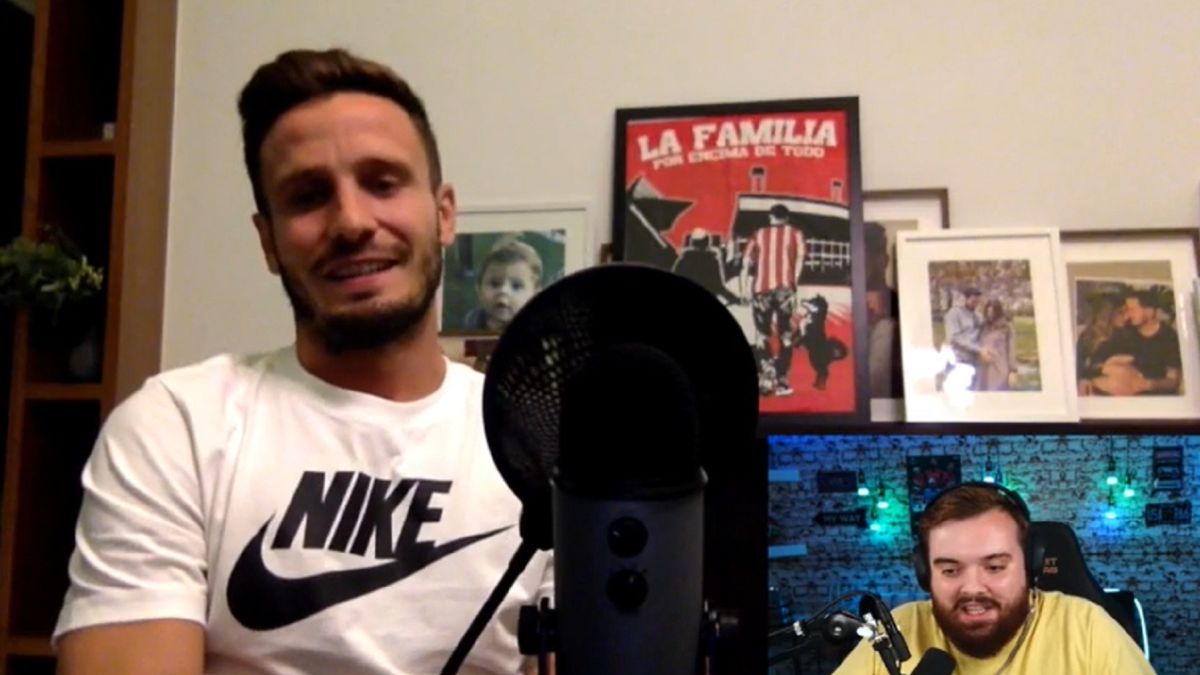 Saúl connected with IbaiLlanos on his Twitch channel at 1:45 am, shortly after his assignment to Chelsea was made official. He stayed until 2:22 a.m. He reviewed all the reasons that led him to make the decision to go to the blues. He acknowledged that the transfer was forged on Tuesday and that he will wear the number 17 of Stamford Bridge: "When I played with Atlético happily, I did it with 17. They gave me the opportunity to play with this number and I hope it brings me a lot of happiness. I was like my partner De Gea in his day with the fax. It has been a very long night ".
Reasons for leaving. "I don't know if I would endure a season like last year or two years ago. I know I could have been happy for a few days or a few weeks at home. But I needed to find myself again and the possibility of Chelsea arose, a true European champion. It is the most complicated thing, the decision to leave, because I am leaving alone without my wife or my family and hardly knowing English. "
Conversation with the Cholo. "He and I are older, we make things clear talking. I go out to a great club that bet on me. Tomorrow I will travel to London. Now what I want is to train in my position; because then play, the player plays. I want to resume other movements and positions that I did not perform from another position. It is the most important reason for my decision. Even though I leave, my relationship with the coach and with the club is magnificent ".
Presence of Kepa. "It is very important that he be here. It is an important step. If he had not been there, it would have been different. Going on loan for a year and having a partner with whom I have been spending many years in the lower categories of the National Team is a guarantee" .
Target. "It is to go and try the experience. I have not wanted to think about the afterlife, because if the situation did not become complicated. The idea is to compete and find myself. See the Saul that I want to see. It was frustrating. I wasn't able to show people what I was capable of. Not learning, not improving and not growing was frustrating. I think this decision can help me unblock myself. "
Bad moment at Atlético for the position. "It is very hard to leave your house. A boy who comes from the quarry and see that the people you love, who give everything on the field, did not value me was hard. I wanted to be the Atleti player with the most goals in the Champions League of Atlético, but if I didn't play in my position it was difficult. Now, leaving my comfort zone, I'm going to make a new Saúl emerge. That's what my father told me, they could tell me I was playing badly or well, but they couldn't Telling me that I hadn't given him everything on the field. And not showing what I did before, generated more frustration ".
Difficult moments in the handover. "My position in this transfer market was that all the options were good. Being at Atleti the option was good and going to Chelsea, too. Staying at Atlético, even if I play different positions, was not a problem. I asked to play as a full-back, center-back or whatever, I would have done it. Despite the fact that at the beginning of the summer the club was looking for a way out for me, I have played these three games without thinking about whether I was leaving or not. My goal was at Atlético. Today I am a Chelsea player and I just think about giving it my all ".
Uncertainty with the deadline. "It was as is, at the last moment. At 57 (minutes) we have finished seeing the contract and signing it and they had to review it there. I was like my partner De Gea in his day with the fax ... He does not enter, he does not enter ... It has been a long afternoon and night. "
Decision to exit. "First the Barça thing came out, but nothing concrete came to me. In the preseason it was every day the question of the trick with Griezmann. In the end the press talks a lot, but they are not worried about the damage it generates, or what they usually do. When the Chelsea thing came out, I saw certain things that showed me what he was saying. Last year I had a conversation with the coach and Miguel Ángel, I asked him to train in my position, despite not playing, which did not matter so much to me. to find my situation, when I told him that; they thought the best thing was to go out. I asked to train in my position. It is at least my vision of the matter (since Ibai asked him about this matter) ".
Bet. "A player of my name and being loaned out is a gamble. It doesn't make any sense, honestly. It's an investment in me. It's a gamble to be me again. These last three seasons have not been easy for me or my family. The pity is that I have not been able to say goodbye to the rojiblanca fans, explaining a little my version of how I feel and how I have felt. I think that both parties came out winning, because Atlético brings one of the best players in its history and I, well, let's see if I come out winning. Chelsea have a hell of a team, let's see how we connect because for my partner it will not be easy to connect either ".
Photos from as.com