Westbrook and the Lakers: "It seems unreal ... I'll take Kobe with me"
The point guard, happy in his presentation as a new Lakers player: "This is the team for which he wanted to skip class to celebrate his titles."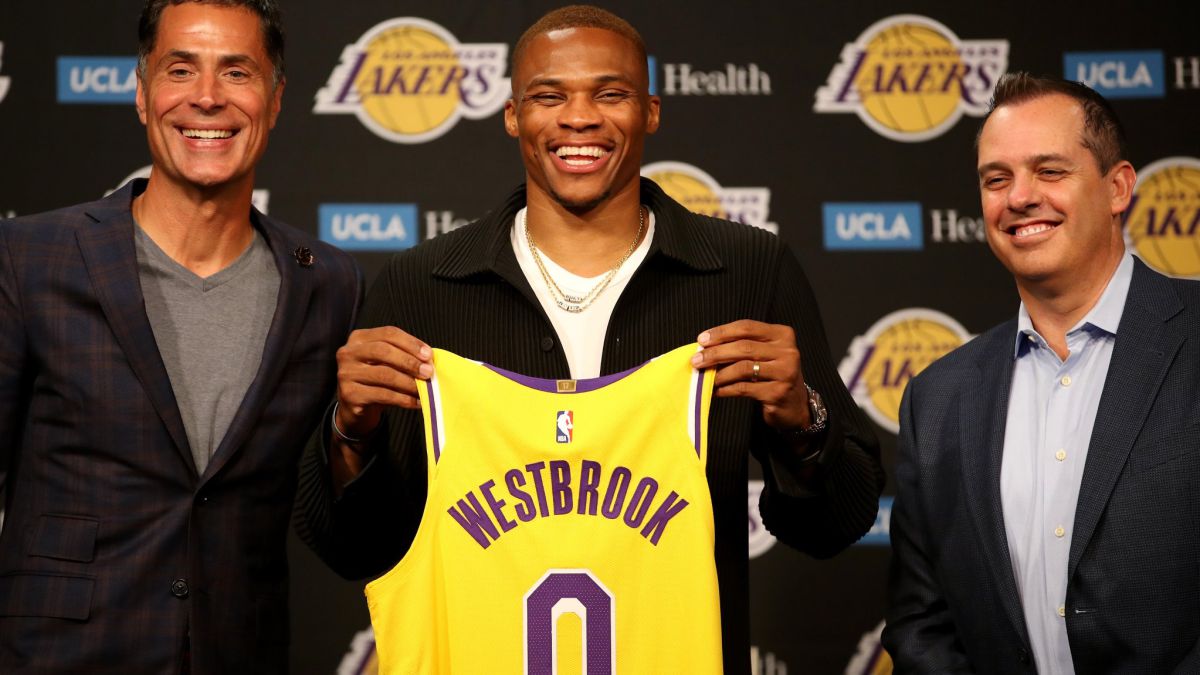 Russell Westbrook has spoken, for the first time, as a player for the Los Angeles Lakers. A phrase that would have seemed science fiction not so long ago, but now a reality. The point guard reaches 32 years, and after thirteen in the NBA, to his city. He was born in Long Beach and played at UCLA before being drafted in 2008 (No. 4) by the Seattle Supersonics, the team that would become the Oklahoma City Thunder weeks later.
MVP in 2017 and a nine-time all-star, and Olympic champion in London 2012, Westbrook lands in LA after a difficult stage in which he has gone through three teams in three years: Thunder, where he closed a great stage, Rockets, where he did not work out his union with James Harden, and Wizards, where he played at a very good level but came out abruptly when the possibility of joining the Lakers occurred. He will play at home, play with LeBron James and Anthony Davis… and play for the championship ring that he has yet to win. In fact, he has only played one Final, and it has already rained: in 2012, with the Thunder.
In the Westbrook presentation, Rob Pelinka (Lakers boss in the offices), stated that the Los Angeles team was rubbing their hands: "He is an incredible leader. There are few players so loved and respected by those who have played with him. His arrival was an opportunity to make an aggressive move to position ourselves in the fight to win the 18th franchise title. In terms of competitiveness, it is elite. When he averaged a triple-double… there weren't many players in the NBA that Kobe Bryant felt truly represented his Mamba Mentality. But that year I remember praising that a lot at Westbrook, his way of playing. "
Frank Vogel is the coach in charge of making Los Angeles' new big three work: "I think we have a real chance to do something very special. We have three players who are capable of doing everything… who always make the right play. I think we are going to be a very dynamic team in transition, that we can do something special… but now we have to get to work ".
Westbrook, meanwhile, embraced his connection to his new team. On his friendship with Kobe: "It's incredible if you stop and think about it. Every time I put this shirt on, it is something that will be present ". And because the Lakers are the team I saw celebrate titles in their childhood: "I'm really happy and grateful. I can't wait for us to get going. It seems unreal to be here, it's like I still don't realize it. Three or four years ago I would not have imagined something like this, it is impossible to assimilate. I'm going to give it my all while I'm in this franchise. For someone from Los Angeles… you always want to play at home. It is always something you have in mind. Now I'm here and I'm going to make the most of it. It's the team that made him try to skip class to celebrate his titles. I come home, I want to inspire and help people, especially young people. "
When it comes to sportsmanship, Westbrook made his competitive mindset clear: "I don't care about any other team." And he spoke of his fit with LeBron and Davis: "Davis and LeBron, to begin with, are my friends. Now my job as a teammate is to reach out and elevate their game, just as they will want to do with me. And as the season progresses, we will hit the key. There will be better and worse moments, but it is normal. We will find a way to play to fight to be champions. I am looking forward to all of us working together. "
Finally, the point guard assured that he has nothing to prove: "No, I am happy for everything I have achieved so far. I have been lucky enough to play in this League ... in fact, as soon as I was drafted, I was already showing many people that they had been wrong with me. "
Photos from as.com