Vinicius, luxury lifeguard
The Brazilian, with two goals, gives Madrid a point in a crazy game that they could win and lose. It also led to the expulsion of Aitor. Vezo finished as a goalkeeper.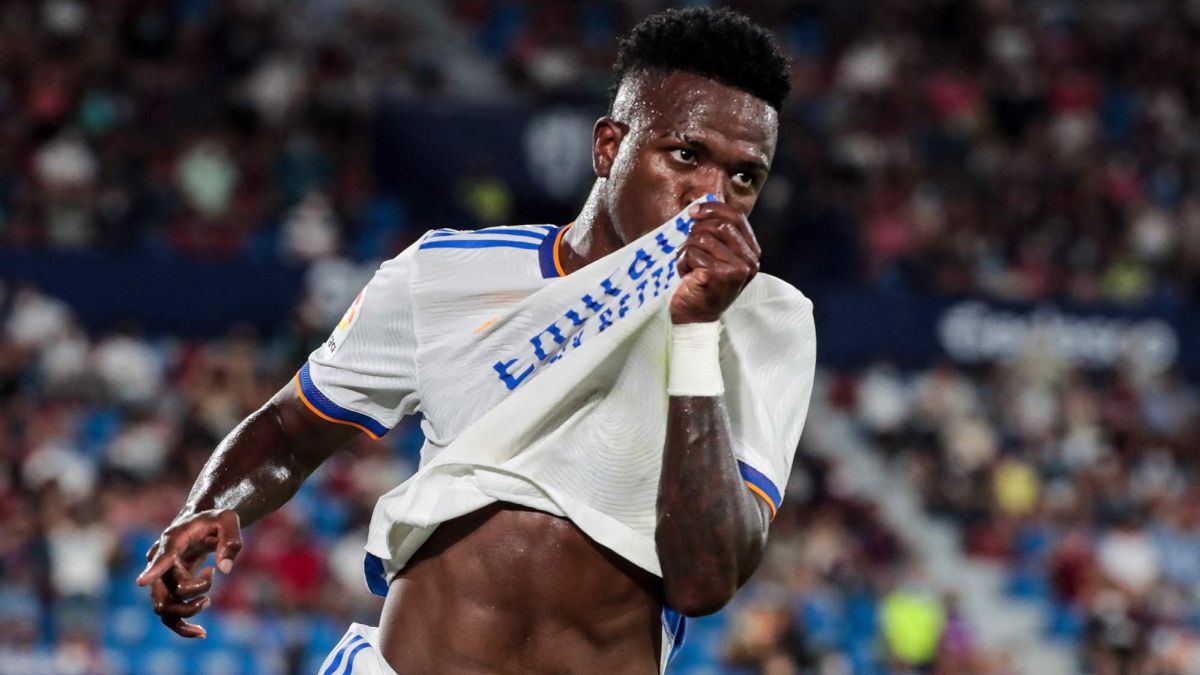 It was a crazy game and in that environment no one is better than Vinicius, who is no longer a mischievous winger but possibly Madrid's best solution. In half an hour he took the team out of the well twice with two sensational goals, especially the second, and caused the expulsion of Aitor. Levante did not win because of that hurricane, which was also a seesaw team. That lightning bolt without a goal went to bed as a top scorer playing for little moments.
The thing is that Mbappé does not spoil anything before he comes to fix everything. Hence, Ancelotti muleted the matter until it was removed from the locker room. And he knows that if the matter does not work, he will have to throw, with that soft hand that has given him three Champions, of what there is, an almost invincible team if it returns to what it was, but it does not seem so. Read: if Hazard, in an anatomical acrobatics, takes his ankle out of his head and he hasn't done it yet; if Bale puts Madrid ahead of Wales and golf, in that order; if Valverde returns where he left off a year and a half ago; if Benzema happens to be a forward and not a forward; if Pintus ends the muscle pandemic; and if Isco finds the goblin. Ancelotti sees the man from Malaga more recoverable than Zidane and offers him a train that perhaps he no longer expected. This time his mission was, due to the casualties, of a midfielder, a role that allows little fantasy, but made it clear that it is another. It grew until it became the party's highest authority.
The left-handed Bale
El Levante is a good example of false modesty. Don't wait for him in your area showing off your toughness. There he has no escape. His football is pressing, vertical, with two supersonic extremes, De Frutos and Morales; a crafty striker, Roger Martí, and a very absorbing midfielder, Campaña. Players all who have been on the edge of the greats.
Without Modric or Kroos, it was difficult for Madrid to come out of the very high Granota pressure, but in the first break they took advantage. Alaba threw Benzema, who from the left beat Vezo's back; the grass slowed the ball and changed the pace of the play. He waited, slashed, and searched for Bale's left. The Welshman's auction was final. The sword was always his forte. A good goal, the first he has scored with Madrid in 19 months, without the justification of the game, which had been scored by Levante.
Change of wind
Paco López's team actually had more uproar than substance on his departure. He opened the bands well, he recovered quickly, he had a certain joy, but he did not leave a mark in the area. And that encouraged Madrid, who touched the second goal in a shot that was botched by Bale. The pass was from Valverde, with Isco and Alaba, the best white bra. After half an hour, the Austrian tried it from afar, to whom the band seems little. Wait for him in any area and with solutions for everything. A luxury signing. On the other side was Hazard, once again insignificant in a team that went to rest in a gale version. Levante arrived at the equator asking for the time.
And yet, on his way back, he found himself tied, in a mistake by Lucas Vázquez that enabled Roger to pass Melero. Courtois didn't deflect the striker enough. And then the gale was the Levante, which went from besieged to assailant. And he turned the game around with a tremendous Campaign volley. A lightning comeback from a team with constant mood swings.
Ancelotti then hit the steering wheel with Carvajal, Asensio, Rodrygo and VInicius, already with time blowing his face. All those who entered make their fortune in space, the only thing that a locked up Levante no longer granted. Still, Vinicius, who deserves another treatment, reached the tie at the sprint. But behind, Madrid became a sneak and paid dearly for another mistake. Pier put Levante ahead again until Vinicius was the lifeguard once again with a goal of great art, in a subtle touch without an angle that he touched on the post, and he even had time to cause the expulsion of Aitor. Vezo ended up as a goalkeeper pleading that that Brazilian spark would not take him away. His substitution can no longer hold the stripes of Hazard or anyone else.

Photos from as.com