The Doctor announces at Spielberg's Red Bull Ring that this will be his last MotoGP season and that he will not race next season, now 43, with his own team.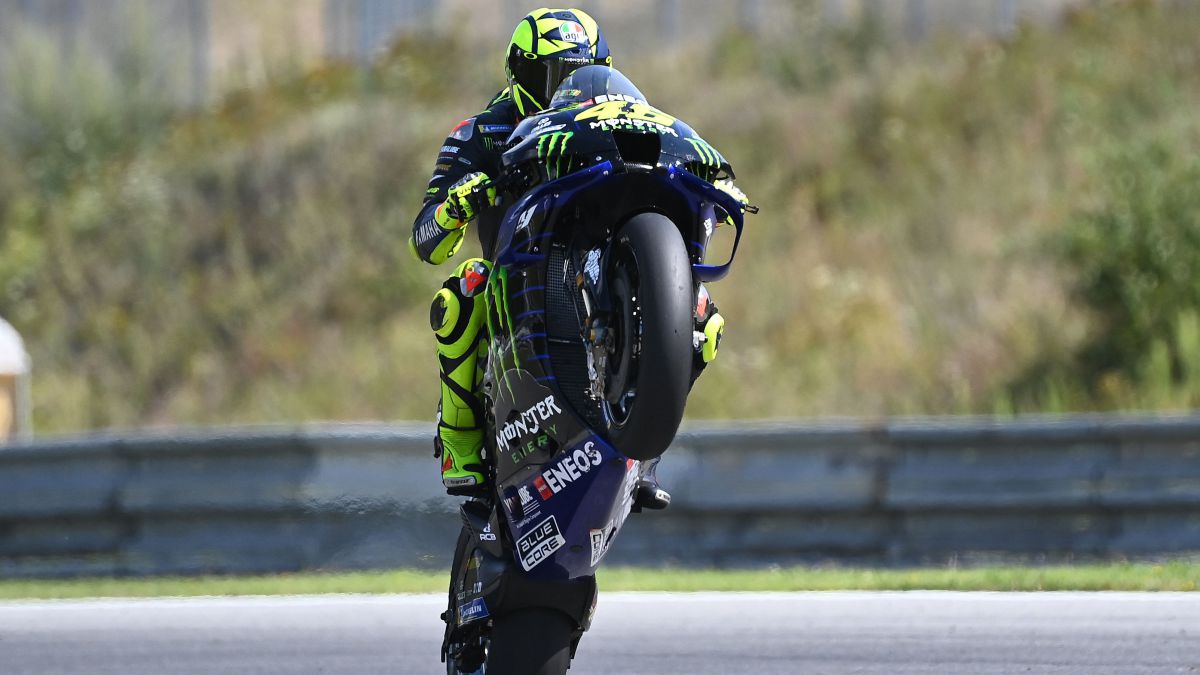 Valentino Rossi retires. His enormous history as a rider will come to an end at the end of this season, his twenty-sixth in a Motorcycle World Championship which he arrived in 1996 and in which he has won nine world titles (6 in MotoGP, 1 in 500, 1 in 250 and 1 in 125. ) and 115 wins in GGPP.
Valentino Rossi retires from MotoGP: press conference, last minute and reactions today, live
At the age of 42, the Italian genius from Tavullia, for many the best rider in history, has decided that the time has come to hang up the jumpsuit. He gave himself until the summer break to decide and, although he had the option, and the pressure from his own team's sponsor, the Aramco Racing Team VR46, to continue active in 2022, at 43 years old, on the back of a Ducati and Sharing the box with his brother, Luca Marini, he understands that it has come to an end and that the Valencia GP, scheduled for November 14, will be the last he will contest.
This was stated in a highly anticipated press conference on the Austrian track with which the Styrian GP began. Word from World Heritage: "I have decided to stop at the end of this season. Unfortunately this will be my last season as a MotoGP rider. It is a sad moment, because it is difficult to say that next year I will not be racing. The year My life will change, but it has been fantastic, it has been a long journey that I have enjoyed very much. It has been 26 years in the World Cup and it has been a lot of fun. I can say that I have lived unforgettable moments with all the people who have worked with me " .
After the impact of news that was more or less expected, he added: "I have had a very long race and I have won many races. There have been unforgettable moments and I have enjoyed it to the fullest. I could spend all week smiling at the race I had won. It is a difficult decision but you have to understand that in any sport what makes the difference are the results. It was more difficult because I had the opportunity to continue in my team, racing with my brother and it was something that called me, but it's okay well, I can't complain. "When the question came, AS opened fire asking him to send a message to his millions of followers, and he said this: "First of all, tell them that I have always given everything. I have always tried to give myself to the maximum to be First places. We have had a very long career together because many fans were born when I was already on the track. It has been fantastic all this way because I have had a lot of support from the fans. Sometimes it is difficult to understand, but I am proud of their support ".
On when he made this decision: "I made it during the season. I was thinking of deciding it in the summer break. When I started the championship I was thinking of continuing, but unfortunately during the season the results have been worse than expected."
Plans for next year: "I love competing in cars, just a little less than in motorcycles. Now everything is in process and not 100% decided; I am going to change from motorcycles to cars, of course not at the same level, but all my life I will feel like a pilot and will continue competing ".
More about the decision to withdraw: "Last year I was not prepared to leave MotoGP. I had to get to the point where I had exhausted all possibilities. Now I am calm, I am not happy, because I would continue competing 20 more years, but we still have the second half of the season to try to do my best and I think it's the right decision. "
Another key question is why not continue with your team on the Ducati: "I had an official offer from my team to race next year (laughs). And I had thought about the opportunity to continue racing with my bikes, with all the logistics in Tavullia. It had been a fascinating project, but in the end I decided not to do it for different reasons. I had to change my bike, and if you only have one season left, there are more risks than benefits. "
When reviewing the best moments of his career, he pointed out these: "Throughout my career I have had many difficult moments, but the unforgettable moments are three championships: 2001 when I won the World 500; 2004, when I won with Yamaha; and 2008, because I was 'old' and 'finished'. I had not won the World Championship for two years and with the change of tires to Bridgestone I was able to win two more titles. I think these are the most important milestones of my career. "
On whether he regrets any decision in his career: "I have no regrets. For example, racing with Ducati was very difficult for me, but it was a great challenge. If we had been able to win it would have been epic. I feel a bit sad for not get the tenth title, because I deserved it. I had the level and the speed, and I lost it twice in the last race. But I can't complain about the results achieved. "
His difference with the rest of the MotoGP champions, according to him, is: "For some reason I have been able to bring more motorcycling fans closer, who if it weren't for me they would not know it. I should have done something at the beginning of my career that ignited the excitement of the fans, and this is something that makes me proud. But the cross of this coin is that it makes your life more difficult and puts more pressure on you. But at the end of the day I have enjoyed it. I think the most important thing is that I have brought motorcycling to a lot of people. And I think that's my biggest achievement besides my victories. I entertain a lot of people for a couple of hours on Sunday and that's the reason why I'm a legend. Now the results are not fantastic but fans keep coming to see me. "
Many of us see him in the Olympus of the Gods of Sport, to which he replies: "It's not right for me to say something like that, but if you say it ... The feeling in any case is wonderful. Everyone recognizes me where I'm going , even in the most remote place in the world. And, when you see # 46 anywhere in the world, it is special. Now it is a little different from when I was 20 years old, because at the beginning it has a great impact on your life and you have to knowing how to manage it. Now that I am older, it is something I like. It is a very special feeling that is difficult to explain. "
Any goal racing in cars? His answer: "I have always liked to compete in cars. I started with a kart because Graziano was afraid that I would do it on a motorcycle. Fortunately I made a good choice… During these years I have always trained in a car but I don't know what my level is. It is clear that if you are a driver, you never race just for fun, but I still don't know which cars or which races. Maybe the 24 Hours of Le Mans… but I don't know. "About his bad 2020, he says: "I think it is not due to just one factor but to several. In 2018 I had a great season despite not winning any races. In 2019 I started very well, but something changed. And I don't know exactly what. And last year a bit the same, at the end of the season I had more problems. In any case, the level is very high, the new drivers train harder, but it is a mixture of factors ".
And to top it off, he asks about what he will miss the most once retired: "I will miss the athlete's life a lot. Training every morning to be prepared to compete. It is a type of life that I like very much. Also I will miss riding in the MotoGP and working with my team from Thursday, trying to fix the little details… And I will also miss the feeling of Sunday morning, two hours before the race. you feel comfortable but you like it ".
Thank you for everything and therefore, a World Heritage Site.
Photos from as.com