Ultimatum to the market: pending signings in LaLiga
LaLiga clubs have until today at 23:59 to sign players. In the last hours there are several operations to be solved: Mbappé, Saúl, Koundé ...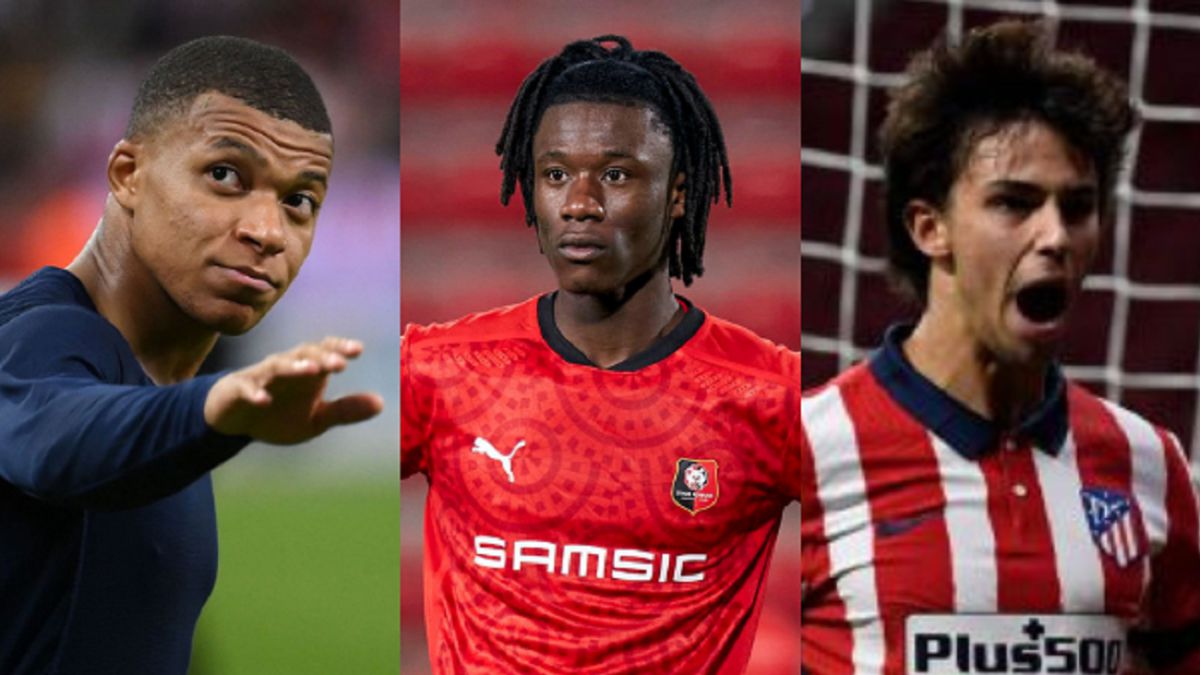 Tic, tac, tic, tac ... One of the most exciting transfer markets of recent summers is experiencing its last hours. It will close at 23:59:59 today. From that moment on, LaLiga teams will not be able to register any player from another club. There is no room for excuses or a fax that is late or breaks. And on the table there are great names and operations to be solved: Mbappé, Koundé, Saúl, Camavinga, Sarabia ... 444 444
LaLiga is experiencing one of its summers with the least spending in history. 248 million euros have been disbursed compared to 418 million last year. Of course, there is an operation that could change everything. That of Mbappé. If Madrid manages to convince the emir for PSG to accept the almost 200 million for the French attacker, LaLiga's spending will double in just one move. It is the great unknown of the summer. If Florentino, as he did with Ronaldo Nazario or Bale, manages to sign him on the horn. Although before the silence of PSG, the whites have pointed to another objective to close the market: Camavinga.
It is also pending in the Metropolitan or in the Pizjuán of possible exits. As are those of Saúl and Koundé. Both look to the Premier as a way out. At the last minute, Barcelona's intention to secure the loan of João Félix was also added. Monchi, a habitual agitator of the markets, could propose a moved closure with several operations as a result of the money that comes in through Koundé. Something that could generate a domino effect and turn the last day of the summer transfer market into a frenzied Hollywood-style stock market session.
The pending operations of each Primera
Real Madrid club. In the offices of the Santiago Bernabéu it seemed that only one operation was being worked on: the arrival of Mbappé. But last night the surprise exploded, the whites have very advanced conversations with Camavinga. The exit operation is, in principle, closed. Several have been those who have said goodbye to Madrid this summer: Ramos, Varane, Odriozola, Odegaard ... And some of those who were intended to leave have not been able, as is the case of Mariano, who refuses to go. He will remain as a reinforcement in attack that will count a priori with a few minutes, since Jovic will also stay and be ahead of him.
Seville. Its market closure is pending the departure of Koundé. If it occurs, they will sign two centrals. Also, they have to part with Pozo, Amadou and Gnagnos. And they also have options to leave the Sánchez Pizjuán if an offer arrives Munir or De Jong y Gudelj.
Valencia: The Valencian team faces the last day of the market without great plans to sign, they will keep an eye on what the market evolves. He is still looking for a midfielder and a band man, but if there are more exits After closing the march of Rubén Sobrino to Cádiz, he hopes to find a place for Diakhaby, Jason, Álex Blanco
Barcelona. Laporta must face different fronts on the last day, such as the departure of Ilaix, who will get away with it and end up leaving the Camp Nou. Emerson's departure is also agreed with Tottenham, for which they have paid Betis 9 million at the beginning of the summer. With these exits, it is possible to raise and make room for a possible midfielder or forward to reinforce Koeman's squad. And one of the proper names is João Félix, as revealed by RAC1. A destination is also sought for Pjanic and Rey Manaj, while Umtiti and Braithwaite aim to stay.
Athletic. Although they expected a quiet last day without movements or scares, they can have a busy day in the Metropolitano. They will have to respond to the request, advanced by RAC1, in which Barcelona requests the loan of João Félix. Of which they already said at the beginning of summer that they will not let him leave. The big unknown is Saúl, who yesterday at the club were counting on him to continue, although Chelsea does not give him up for lost yet. Only if he leaves would a plan B be activated, which aims to be Sarabia. There will be departures, but from homegrown players like Camello, Montero…
Majorca. He keeps trying to sign a '9', a scorer center forward. Regardless of the signing of Kang-in Lee that became official yesterday. On the other hand, he is still looking for a way out for the Norman Alexander Trajkovski.
Royal Society. Except for surprise, Real Sociedad does not plan to do anything in these last hours of the transfer market. In the tickets section, they are only awaiting any opportunity that arises, such as that of Samu Castillejo from Milan. The only thing left is to find a way out to Sagnan, which does not count for Imanol Alguacil.
Osasuna. No more movement is expected in El Sadar for the last market day. The entrances and exits are closed. Arrasate already has the final squad.
Athletic. They try to exit Córdoba. Unai López, who they also wanted to remove, will make a stop in the ranks of Rayo. Nolaskoain is also ruled out, but being injured it will be difficult for him to come out. There will be no more transfers.
Rayo: Despite the goal feast that Iraola's team gave in the last match against Granada, the Basque coach is clear that the team needs to reinforce the team before the market closes: a striker and a central defender are the priority needs . For now, the last movement has been the return of midfielder Unai López to Vallecas. The normal thing is that the equipment makes operations in the closing of the market. Regarding the departures, it is not expected that there will be any news.
Villarreal: At La Cerámica they will experience the closing of the market as if they were watching a movie and eating popcorn. They closed the transfer market a few days ago, after the incorporation of Danjuma. Not even the cession of Cuenca to Getafe seems to alter Villarreal, which faces the market close very quietly. There will be no more movement. Closed Template.
Cádiz: Álvaro Cervera has the forward he wanted: Rubén Sobrino. Now, on the last day he will only look for one extreme, but without pressure. More complicated is the departures section. There are three names that the club has to find a place for them: Malbasic, Pombo and Iván Alejo. The latter sounds strongly to land at Zorrilla, but it has not yet materialized.
Levante: The granota team faces a quiet last day of markets, in terms of tickets. In principle, he does not contemplate making signings. On the issue of departures it is something else. The Levantine team is working to release four players: Pepelu, who is not even registered in LaLiga, Sergio León, who does not count for Paco López, Hernani and Koke Vegas.
Betis. In Heliópolis they need to close a reinforcement for Pellegrini's squad. A right-back is being sought in the market, Héctor Bellerín being one of the candidates. While Sidnei's team is being sought, and with options there are also Joel and William.
Elche. Movement is expected for closure. They have four free chips and are looking to sign two insiders and a goalkeeper. On the other hand, the destination is Guido Carillo.
Espanyol. The parakeet team reaches the last bars of the summer market with the need to sign a midfielder, but without excessive urgency. Regarding the casualties, he has already managed to place Pol Lozano in Girona and hopes to close another loan for Álvaro Vadillo. In principle, it will not be one of the teams that goes the most crazy in this market closure.
Granada. They are more aware of the operation that started since the arrival of Santiago Arias as a replacement for Foulquier. In principle, Azeez is looking for a way out. Without losing attention in any move Tottenham makes for Duarte. If they raise the offer, it could go out. In that case, the Nasrid club should sign a central defender.
Getafe. The azulón team works on Chema and Nyom's exit. After the departure of Cucurella and the arrival of Cuenca, on loan from Villarreal, the market for Michel's team focuses on finalizing the exits and waiting for the development of the last market day to incorporate a midfielder, a wing player and a left back.
Celtic. He wants to sign Murillo, who is already in Vigo to sign his return. In the departures section, you must find Okay's destination in England.
Alavés. Although officially neither entries nor exits are expected, they will try to incorporate a midfielder in the last hours of the market. Although the financial situation of the club makes it difficult.

Photos from as.com