Twelve days to debut and the house without sweeping
The Almeria that Rubi has in September will hardly resemble the one that plays this afternoon against Betis. "We are far from the final squad," acknowledges the Vilasarense.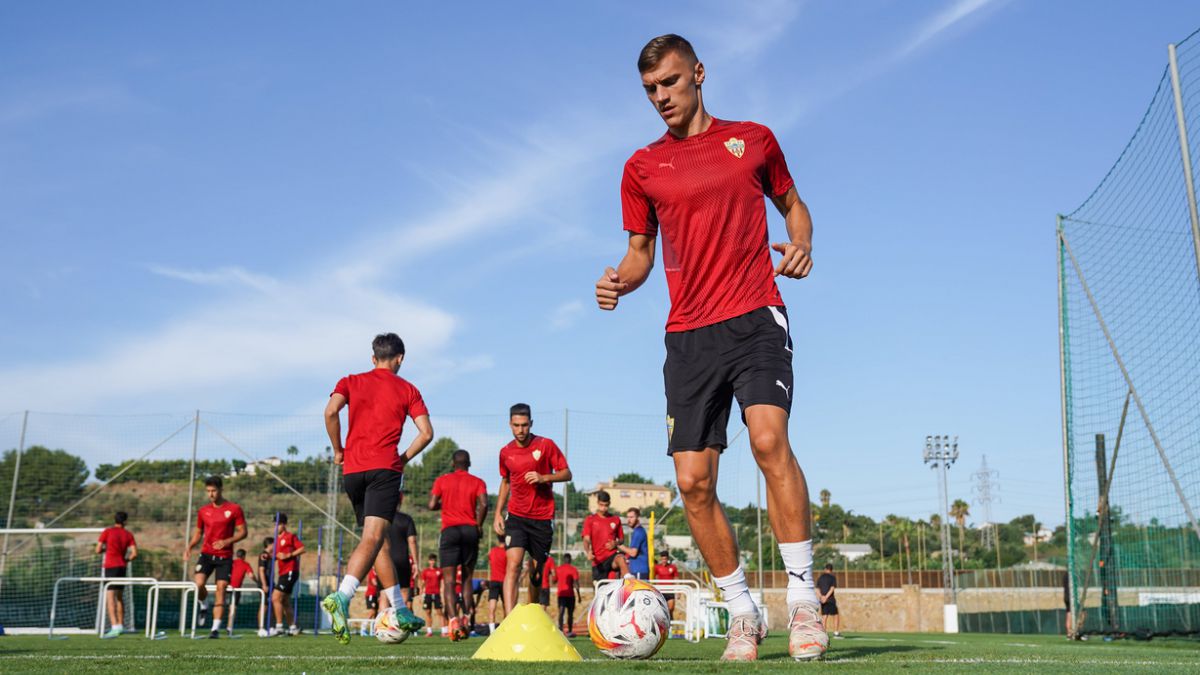 "We are far from the final workforce. I really would like to have it closer to closing than not to having even more incorporations to have for all these hours we dedicate. We will have to duplicate work and speed up processes," he admitted openly last week the Rubi himself. A week later, no more cash has entered the concentration in Benahavís. On July 9, Almería announced the signings of Nieto and Puigmal; the next day, that of Curro Sánchez; and on the 22nd of that same month, that of Portillo. Since then no one else has paraded down the entrance ramp, something that is beginning to worry in the heart of the rojiblanco.
The 'luck' is that the UDA closes the first day, so you can win a few more days. But there are barely twelve days left until the 16th debuts in Cartagonova (10pm) and there is still a lot of cloth to cut as far as the making of the squad is concerned. And that this summer has been the one that the Almeria entity has arranged the longest to prepare the squad: the first year Turki bought the club in August and the revolution had to be carried out in a few weeks, while a year ago Almería He did not know in which category he was going to play until the middle of August, when he fell in the semifinals of a promotion that was delayed for almost a month due to the 'Fuenlabrada case'.
The exit operation was streamlined last weekend, with the marches of Aketxe, Peybernes and Jonathan. However, more than a dozen troops still have to leave the discipline, which blocks the entries, in part because of the large number of players with whom Rubi is working and, above all, because of blocking the salary mass. Although it seems too extreme, the continuity of Nieto, Puigmal, Portillo and Curro Sánchez can only be guaranteed. Of the rest, it would not be easy to put your hand on fire for anyone, although there are players like Ramazani, Robertone or Juan Villar who seem difficult to get out. Maras is also practically assured of its continuity, as well as De la Hoz, for whom the Ibiza has asked.
In goal a new face is not ruled out, although logic dictates that Makaridze and Fernando will once again be the ones who compete for the position. In defense the problems begin, missing a right-handed and a left-handed side, which could be two in the event that Akieme and Centelles end up leaving. Regarding the centrals, there will be between two or three new faces, depending on whether Rubi convinces the sports management to give Juan Ibiza a new opportunity, who likes his left-handed profile. In the center of the field there will also be different entrances, from two to four. Not to mention the wingers and the lead, with Appiah on an exit ramp, which could also lead Sadiq and Lazo, intended by Cádiz. In less than a month it will be verified up to what percentage the modification of the template will arrive in these four weeks.

Photos from as.com