Tour of Spain 2021: profiles, stages and route
Two time trials, seven mountain stages, six flat ... These are the profiles of the 21 stages of the 76th edition of the Vuelta.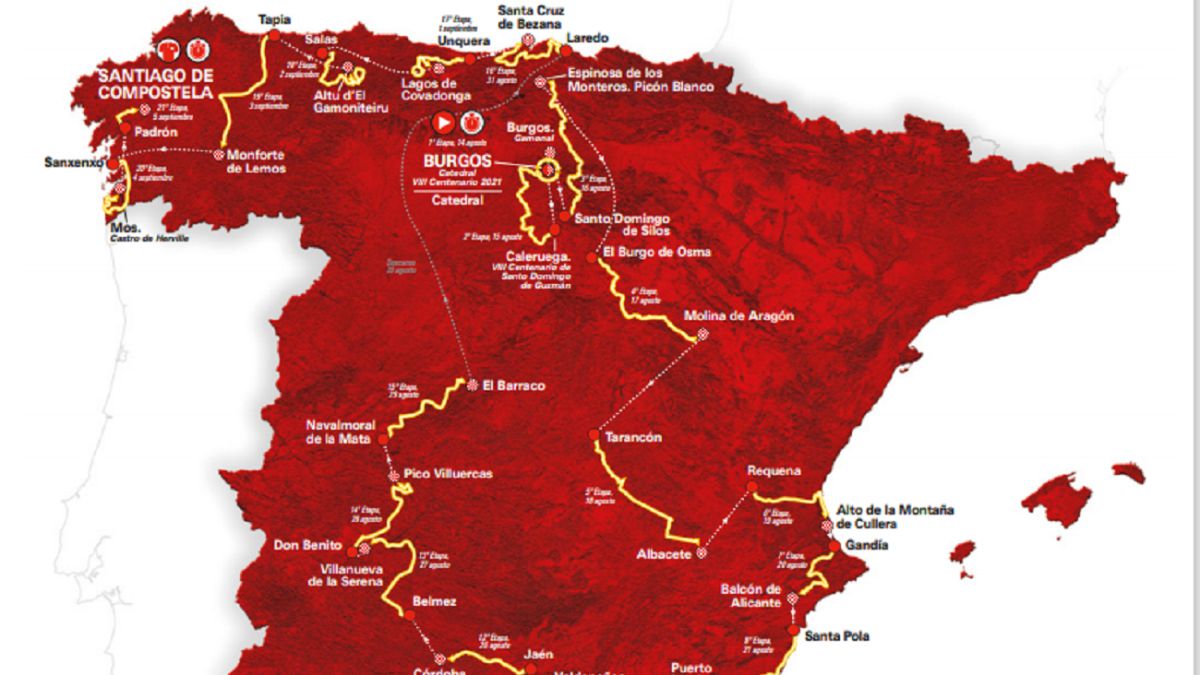 From the Cathedral of Burgos to that of Santiago. The 2021 Vuelta will have 21 stages with profiles for all types of runners and without losing the essence that has been forged in recent years. Days that, except for the times, all will have bonuses in the flying goal (3, 2 and 1) and in each goal (10, 6 and 4). These are the 21 chapters of the 76th edition of the Spanish round:
Stage 1 (Sat. 08/14). Burgos-Burgos. 8 km. CRI
The 2021 Vuelta will begin with an individual time trial with start and finish at Burgos Cathedral. A prologue that, despite being totally urban, will feature the climb to the castle to add spice to the fight for the first red jersey of the race, which will be in a few seconds.Stage 2 (Sun 08/15). Caleruega-Burgos Gamonal. 169.5 km. Llana
The first stage in line will be the first opportunity for the sprinters, so 'mistreated' in other editions. Tour without a single port whose main interest will be to see if the adventurers force the teams to play their cards. If there was little difference in the fight for La Roja, there could be someone who would try to take advantage of the bonuses.Stage 3 (Mon. 08/16). S. Domingo Silos-Picón Blanco. 203 km. Final high
The Picón Blanco de Espinosa de los Monteros at the end makes his debut in La Vuelta after years in the pools. First contact with the mountain for the favorites, with a practically one-port stage, although the end is demanding on a 9 km ascent of around 9% and with ramps that reach 17% .
Stage 4 (Mar. 17/08). El Burgo de Osma-. Molina de Aragón. 163.6 km. Llana
Second option for sprinters after the first high finish the day before. Again, without scoring climbs on the route, but something more winding for the adventurers to try to make any escape successful at the beginning of the Vuelta.
Stage 5 (Wed 08/18) Tarancón-Albacete. 184.4 km. Flat
Flat stage for sprinters ... to endure. Because the day between Tarancón and Albacete, despite its completely flat profile, could be decisive if a strong wind rises that could cause fans. A nervous day if the conditions are right and for level riders, either to shine or to accompany their leaders.
Stage 6 (Thu. 08/19). Requena-Alto de Cullera. 159 km. Final aloft
A final of those that La Vuelta made fashionable: a practically flat day but with an end in a third-rate port. Day in which the fight for the stage is more open than ever and in which the leaders cannot be distracted, since any cut can lose a few seconds that are difficult to recover later.Stage 7 (Fri. 08/20). Gandía-Balcony of Alicante. 152 km. Mountain
On paper, the first key stage of La Vuelta 2021. A mountain day with six passes and a high end at an unprecedented goal such as the Balcón de Alicante, one of the discoveries of the Spanish round for this edition.Stage 8 (Sat. 08/21). Santa Pola-La Manga del Mar Menor. 163 km. Flat
Another flat stage ... with the threat of the wind present. La Vuelta places a day without mountains on one of its weekends, aware that in recent editions the days played at a thousand per hour and with the risk of fans have provided more spectacle and differences than many high finishes.Stage 9 (Sun 08/22). Puerto Lumbreras-Alto de Velefique. 187.8 km. Mountain
Return from La Vuelta a Andalucía in style. Second goal of the round in Velefique that will arrive after a stage: three passes prior to the final ascent of the special category that results in more than 4,500 meters of accumulated unevenness. Big day before the first day of rest.
REST (Mon. 23/08) Stage 10 (Mar. 24/08). Roquetas de Mar-Rincón de la Victoria. 190.2 km. Half a mountain
Perhaps it will be the first day with a clear profile for some escape to succeed. The flat profile of the beginning can make the adventurers open the way and the second category ascent to about 15 km from the finish line, that the teams with sprinters give up trying to control the day.Stage 11 (Wed 08/25). Antequera-Valdepeñas de Jaén. 131.6 km. Half a mountain
One of the slopes 'made in Vuelta' returns to the route: Valdepeñas de Jaén. Mid-mountain stage with two steps through the town and the aspiring winners writhing in the brutal percentages above 20% that this Jaen final has, which is pure spectacle and always gives people talk.Stage 12 (Thu. 08/26). Jaén-Córdoba. 166.7 km. Mid-mountain
Journey that, without being too harsh, the final passes can add excitement to the finish. Whether a getaway is on the way, or if a fit sprinter is able to overcome the climbs to aspire to victory.Stage 13 (Fri. 08/27). Belmez-Villanueva de la Serena. 197.2 km. Llana
The Vuelta leaves Andalusia on the way to Extremadura with a stage with an unprecedented start and finish. Day that does appear clearly marked in red for sprinters. A long day where the favorites must try to regain strength for a mountainous weekend.
Stage 14 (Sat. 08/28). Don Benito-Pico Villuercas. 159.7 km. Montaña
Big day for Extremadura fans. Day with a first flat section and three ascents in the final part, including the premiere of Pico Villuercas, a long ascent (about 15 km), with ramps that reach 15%. A key day for the favorites to the general classification and a desirable booty for the climbers in an unprecedented goal.
Stage 15 (Sun. 08/29). Navalmoral de la Mata-El Barraco. 193.4 km. Montaña
A day with a tribute to a town with such a cycling tradition as El Barraco, a town with names like Arroyo, Chava, Sastre ... Four ports, two of them first class, with Mijares and, above all, San Juan de Nava , 5 km from the finish, as judges of the stage, who should be among the favorites.
REST (Mon. 08/30) Stage 16 (Tue 08/31). Laredo-Santa Cruz de Bezana. 170.8 km. Llana
The last week of the race begins with a flat profile in Cantabrian lands. Its importance will be that it may be the last chance for sprinters throughout La Vuelta, since the absence of the arrival in Madrid takes away that last bullet.Stage 17 (Wed 09/01). Unquera-Lakes of Covadonga. 181.6 km. Mountain
One of the most legendary ports of La Vuelta, Lagos de Covadonga, returns to the route as the outcome of a pure mountain day. But the stage will have another new element: a circuit prior to the final ascent that takes two laps and in which a new pass is ascended in both: La Collada Llomena, with ramps at 14% .
Stage 18 (Thu. 02/09). Salas-Alto del Gamoniteiro. 159.2 km. Montaña
A priori, the most anticipated stage of this Vuelta due to the desire that was the premiere of the Gamoniteiro, a colossus of the Sierra del Aramo (the same as that of Angliru). Very tough 15 km ascent that seldom falls below the double digits in percentage. Etapon with three previous major ports such as San Llaurienzu (1st), La Cobertoria (1st) and El Cordal (2nd).Stage 19 (Fri. 03/09). Tapia-Monforte de Lemos. 187.8 km. Media Montaña
No excessive battle is expected after two mountain stages like the Asturian ones, but there may also be the surprise. A priori, a day of escapes and a lot of fight to be in the getaway for all those teams that have not yet released their locker.
Stage 20 (Sat. 04/09). Sanxenxo-Mos (Castro de Herville). 173.6 km. Montaña
The penultimate stage of La Vuelta, and last in line, will not feature the route of great colossi from other editions. Instead, a route has been devised that in its last 100km is dotted with short but very tough climbs. According to the technical director of La Vuelta, a kind of 'mini-Liège' on Galician roads.
Stage 21 (Sun 05/09). Padrón-Santiago. 33.7 km. CRI
Seven years later, La Vuelta relives its last stage in Santiago de Compostela in the form of an individual time trial. Therefore, there will be no walk for the winner, but there will be a fight to the last meter. Winding route with an initial part uphill and a second section with descents and much more technical. The remaining forces and the way to temper the nerves will be key to deciding the 76th winner of La Vuelta.
Photos from as.com