"We thought Rossi always outshined Maverick"
The Yamaha director admits that, with the move from Italian to Petronas, they expected to see Viñales' potential as a leader take off.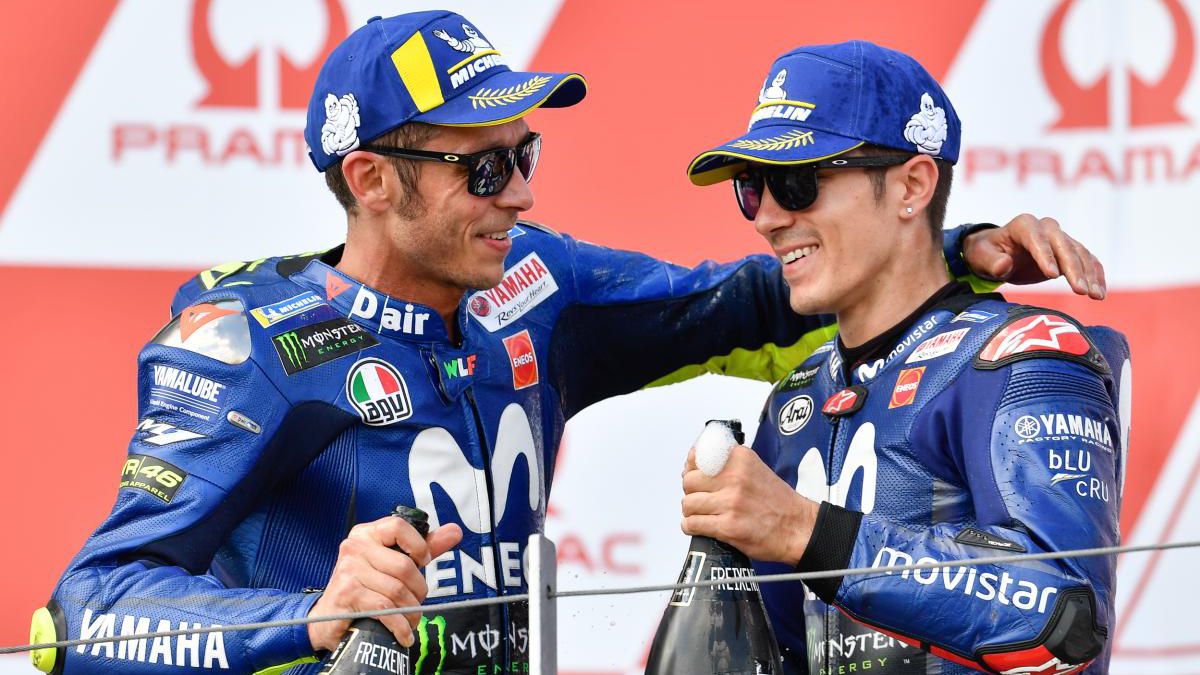 Could Yamaha's fate have been changed? What seemed like a dream team, has become a revolution for the Japanese brand. With a two-year contract more signed for Maverick Viñales, the jump of Fabio Quartararo to the official team and with Valentino Rossi partnering at Petronas with Franco Morbidelli, the manufacturer of the tuning forks seemed that he would be invincible in 2021. Then, they also had Jorge Lorenzo as a test rider and gave the feeling that, with his experience, the brand could develop a very competitive bike, as Dani Pedrosa did (and continues to do) with KTM. But it didn't come out either.
The dream that one day they built, ended up turning into a nightmare in 2021. First because Maverick announced in Assen the termination of his contract with Yamaha and, after the summer break, Rossi communicated his decision to say goodbye to motorcycling with the end of the season. Two very large casualties that the brand will now have to make up for. In addition, it is that only for the moment, Quartararo seems the safest bet of the team for the next few years. Everything else will be a matter of moving parts and adapting them to what suits the brand best.
But what if Yamaha had dropped Maverick to Petronas, instead of Rossi? Perhaps the story had another path and, above all, perhaps a less rugged and controversial ending. However, the question will always remain in the air because not even Lin Jarvis, CEO of Yamaha Motor Racing, has been able to answer the question in an interview with 'Speedweek.com': "You never know. In this world there are many unforeseen events. Ever since we had to make that decision, we've been wondering if we signed the contract too early (Maverick's, which they signed at the end of 2019). "
The Ducati offer that made Yamaha squeeze
A two-year renewal that came practically after Ducati issued a juicy offer to the Spanish rider and that, in addition, ended up in the hands of his representative to value it. However, perhaps keeping him was not the best option, but at the factory they felt that way and, they hoped, that with Rossi's departure from the box, the one from Roses would be able to show off all his potential to finally reach that fight for the World Cup. from which he always hung down. "Two months ago we were faced with the situation that one of our drivers, who has a contract until next year, wanted to leave. We analyzed if we made a mistake in the process, but the deal with Maverick, up to that point, was the best. decision, "added Jarvis.
Y, in addition, Maverick also wanted to continue betting on the project that it entered more than four years ago and that, now, it has had to leave immediately. "Maverick had the opportunity to change teams for 2021 and 2022. A good offer on the table, (that of Ducati) and we all knew the potential of Maverick. At the same time, the transfer of Valentino to Petronas was planned last year putting Viñales as team leader in 2021. We believed that Rossi always overshadowed him and that after the Italian's departure, Maverick could have been very successful ... but that has not happened, "continues the Yamaha director.
And, after everything that happened, Lin Jarvis admits that he does not know if he would make the same decision again: "It is possible that we will not make that decision again, it is difficult to say. If Maverick had followed his line after winning in Qatar and would have returned to go up to the drawer three more times, everyone would recognize that we did it well. We also did not know what would happen with the pandemic and nobody thought that the 2020 season would begin in July ... there are many things that have influenced. Sometimes you win by making decisions already sometimes it gets lost ".
Photos from as.com