"This year has been a gift for me; I will not complain "
Carla Suárez (Las Palmas, 32 years old) spoke with AS after playing her last Grand Slam match, with a loss at the US Open against Collins. "I will miss the fans."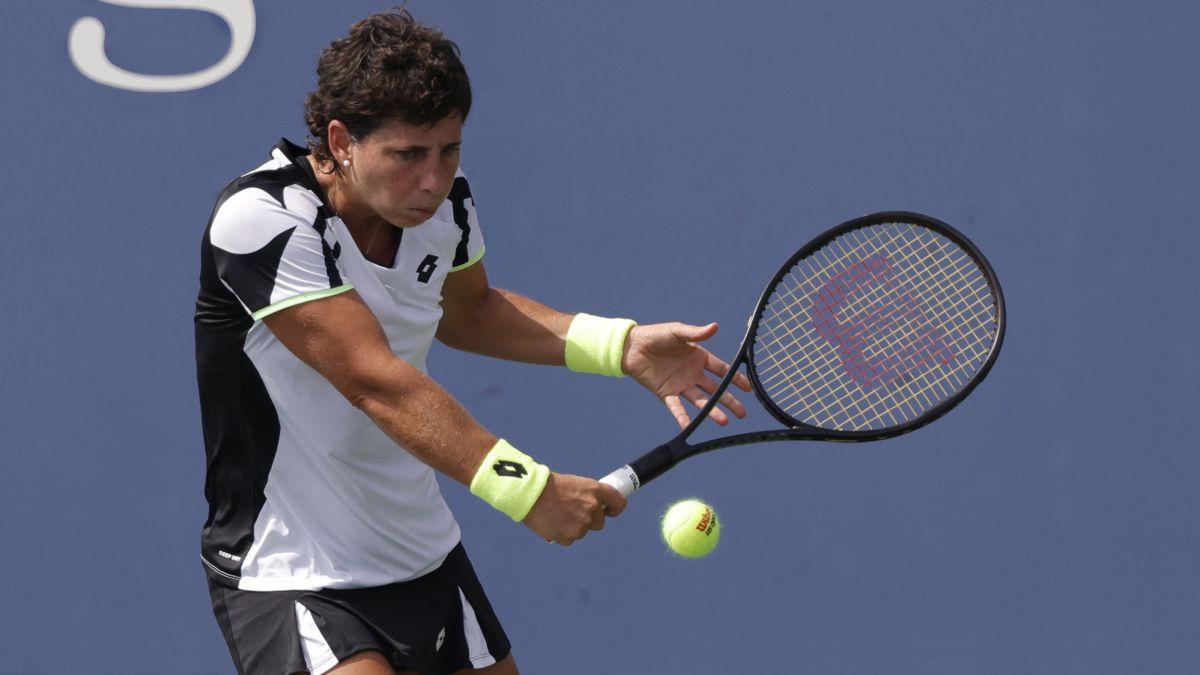 Carla Suárez played her last Grand Slam match at the US Open on Monday and lost it to American Collins (6-2, 6-4). But playing, as he did at Roland Garros and Wimbledon, was already a victory after overcoming cancer. He leaves with a balance in majors of 86-48, seven quarter-finals and the admiration of the circuit. "He showed us all that he overcame a life battle. What is tennis compared to what has happened to her ... ", said her partner and friend Garbiñe Muguruza, with whom she won the three doubles titles that appear in the list of former world number six, in addition to two individual
Will we ever see his one-handed backhand?
Individually it was my last match, but I just found out that I am going to play doubles with Sara Errani, so I will continue in New York. And with the announcement that the Fed Cup Finals will be played this year, I am going to talk to Anabel (Medina, the captain of the Spanish team) and if she wants to take me, I will be available. That doesn't mean that I don't play afterwards, because my teammates, who are doing better than me, have earned it. But I would like to be and if I can compete, fine. I would like to finish the cycle with Spain.
How did you feel on the track?
I tried to take it calmly and naturally. I had some physical problems these days and I couldn't train much. I could imagine it would be the last. There was an audience and I tried to enjoy myself. I'm happy, because this year has been a gift for me, I'm not going to complain.
What is your best memory at a Grand Slam?
I have many. Luckily I was able to win quite a few games. I'd say Mauresmo's at Roland Garros 2008, Australia's with Venus (2009), here in New York in 2018 ... I'm satisfied with what I was able to do.
Any special anecdotes?
More than an anecdote, experiences, fun moments with colleagues, after-meals, sharing time with them and track with the Williams sisters, Nadal, Federer ... Enjoy everything, having been able to play with Garbiñe (Muguruza) and learn from her.
What do you regret and what would you have liked to achieve?
Perhaps from the rush to return after injuries. And sometimes, of choosing the wrong calendar. I tried to have the best possible race, with my tennis and my personality. I would have liked to play a Grand Slam final. Live that experience. It is the thorn that I have left.
What is the best tennis has given you?
Everything. The values that travel gives you, having the privilege of knowing other cultures and enjoying the fans.
What do you think you leave behind?
That will have to be said by others. But I guess I'll be remembered for my setback. And as a fighter who always tried to give 100% so that the rivals had to earn it. To be able to inspire future generations with the values that I transmit. Also that people feel good about me for acting naturally.
What will you miss?
Hit the track and let the fans enjoy me. Being in a central office, having your name called, applauding and having a good time, that's special.
In recent months, the entire circuit has seen her as an example. How have I handled you with that shyness of yours?
I went to the Mutua Madrid Open to train so that people would tell me all the things after the illness and I would not find it at Roland Garros (laughs). It is appreciated. They wanted to let me know that they were inspired by the strength I had to come back and that they wanted to see me again. They meant it to me.
Now what?
I want to rest and disconnect, because between the disease and the pandemic, I have not been able to. I want to get out of the routine.
Photos from as.com