The starring role of Correa
Correa will be Atlético's spearhead in Balaídos. He has barely been able to do preseason, but he puts himself back at Simeone's service.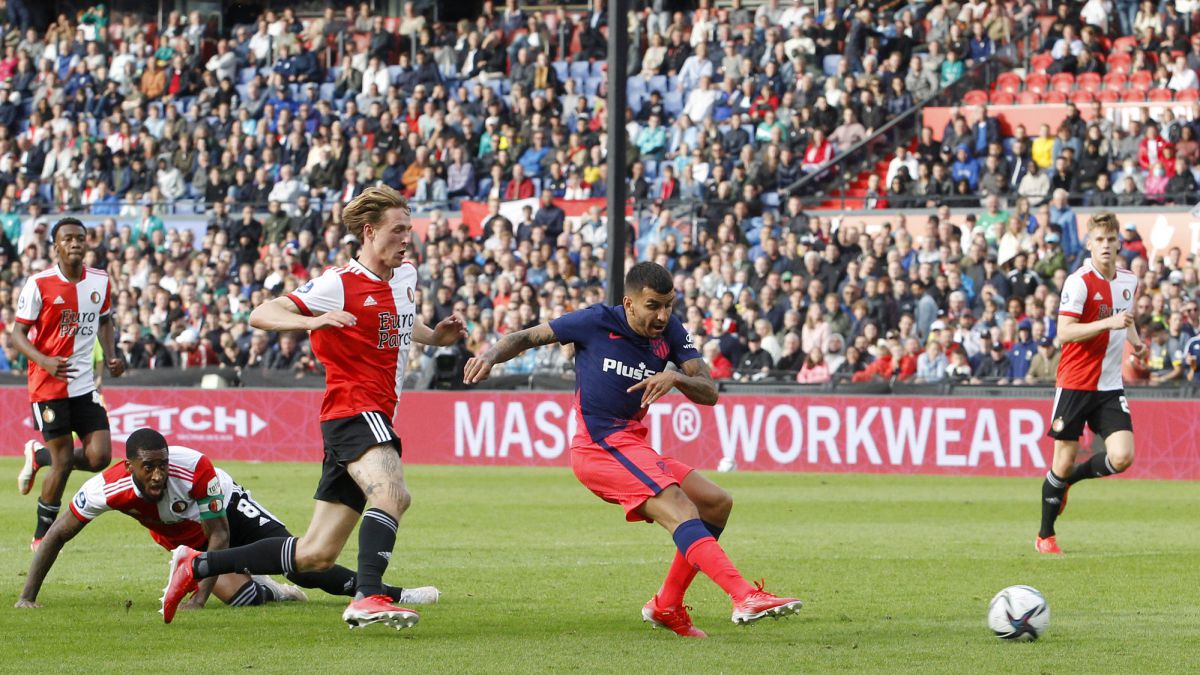 Ángel Correa lives one of the calmest summers he can remember. Champion with Argentina in the Copa América, also with Atlético de LaLiga, and with the poster of an important footballer in the club for which he bet when he left his country. At 26 years old, you can surely say that you have seen your dreams come true. A new league tournament starts, the champion visits Balaídos and Luis Suárez, Oblak and Marcos Llorente are the three footballers who monopolize the media spotlight at Atlético. But Correa has become essential for his coach.
Y to start the championship, he will once again put himself at the service of his coach and his teammates. He returned on day 2 and without doing a pre-season in conditions, he will form on the attack front against Celta. Trippier, Lodi and Luis Suárez, who also joined that day, are not ready yet.
The Argentine's situation contrasts with what he experienced in some other summers, especially in 2019, when he was one step away from leaving for Milan. It was the year of the renewal of the squad and the arrival of footballers such as Trippier, Marcos Llorente, Felipe, João Félix ... In attack the competition seemed brutal with Diego Costa, Morata, João Félix ... They even talked about that even everything was agreed with Milan, but the transfer did not take place. Valencia was very attentive. As also Tottenham, Napolés or Wolverhampton. Correa followed Cholo's orders, for the good of his coach and his team.
With a contract until 2024 and with a market value of 40 million, Correa was one of the men of the last championship. Without raising his voice or believing himself better than anyone, he supported Atlético's attack when Cholo barely had offensive players, João Félix disappeared due to his ankle problems and Luis Suárez also injured. Dembélé barely played and Angelito had to pull the car. He missed sung goals and cried hugging Simeone after some of those clamorous mistakes. But his feints, his mobility and his goals gave Atlético the title. And it is already known that whoever laughs the last ... 444 444
Played 48 games (38 in LaLiga, eight in the Champions League and two in the Cup). He scored nine goals, all in the league championship. And he gave 11 assists, eight in LaLiga, two in the Champions League and one in the Cup. He played all league games. He did not miss a day. Playing at the top, near the goal (where he likes it the most) or on the wing, in a more sacrificial job. Even in some moments of right back. The boy who arrived at Atlético in the summer of 2014, and who cost eight million, is now a first sword. Surely when you look back you will remember that heart operation in your first season as a rojiblanco that could have changed your life. He recovered with courage and heart and now he is the first to enlist against Celta.
Photos from as.com