The kids who beat the Dream Team: "They looked like children ... but they kicked our ass"
The mythical team, undefeated in official matches, lost once: "They didn't say anything like little stars. But the next day we played and we didn't score a point."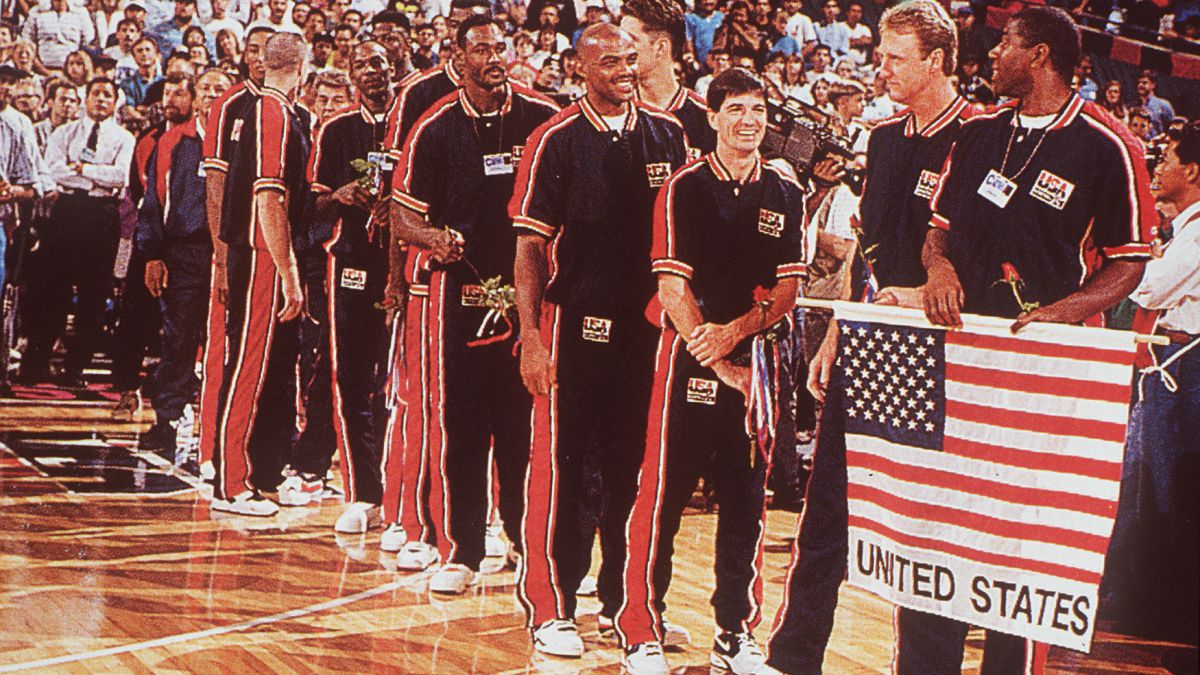 The Dream Team changed the history of basketball. The team that the United States, when it went on to bring NBA professionals to the Olympic Games, presented in Barcelona 92 marked a before and after: the great American League then became a truly international competition and world basketball began to develop already shorten distances, with more and more presence of their players (those who grew up watching that dream team) on American soil. That team was turned into something like the gold standard, a symbol of perfection and the greatest gathering of stars that basketball has ever seen and, surely, the entire world of sport. He is no more.
Let's remember that Chuck Daly (the father of the Detroit Pistons Bad Boys) and some fancy assistants (PJ Carlesimo, Mike Krzyzewski and Lenny Wilkens) led many of the best players in history: Magic Johnson, Larry Bird, Michael Jordan, Charles Barkley, John Stockton, Karl Malone, Patrick Ewing, Scottie Pippen, David Robinson, Clyde Drexler, Chris Mullin and Christian Laettner, a college golden boy (star of Duke) who later fell short in the NBA, although later From being number 3 in the draft in 1992, he became an all-star five years later (1997) .
The Dream Team covered the Tournament of the Americas-Olympic Games cycle as a whirlwind on the track and as the ideal public relations agent that moved the conquest of the world by the NBA. In the minor (but qualifying) Tournament of the Americas the balance was 6-0 with victories by margins between 38 points (the lowest, against Puerto Rico) and 79 (the highest, to Cuba). In Barcelona (at the Badalona Olympic, actually), that collection of legends won it all (8-0) with their tightest victory by 32 points, in the final against a fearsome Croatia against any mortal team. The average in those eight wins was +43.8. A roller in times when the NBA was light years away from everything else.
Charles Barkley was the top scorer for that unforgettable Team USA (16.3 points per game). Karl Malone scored 14.8, Chris Mullin 14.3 Clyde Drexler 13.8 and Michael Jordan 12.7. Nobody had to force the machine too much on a team that never lost ... except for a tiny, minimal and forgotten asterisk: a pachanga against the so-called Select Team, a batch of college stars who were cited as sparring and who defeated their idols. It was only a 20 minute game, but it shocked everyone. Michael Jordan rested, the Dream Team still did not have a single automatism, the boys took it as if it were a final ... and they won. It is said that for eight points and it is said that for a final 62-54. But there is no certainty because, in order to spread a thick veil, the flag of the pavilion was ordered to be set to zero before the press (who had not been able to see the game) entered again to speak with the players.
That team was no small feat and was led by Georg Raveling (then at USC) and Roy Williams (who led Kansas before his nearly two decades in North Carolina). The players were (all ages 19-21) Anfernee Hardaway, Grant Hill, Allan Houstn, Bobby Hurley, Jamal Mashburn, Eric Montross, Rodney Rodgers, and Chris Webber.
Some were later big stars of the NBA: Webber (number 1 in the draft in 1993, five times all star), Grant Hill (injuries stopped a career that pointed to legendary), Allan Houston (a big star with the Knicks at Madison ) and Penny Hardaway, another stopped by injuries but who paired with Shaquille O'Neal in some Orlando Magic that could be champions. The least fortunate was Bobby Hurley, an excellent champion point guard with Duke who later went to the bench (like his father) since a traffic accident cut short his NBA career. He now directs Arizona State.
The Dream Team began to materialize at the end of June 1992 (at the end of the month it played the Tournament of the Americas), at a luxury hotel in La Jolla, just outside of San Diego. Kryzewski, who later led the Team between 2005 and 2016 (three Olympic golds), recalled years later the first advice given to him and the rest of his assistants by a Chuck Daly who had come from competing to the maximum in the NBA and knew the character of the superstars they had to cast: "He took me and PJ and told us we had to learn one thing to start. We took the notebooks to take notes but he told us that we had to learn to ignore. That with the university students we were aware of everything and taking care of every detail but that there were adult men here and that we would only meddle in their things if something fat happened ".
Chris Webber, for his part, was happy when a limousine picked up him at the airport in which Larry Bird was also traveling, with whom he was able to talk about basketball all the way to the meeting place. As soon as they got their foot there, Bird sent him one of his usual messages: "He was a great guy, we talked about what it was like to play against the Pistons, different movements… but as soon as I got out of the car and was going to get my bags, he told me 'Make sure you sleep well today because tomorrow I'm going to kick your ass and you are going to spend the rest of the week remembering yourself. "
On June 24, the famous pachanga was played, with the young people of the Select Team opting, on the orders of Chuck Daly, for a European style of play, so that the NBA stars were preparing for what they were going to find in Barcelona. "We have never played like this but we had nothing to lose. So we went out on the track, Penny Hardaway made a couple of dunks, I made a couple of long shots and we all picked up the rhythm, "recalled Allan Houston while Hardaway himself, who went all star four times, put out his chest:" They thought that They were going to go out there, warm up a bit at our expense, beat us easily, sign us some autographs and that's it. They did not imagine the talent that we also had ". "The clock ran out, it was a twenty minute countdown, and we stood there not knowing what had happened. Nobody said anything for a few minutes after our victory, "finished Houston.
The NBA did not detract from their rivals and concentration mates when they recalled that stumble: "The first time we saw them we thought they were kids. We were like, 'Hey guys, let's not kill these kids.' And when we wanted to find out, they were already playing like it was a seventh playoff game. And they beat us, "said Charles Barkley while Karl Malone took it as a good humility cure:" We took it for granted that we would beat them and they kicked our butt. Daly took advantage of it to warn us. We wanted to play that same day with them again, but they wouldn't let us. "
And yes, they did play again. Webber remembered it well: "When we beat them, they didn't say anything like little stars, nothing that they let us win or something like that. It was very special, we were so excited that Bobby Hurley and I started racing around the golf course in go-karts at night. But at the hotel I met Larry Bird in the elevator, and he said 'don't worry, tomorrow will be another day'. And the next day we played again… and we didn't score a single point. Not one. Not at stake, not a free kick… we were the perfect wake-up call for them, and they were the perfect reality bath for us ". Of course, the exceptional power forward made it clear that they also took advantage of the stay to ask their idols for everything: "We would go into Jordan's room and ask him for anything, even pending. I took socks, T-shirts ... I asked him for an earring ... I will keep some of the things I have until I die. My grandchildren will have to take them to the Hall of Fame afterwards. It was wonderful, a wonderful time. "
Photos from as.com