The Future Is Here: Cunningham's Metamorphosis
Number 1 in the Draft by Detroit Pistons, the exterior is presented as one of the greatest promises of recent years. Behind, a vital transformation.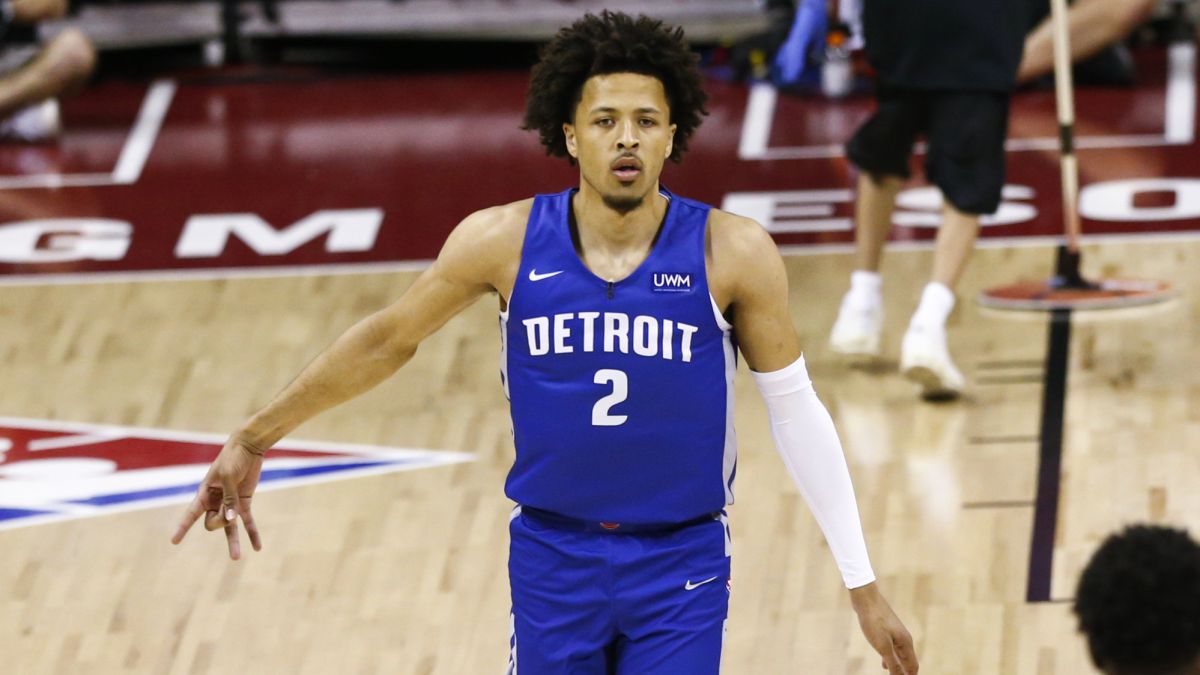 "Perfect day". This is how Allen Gratts, coach of the Bowie High School (Texas) basketball team, called one of his preseason exercises. The instructions were very simple: carry out, impeccably, all the steps involved in a training day. All. From entering the changing room to leaving, through correct footwear or the most extreme punctuality. Nothing at random. "Sometimes it takes four days for the whole team to do well. Other times, it can take up to two weeks," he says. Cade Cunningham was quick to comply. The number one in the 2021 Draft, chosen by the Detroit Pistons, was always meticulous in his actions. A perfectionist to the limit, one of those who can be exasperating. Twelve hours after his college debut with the Oklahoma State Cowboys, he was training, alone, in the team's facility gym. It was seven in the morning on Thanksgiving when, suddenly, Mike Boynton, his coach, heard the bounce of the ball. "These are the little things that show why he is going to be a good player, not only here, but in the future. He is very committed to winning and becoming the best," Boynton himself said at the time.
Now, it is. At the very least, he is the one chosen to lead his litter, one of the most anticipated in recent times. Some point to generational talent; others, an All NBA player; all on a differential basis. Very few doubt. The current is majority and prolonged in time: a path that, apparently, only has one direction. And it is the best. In his first and last college season he has averaged 20.2 points, 6.3 rebounds and 3.6 assists with 43.8% shooting from the field and 40% from the perimeter. At the collective level, it was a qualitative leap for his university. Exactly what the Pistons need, who smile with what they are seeing in the Summer League. He was able to take Oklahoma State to the gates of winning its tournament, something it has not done since 2005, and, in the March Madness, which was reached without great aspirations, succumbed in the second round against Oregon State, after score 24 points in the game.
At a collective level, it brought together some achievements that, finally, escaped; but, on individual merits, he left no room for improvisation. He hoarded everything. He was named, at the same time, best player and best rookie of the Big 12, his conference; a milestone that, so far, had only been achieved by Marcus Smart, Michael Beasley and Kevin Durant. In statistical terms, narrowing down your records is an impossible task. Led Big 12 in scoring; in the past twenty seasons, only Dwyane Wade and Evan Turner have matched his full stat line; his 544 total points are the most for a freshman in the State of Oklahoma ... 444,444
Cade Cunningham convinces when talking about numbers, but also in qualitative terms, something that is not always necessarily linked. It combines beauty and efficiency: it has a star. At 203 cm in height and 100 kg in weight, it is a base of the future that, in an increasingly widespread trend, has just landed in the present. Thanks to its physical characteristics, it can defend practically any position. In attack, your possibilities are endless. It plays the pick and roll well, it generates good shots by itself, via step back, change of rhythm or crossover, it is easy to locate spaces in static and is deadly in one on one. A gale of possibilities. It crushes, by abrasion, through its body, but does not depend on it. It is fluid in its movements and generates fluidity in the movement of the ball. Despite his good scoring records, he is not a player who hogs the ball excessively. He likes to have it and commands from it, but he is also comfortable in long possessions and in rotations that involve a lot of players. He adds up on all the statistical lines very easily, something that has earned him the comparison with Luka Doncic, and, on the court, in many cases, the sticks translate into plays for the gallery. A total player with few weak points, but who, yes, has registered four losses per game in his college season.From forward to base to be "the best player in the country"
Cunningham comes from a sports family. And that has a direct relationship with the player he is today. His father, Keith Cunningham, played football at the University of Texas (Cade, as a child, wanted to be a quarterback); his sister, Kaylyn, a staple, also played basketball and missed almost any of Cade's games in the formative stage; his brother, Cannen, nine years older, is a basketball coach and, precisely, he worked as an assistant in the Cowboys; and his mother, Carrie, has been his main support. Even in the discrepancy. At the age of 16, Cade moved to Florida to join Montverde Academy. There, he was named the best recruit in the country by ESPN or 247Sports, led the team to a 25-0 record with an average margin of victory of 39 points, was designated national player of the year by Mr. Basketball USA ... A new string of achievements that, at first, Carrie did not see with good eyes, but that ended up allowing: "As a mother you want your children to fly. You want to see them achieve all their dreams," she said after allowing her son to walk the aforementioned step.
Keith, Kaylyn and Carrie have had, have and will have an obvious impact on Cade's career, but Cannen completely changed it. At a time when Cunningham's progression seemed to be stalling, his brother appeared to give a rudder. The hit. "A little bit of that comes from knowing that he could be better than me. I always wanted to play on the perimeter. So, I didn't want to see him go the same way as me, feeling, 'Yeah, I have to be a big guy, run and duck. head under rim on every possession, '"Cannen explains to The Oklahoman. Due to his very athletic conditions, Cade played his early basketball years at the forward position. Driven by his brother, however, he began to work to be able to occupy the base demarcation, from where he launches most of his game today. "If you become a point guard, you can become the best player in the country," Cannen repeated over and over to Cade.
And so it was. Not without an effort of important dimensions. The transformation began three summers ago and, in 2019, it became apparent to everyone. Against the prestigious Oak Hill Academy, Cunningham scored 26 points, distributed 9 assists and captured 7 rebounds against Cole Anthony, the current Orlando Magic player and, at that time, the most highly regarded point guard in the university field. "Cade absolutely mastered that game. That's when people said, 'Oh, this transformation is real.' And he hasn't looked back since," explains Boynton.
Up to that point, Cade insisted, insisted, and insisted. Above all, in the work of the pick and roll, an art that is now his most productive tool. "My God, I got tired of seeing crashes," he recalls for The Oklahoman. Cannen, surely, put that spark of genius, the right decision at the right moment; but Cade the rest. The fundamentals and the mentality, since one without the other, by universal law, usually remains lame. Cunningham runs in both. "I hope to be more remembered for what I do off the track, with money and my social status, for how I have helped people, than inside," said this same campaign. Maturity in a body of infinite possibilities and that, in decisive moments, explodes. "When there is a lot of pressure, or whatever you want to call it, I see it as an opportunity," he added. When push comes to shove, his numbers skyrocket: In the second half of all his games, Cunningham has averaged 12.7 points on 49.3% from the field and 44% from 3-pointers. In addition, he added four 20-point second halves, including 20 points in the win against Baylor in the conference semifinals and 25 points in the Big 12 title match against Texas. Who knows if after that routine, the one of the "perfect day". One that, in Detroit, they are eager to meet.
Photos from as.com