The eleven of the third day of LaLiga SmartBank
Iker Bilbao (Amorebieta) stood out, who scored the first goal for the Basque team and Yuri (Ponferradina). Babin (Sporting) was the most outstanding defender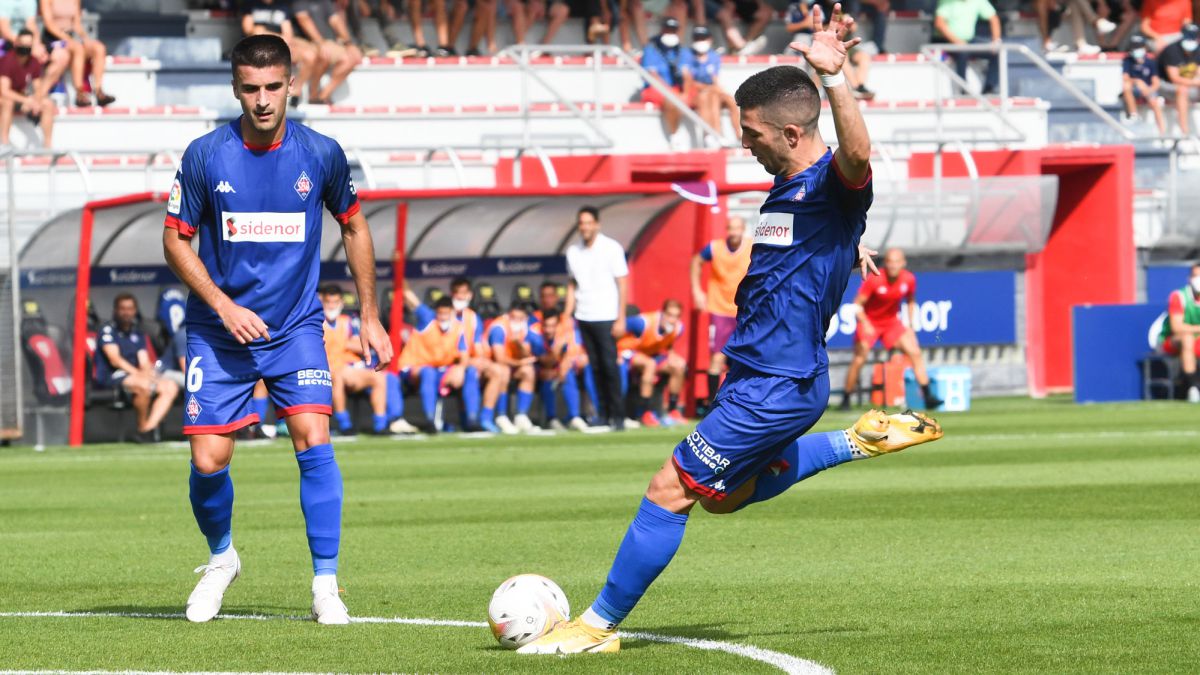 Goalkeeper
The Valladolid goalkeeper was essential in his team's victory. When Lugo had the opportunity to get into the game, thanks to a penalty, Roberto Jiménez was in charge of stopping a penalty from Joselu. The accurate forward of the Lugo team failed to overcome the goal.
Defenders
The specialist in Olympic goals continues to be a very offensive winger who contributes both in attack and defense. His ability to center was essential for Yuri to be in charge of overtaking Ponferradina on the scoreboard.
The French central, former international for Martinique, has started this season just as forcefully back as in previous seasons. On this day, he has also managed to hit the rival goal. His specialty is the header, but this time he hit a right hand to overtake Sporting against Mirandés.
The Eibar defender was the one who caused the play of Corpas' goal. A dangerous pass from the defender was badly cleared by the Burgos defense and Corpas took advantage of it. Toño García is very efficiently covering the hole left by Cote.
The Real Sociedad affiliate is a team that is glad to see you play. Cristo Romero once again gave a lesson in how to defend and attack when the team needs it. The defense of the San Sebastian team was one of the most prominent in the draw against Fuenlabrada.
Midfielders Iker Bilbao (Amorebieta)
Iker Bilbao scored the first goal for Amorebieta in LaLiga SmartBank. The midfielder was in the right place, as in the rest of the game, and connected a powerful shot that slipped into the goal of Almería.
Sporting's '8' regained ownership on matchday three and gave a whole lesson in managing match times. To his good work in the double pivot he added a great goal. Pedro Díaz seems to have recovered his best version to the delight of David Gallego.
The Almería winger put Rubi's team ahead on the scoreboard, although his good goal did not serve to give his team victory. His shot, in a perfect execution, shows that Curro Sánchez is willing to add to the attack.
Forwards
Jesé continues in a state of grace. The Canarian attacker made the first goal for his team in two halves. First he caused a penalty and then, with a great launch, he put Las Palmas ahead. If he maintains this tone throughout the rest of the season, he can be one of the most differential players in the category.
The Brazilian striker is the leader of Ponferradina. Yuri is the best example that experience is one degree, in the case of this forward it is two. You feel important again. He advanced his team with a good header. This may be the opportunity to get the long-awaited promotion. At the moment, he is one of the top scorers in LaLiga SmartBank and has placed his team as the leader.
The saying says that the second parts are not good, but this does not work with Nahuel Bustos. His second stage in Girona has started in an excellent way. He arrived with the difficult mission of making Sylla forget and he is succeeding. Despite the team's defeat against Ponferradina, he continues to be fired up facing the rival goal.

Photos from as.com