The day Ronaldo and Roberto Carlos smoked a cigarette on a break
The two former Brazilian players took advantage of the halftime of a match between veterans of Brazil and Norway played in 2018 to relax with a smoke.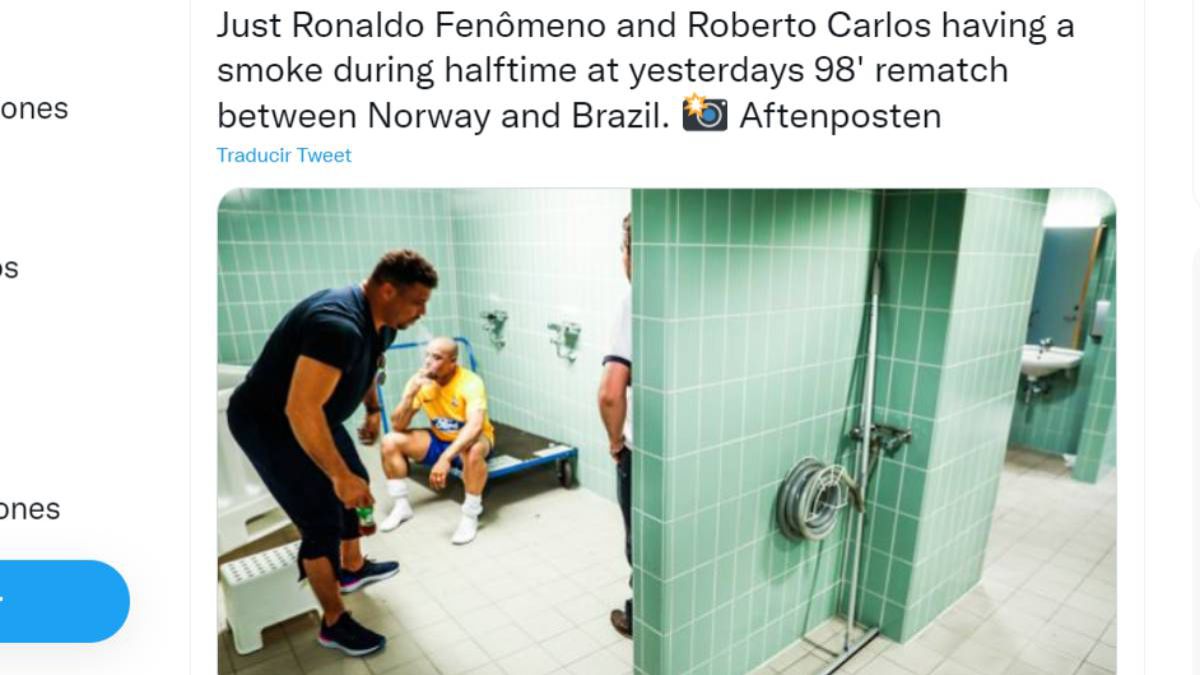 On June 9, 2018, a 'revenge' match took place between former players of the Brazilian and Norwegian national teams, commemorating the match that faced both teams in the 1998 World Cup in France. Ronaldo Nazario attended as Canarinha's coach, while that Roberto Carlos acted as a footballer. At the break of the game, an image reflected the two ex-footballers relaxed in the locker room smoking a cigarette. It was a highly commented photograph that raised some controversy, but years later it is still iconic.
The Norwegian Football Association made this reunion possible 20 years later. Ronaldo attended the meeting as a coach and was able to bring together many of the stars that lit up the world of football for years. "Soccer is incredible and allows us the opportunity to face each other now 20 years later," said O Fenomeno. The Brazilian team attended the match held in Oslo with a good representation of that mythical Canarinha full of stars, such as Dida, Aldair, Gonçalves, Júnior Baiano, Roberto Carlos, Emerson, Zé Roberto, Rivaldo, Giovanni, Bebeto and Edmundo. The Norwegian team was not far behind, it was led by André Flo and neither Frode Grodas nor Kjetil Rekdal were missing among others.
Brazil won by 3 goals to 0 and thus avenged the defeat of two decades ago. In addition, he was able to end a strange curse: the Brazilians had never beaten Norway. In the four clashes between the two teams, three friendlies and the World Cup match in France, there have been two Norwegian victories and two draws.
The miracle of Marseille
The match for which both teams met again took place on June 23, 1998 at the Stade Vélodrome in Marseille before 57,000 people. It was the last match of the group stage of the World Cup held in France in the year '98. Brazil came first in the group mathematically, while Norway needed a victory against the almighty Canarinha to reach the round of 16.
What happened that night in Marseille went down in Nordic football history. Brazil took the lead in the 78th minute after a goal from Bebeto with an assist from Denilson. Norway needed a miracle to win the game and the miracle came. Tore André Flo closed the gap in the 83rd minute and a penalty committed by Junior Baiano and transformed by Rekdal, gave the victory and the pass to the Norwegian team.

Photos from as.com