The bubble trip of the Villarreal fans
Half of the 1,200 fans who will cheer on the Yellows tonight at Windsor Park will travel today and will not set foot in the city of Belfast.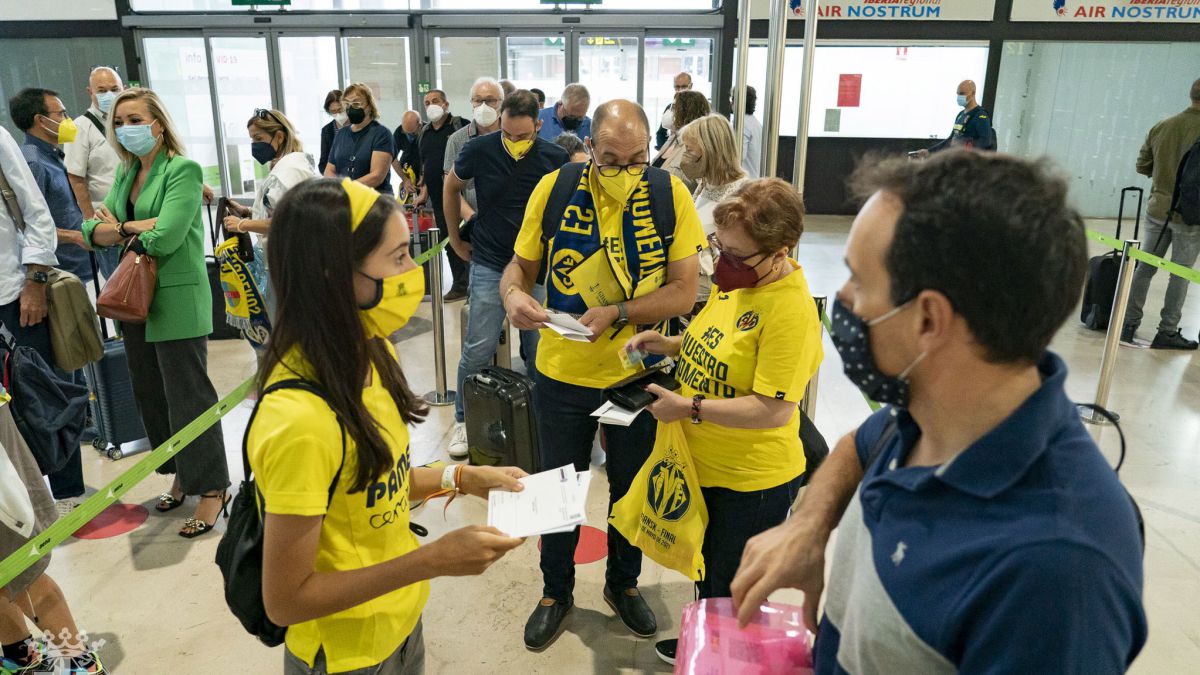 Villarreal supporters had been dreaming of a final for more than 20 years. An experience that this year they will enjoy twice in less than three months. Two finals in the middle of a pandemic that the followers of the Castellón team will have to live in a different way, in strange conditions. The first one, in Gdansk, was difficult but the one in Belfast will be even worse. In fact, until the last moment, Villarreal was not clear if they were going to allow fans to enter the match against Chelsea.
In Gdansk (Poland) only a negative PCR was needed to attend the match. For Belfast (Northern Ireland), the country hosting the event also requires the complete vaccination card or COVID passport to be able to move freely around the city. For this reason, the majority of followers, the youngest, not yet vaccinated, will not be able to travel with a regular trip and the club has devised a 'bubble trip' for them. It will be a controlled movement from the moment they leave home this morning until they return to Vila-real.
Thus, more than half of the 1,200 fans who will cheer on the team at Windsor Park will be able to say that they have been to the Super Cup final, but not that they have visited the city of Belfast. The fans will leave Spain to arrive at Belfast airport and be transported, by buses, to the Crusaders CF field, Seaview Stadium. There, they will have to wait until they are transferred to the stadium, at the time of the game. Of course, they will be enlivened by music and refreshed with beer.
Another less nourished group are those who will travel during the day but who, being vaccinated or being under 18 years of age accompanied by a vaccinated person, will be able to visit the city before the game. Only a small group of followers will be able to make a normal trip. They moved yesterday, vaccinated, and will wait for the final sightseeing and spending the night in Belfast.
Photos from as.com