Surprise signing: Carmelo, to Lakers
ESPN's Adrian Wojnarowski reports that the 37-year-old forward will sign for one season with the Los Angeles franchise. Comes from Portland Trail Blazers.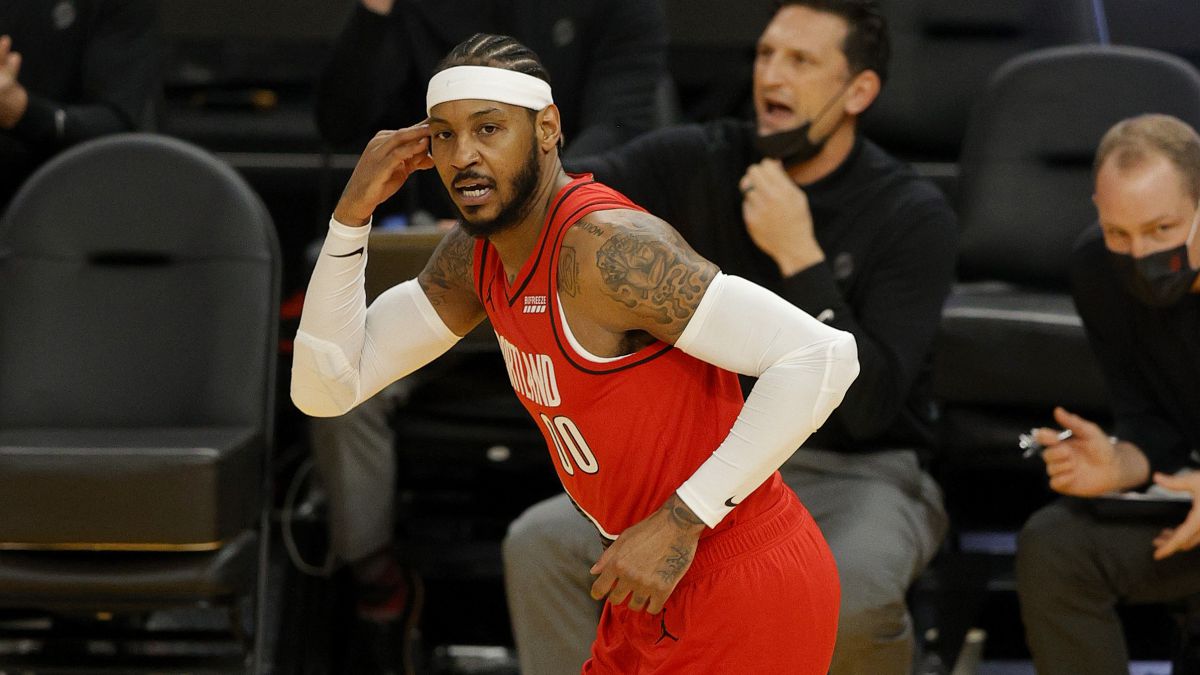 It is not the most dazzling signing or the most expensive contract that has been signed in these first two days of the NBA market, but it is the coolest of all: Carmelo Anthony will play next season in the Los Angeles Lakers of his friend LeBron James , as reported by Adrian Wojnarowski (ESPN). He will sign, presumably, for the veteran minimum. The forward (37 springs and 2.01 meters) thus leaves the Portland Trail Blazers after two seasons.
The Oregon franchise was a lifesaver in 2019 for Melo, who in 2018 was near retirement, without a team and without a future, after leaving the back door of the Houston Rockets in November of that same year: "I was surprised that we will kick him out of the team, "said the franchise owner, about a situation that was quite surreal: Melo only played 10 games in Texas after the acclamation for his signing. His irregularity in the games, the destabilization of the system created by Mike D'Antoni and Daryl Morey, his null defense capacity, put him in the eye of the hurricane.
He also came out in the shadows of that failed big three attempt at Oklahoma City Thunder alongside Russell Westrbrook and Paul George a season earlier. The difference, that in OKC he did finish the course ... although in the summer they sent him to Atlanta: it lasted a sigh. He didn't even play.
Once out of Texas (with a fleeting passage in Chicago: touch and go), it took almost a year for Portland to notice him out of necessity. And he got him back for the cause. In that period between nowhere and Oregon, many things were rumored, from his arrival in Brooklyn to playing in Puerto Rico, through a possible LeBron-Carmelo connection, which has finally occurred.Draft of 200
Anthony is part of that unforgettable draft of 2003. Remember: LeBron himself (1), Melo (3), Bosh (4), Wade (5) ... A brood that dominated the NBA for years and now leads the end of his career. The forward, we continue, started a career in the Denver Nuggets in which he showed himself to be a formidable scorer (he was a true king in FIBA basketball: USA's second highest scorer in the Games). He remained in the Rockies until he forced his move to the Big Apple in an operation that involved four teams, twelve players and eight draft rounds. That was how important it was. An experience that began with enthusiasm, but which developed desperately and ended badly. Too bad: again, he pressed and ended up in OKC.
Melo lands on some Lakers who must make economic stunts in the free agent market and who, after Russell Westbrook's move, have focused on veterans with past in the franchise: Dwight Howard, Trevor Ariza, Kent Bazemore, Wayne Ellington … Malik Monk, from Charlotte Hornets, is the only figure outside of those parameters… And perhaps the most attractive for the future of Los Angeles.
Photos from as.com