"I love the team," admits Mumbrú, who is entering his fourth season as coach and his twelfth overall since he has been in Bilbao. Withey, Goudelock, Hakanson and Delgado are yet to arrive.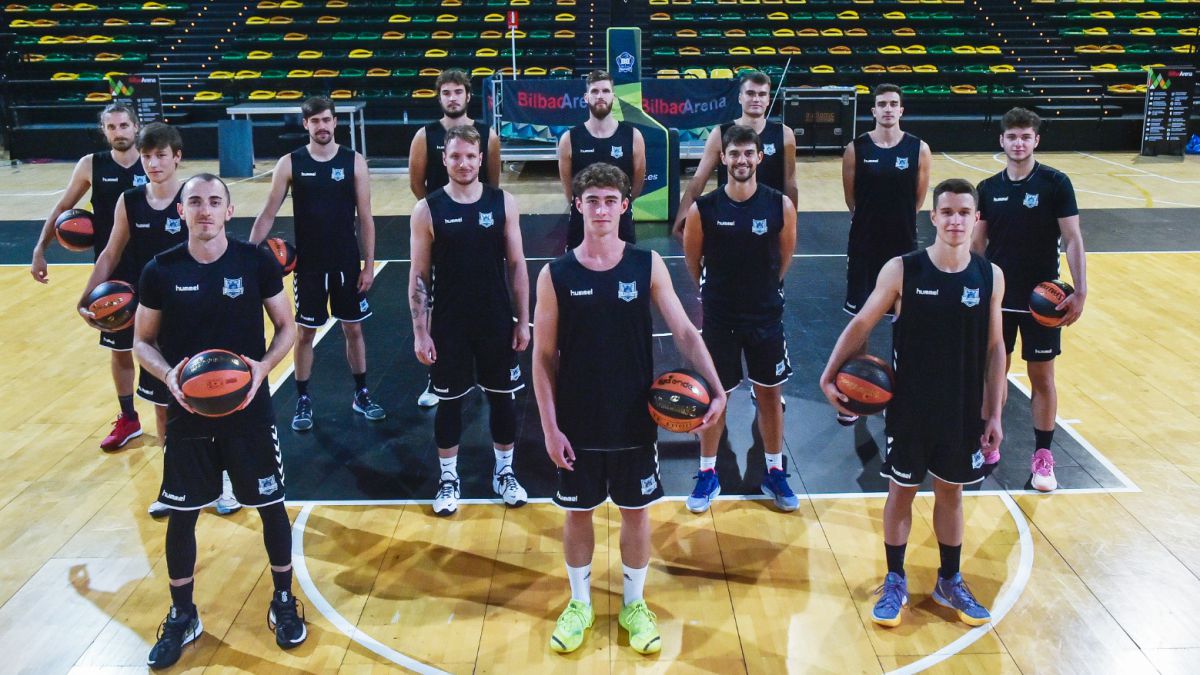 Bilbao Basket has proceeded to raise the curtain on a new season. With a frantic activity in his house to condition it, since a recent concert was not yet prepared by the infrastructure. Mumbrú starts his fourth year in which he sees ground to continue evolving the project, although he has already lived it all: a promotion, an astonishing qualification for the Cup, playoffs and Champions League, and a miraculous permanence. It arrived in 2009 and therefore in the global it faces its twelfth year in Bizkaia. He has opened fire with thirteen players, waiting for the arrival of the North Americans Withey (who tested positive and must wait at home) and Goudelock, as well as the Dominican Delgado. The latter two must solve the costly bureaucratic problems of these times of pandemic. They plan to join in the next few hours. For his part, Hakanson meets Sweden and will land on 20.
Therefore, four of the six signings have started work: Rafa Luz, Valentin Bigote, Álex Galán and Gytis Masiulis. Oier Ardanza, who will play for Zornotza in LEB Plata after returning home from his adventure at Granca, will support these summer sessions. And they come up from the quarry for an experience that Iker Chacón, Aiert Velasco, Gonzalo Basterrechea and David Monge will not forget.
The sports director of the Miribilla entity, Raya Pueyo, was very serious in this coming-out. "We hope to be at a high level and be competitive with the signings made. We have sought to strengthen ourselves in the inner game, which is something that is always important for Álex (Mumbrú). We believed that by losing Balvin and Kulboka we had to make an effort there ", he confirms. Once they have succeeded, they have decided to move Hakanson to the guard position and will join Rousselle in the direction of the veteran Rafa Luz, "who on a defensive level gives us a high level". As five pieces from last year follow, and the technician covers his fourth consecutive year, the word that sums up the project is "continuity" with an idea that has been defined for a long time.
The objectives are clear: salvation and, if possible, before the last day, so as not to put the hearts of the 'oil slick' to the test. But the possible direct rivals have been strengthened a lot and well. Mumbrú has emphasized that "right now the important thing is to take advantage of the preseason to prepare well for what is to come. Last year has already been saved and we are thinking of a new season with new hopes and new players. It seems that we are finally going to be able to play with the public, we really want to ".
The Barcelona coach matured the idea of continuing and had siren songs from other clubs, but he always prioritized continuing in a project in which he has spent so many years in two stages, as a player and a coach. "I did not doubt it. I have a contract here and the contracts are to be fulfilled," he says. After narrowing it down, he hopes he won't be as stressed out this year. "I would love to have a magic ball to say what is going to happen, but it does not." The squad that he will have at his disposal "I love it because it is the one we have decided to have. I believe that the club has made an effort within its possibilities to bring in the best possible players and now we need hours of flight to become a competitive team ". What is left for you to do in Bilbao? "To continue encouraging people to come and see us, to try to make Bilbao Basket feel like their own and that the results are the best possible." He has incorporated a former teammate like Javi Rodríguez as his right-hand man to replace Lolo Encinas. The 'Javis' (Rodríguez and Salgado), two former bases in the coaching staff.
Rousselle will be captain again. The French point guard wore the bracelet in the company of Balvin, but he remains a veteran, although the one who has been in the team the longest is Rigo, the fourth begins, the entire journey of Mumbrú. "I look a bit like the veteran. I'm excited to continue here," he resolves. He is in the final phase of recovery from the Achilles tendon injury that prevented him from playing the last games of last season. "I hope this campaign will be different, but it is still too early to say what will happen. The goal is to work every day to be as calm as possible and play our best basketball. If we can have an audience, it will be very different for us. ", he was deluded.
The team will officially open fire on Saturday, September 18, against Joventut in Badalona, at 6:00 p.m. And it opens at home, again with the public, on Thursday, September 23 at 7:00 p.m. against Casademont Zaragoza on the second day of the League. Until then, it will cover five friendlies. The first two will be in Gijón, where it will hold a rally, before the Breogán River in Lugo (August 21; 7:30 p.m.) and the Hereda San Pablo Burgos (27; 7:30 p.m.); the third against Pau-Lacq-Orthez in Laredo (September 1); the fourth against Zaragoza in Pamplona (4) and the fifth and last against Euskal Kopa against Baskonia in Santurtzi (12 September; 12:30) .
Photos from as.com