Sainz: "I wouldn't mind being Alonso's partner"
The Madrilenian would not be intimidated by having a two-time champion on the other side of the box, although he indicates that the chances of that happening are "slim."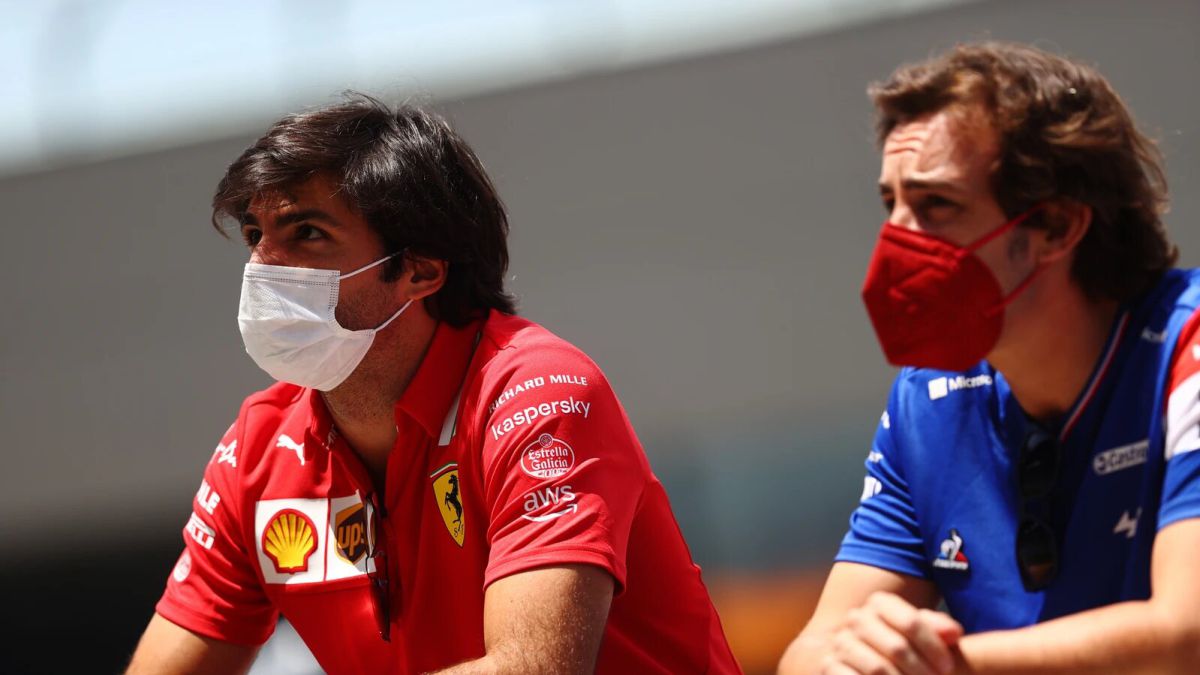 They met in 2005 and, more than fifteen years later, they share competition again. The logic of time invited us to think that they were not going to cross in Formula 1, but Fernando Alonso is always there to break the rules. And, thanks to this, Carlos Sainz has been able to fulfill the dream of sharing the track with one of his great references. First from 2015 to 2018 and, already 40 years old, Alonso returned this season to show that he was not finished.
And with the return of the two-time world champion, stronger than ever with his Alpine, the Ferrari driver would not oppose sharing the team with Fernando. In part, it would be difficult to see Sainz refusing the arrival of a rival to his box and it is that, if there is a great virtue that the whole Spanish world stands out, it is the great relationship that he has always shown with his teammates, especially with Lando Norris, one of his great friends in the paddock, at McLaren.
"I get along well with any driver. I wouldn't mind being Fernando's partner, but given that we are at different stages of our careers and we drive for different teams, the chances of this happening are quite slim," says Sainz in an interview. with 'Auto Motor und Sport', in which he also talks about the great relationship he has had since the beginning of this season with Charles Leclerc: "He's a good guy. We have the same interests and the same goals, that's why you can have good conversations with him and playing sports or playing chess. Not only is he fast, he also shows a lot of respect for his teammates. "
With two podium finishes so far in his first year with Ferrari, Carlos Sainz admits he is "happy" after this first half of the season with the Italian brand, especially because of the way in which, he says, he has coped with the work that lay ahead. "The speed has been there from the beginning, but I still have to work to do everything right for a whole weekend on a regular basis. That consistency gives you the points. I hope this improves the closer I get to the team," continues the Spanish, coinciding with the comments made by Mattia Binotto, director of Scuderia Ferrari, at the beginning of this summer break for the Gran Circo.
Y is that, Sainz assumes that in a brand of such renown, the results are what count, especially after the hard seasons that Ferrari has gone through in recent years, not being able to with the hegemony that Mercedes imposed in the competition. Carlos arrives with the idea that things can be changed, especially with a view to 2022, and he knows that if the brand wanted to have his presence in the box, it is because they see potential in him to be able to win.He does not see himself inferior to his rivals
Sainz notices the support of the team, but the truth is that he has never lacked motivation nor has he seen himself at a lower level or other drivers. "If you sign a contract with Ferrari, you must have done something right in your career. I always felt valued by all the teams, from Toro Rosso to Renault and McLaren, even after I left them. When the public thinks I'm in the shadows "I wonder why. Regardless of who I've driven against so far, be it Max, Nico, Lando or Charles, I never had the feeling that I was slower than them or that I couldn't do something they could," he adds.
"I have beaten everyone and always pushed them to the limit. I see this as praise. Max, Lando and Charles are among the best people on the grid, also according to my own assessment. I like the challenge of racing against them and they made me a better driver. That also gave me the confidence that I can face anyone when I arrived at Ferrari. If I integrate correctly into the team and configure the car correctly, I don't have to be afraid of anyone ", Sainz says .
Photos from as.com