Sainz: "That they return the money"
The Ferrari driver, to AS: "I hope that those who say that this is not the F1 of before understand that these cars go much faster than those".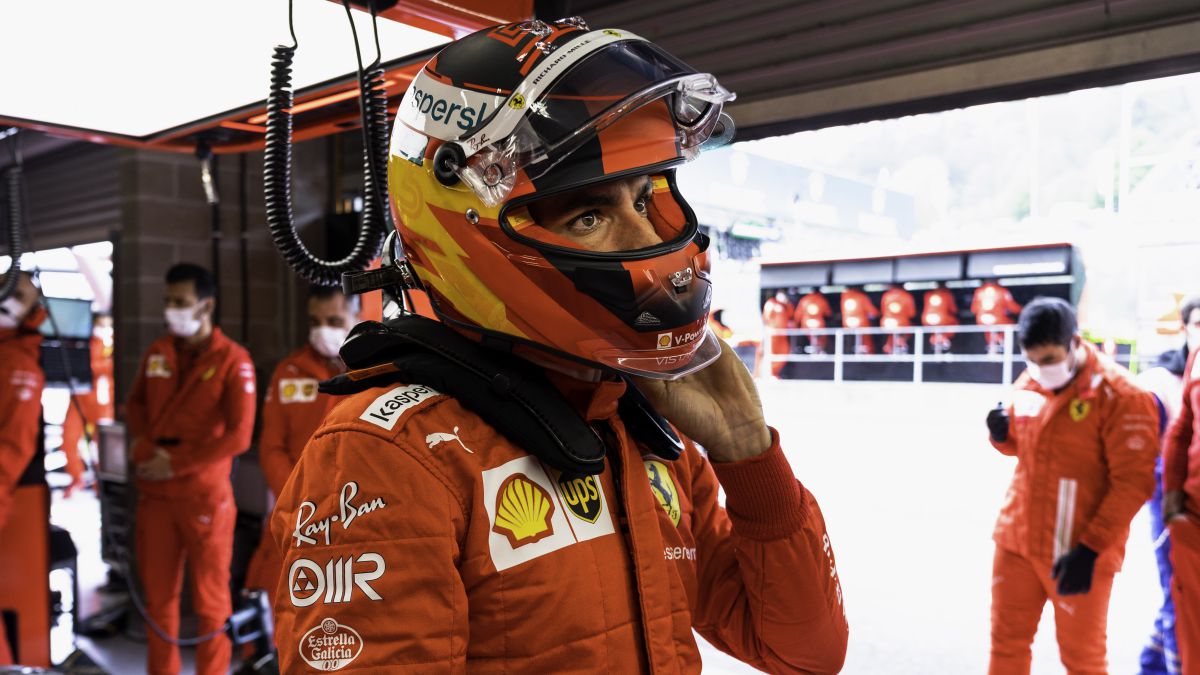 The denouement of the Belgian GP, with classification, podium and points table, does not convince almost anyone in the paddock. Neither to Carlos Sainz. But the Ferrari driver asks the fan for "understanding", especially the one who saw him from the couch remembering the deeds of Stewart, Lauda or Senna, ignoring that today's cars reach much higher speeds and safety standards are very different now. The Madrid-born, tenth and with half a point more in the general, spoke with AS at Spa-Francorchamps.
— He told the English media that if the race was resumed two laps to qualify, having a winner and a podium, he is not very convinced. And if it was to try to run, that is fine with him.
— It's not that he doesn't convince me, it's that I think it's wrong that he runs to score points in a grand prize in which there has been no race. That should be given a spin. I hope he came out to really see if it was possible to race, not to distribute points for a race to those who do not deserve it.
— In the two times you went on the circuit, how was the track?
— Impossible. There was absolutely nothing to be seen from the tenth position, I couldn't see a meter away. Imagine fifty or a hundred meters. If someone spins on the straight after Eau Rouge, we all eat it, it's that simple. And an accident at such high speed there, we have already seen the consequences it can have. It was not worth the risk. We ask people from home to understand it. I am the first one who would have enjoyed a race in the wet at Spa. But when the risk is so high, it is not worth it and I hope that the people who are on Twitter now saying that this is no longer the Formula 1 of before, that they understand that the F1 of a few years ago did not reach these speeds nor was there the nowadays 'spray' with these cars.
— The people who came to the circuit, who got wet and muddy, who saw them at the drivers parade before the race… what do you think?
— Honestly, it's the worst. They get the worst of it, they have been soaking in for four hours and they have not seen a race that they deserved to see, because they have paid with it and because we have had very hard years due to covid-19 and this was an escape route to have fun and have a good weekend plan. Unfortunately, the time of Belgium has not let us run. It wasn't F1, it wasn't the drivers, and we have to turn the page. I hope we can give it back to him in the future with a good race, or with a double race here at Spa. And that they give them back the money, because poor things ...
— And in his case, last year he did not start due to a breakdown in the formation lap. The previous year he left as soon as he started, now he does not run ... what about Spa?
— Clearly there is something that does not click ... before arriving in F1 it was the circuit that I liked the most, I made a very good qualifying in 2015 and I could not start the race because my engine broke. In 2016 I did a lap and had a flat tire and I have not even started for three years in a row. It is a very bad statistic that I hope will change soon, because it is not normal on my favorite circuit.

Photos from as.com