Sadiku: "I am here to give the best of my game and my character"
The Albania striker has stated that he is eager to do things well on his return to Spain.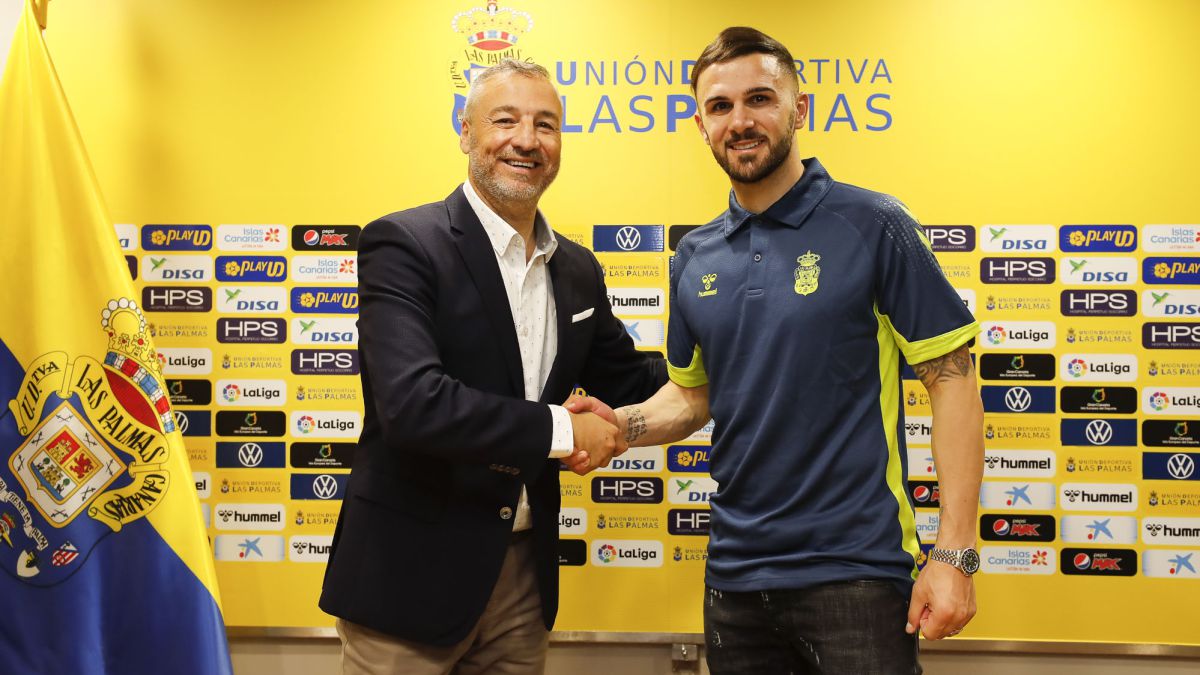 One more for the cause. This midday the new signing of UD Las Palmas Armando Sadiku was presented in a telematic press conference before the media. The striker, who recently terminated his contract with his last club in Bolivia, has come free to the yellow team to reinforce a position that had been lame after Araujo's departure to AEK in Athens. This morning he passed the medical examination, met his companions and exercised alone.
Little is left for Pepe Mel's squad and a key demarcation to reinforce was that of the striker. For this, Sadiku has been the chosen man. A footballer who already knows Spanish football, since in 2018 he signed for Levante, which loaned him to Lugano (Switzerland) and later to Malaga. There, the Albanian scored 13 goals in the 2019/2020 season that served for his team to seal the permanence in the Second Division.
On his first day in yellow, the footballer commented that "I feel very well. I am grateful and very happy to be here. When I started talking to Luis, I already accepted. I know that it is a great club and I am eager to do things well in Spain. "
On the other hand, when it comes to talking about the objective of promotion, he believes that "the championship is very long, with many games. I know very well what the Second is like. You have to go game by game and then see how far we can go ", so he does not rush to advance such goals, although he did talk about his first meeting with Pepe Mel, of which he explained that" today I met the coach, I spoke a little with the. He is a very good professional. He welcomed me and told me that we are going to go easy. We are going to give everything in every game. "
"I went through a very difficult period. When I arrived I was fine but then I got sick for almost a month and a half. Then it cost me the height, something to which I never got used to, which led me to decide to change, "he explained when he was questioned about his time as unsuccessful in the Bolivian league.
Already in personal matters and the competition that he will find, he said that "I know we have good forwards, but we are all here to do things well for the good of the team. I am here to give the best of my game and my character. Hopefully it goes well for all of us to score goals and be as high as possible ", and he would like to repeat what he achieved in Malaga, since he explained that" I hope I can score the same goals as there (13) to help the team and achieve great stuff. I could not say a figure now. I will give everything in the field. "
Finally, regarding his style of play, he clarified that "I define myself as a center forward, I like to go back to touch the ball. I am a forward who fights with or without the ball. I give my heart for the team. I am a warrior. I have been to many countries and I adapted in all of them. I think I will have no difficulties in this regard in Las Palmas "After this sixth signing, as Raúl Navas, Unai Veiga, Erick Ferigra, Pinchi and Peñaranda, also a former Malaguista, arrived first, Luis Helguera focuses his gaze on the defensive midfielder longed for by Pepe Mel and Omenuke Mfulu, a 27-year-old Congolese, who He finds himself without a team after his stay at Elche, occupies all the pools to sign for the island for two seasons. In the next few hours there may be news.Penultimate week of preparation for Las Palmas with two friendlies in sight
Less than two weeks remain for UD Las Palmas to debut against Valladolid in the silver category and will only have two more preparation games to catch up and endorse in the league the good feelings that he has been showing in his "stage" in Marbella. San Mateo and Tamaraceite, both teams from the 2nd RFEF, are the teams chosen as sparring for this Thursday and Friday respectively (both at 6.30 pm) .
A busy week is coming for the yellow team with the celebration of these two games, which will be behind closed doors at the Gran Canaria Stadium, where Pepe Mel will finish outlining his game idea for that first league match of the next 15 August against Valladolid. Thus, the Madrilenian will be able to retest his two systems, which he has been developing throughout the preseason, both with 3 center-backs and two lanes, as well as the usual 4-3-3, in addition to following in detail the evolutions of Moleiro, Álex García and Cardona who, predictably, will remain in the first team to follow the ascending line that they have shown during these weeks.
On the other hand, the technician will recover these days Sergio Ruiz and Rafa Mujica after having passed the COVID-19 and carrying out the relevant isolation during this period. The Cantabrian, who went home to pass the virus there, has barely been able to play three preseason games, the first against Las Palmas Atlético, Espanyol and Sevilla, and then test positive and miss the rest of the stage in Marbella. Something similar has suffered the Gran Canaria striker Mujica, who was isolated at first due to being close contact and later would also be a victim of the "bug" and has had to spend all this time locked up in the hotel room where the yellow ones were staying in the Peninsula.
With the recovery of these two players, Mel will now be able to count on his entire squad, if there is no setback and he will allow both to arrive with enough workload for the first day. Already in the section of exits and entrances, the 27-year-old Congolese Omenuke Mfulu who is without a team after his stay at Elche, seems to be the one chosen for the center of the field, which would cause the departure of Fabio. Also, Aridai may have the hours counted to go to an exotic destination, without ever having caught on in Mel's plans. Many open fronts and little time to put the squad in tune in a month where the yellows will have a tourmalet as soon as they start with Valladolid, Girona and Huesca as rivals.
Photos from as.com