Rossi welcomes Dovizioso to Yamaha
"I am happy to have Dovi as a partner, he is fast and I have a very good relationship with him. He can bring interesting things to Yamaha," he says.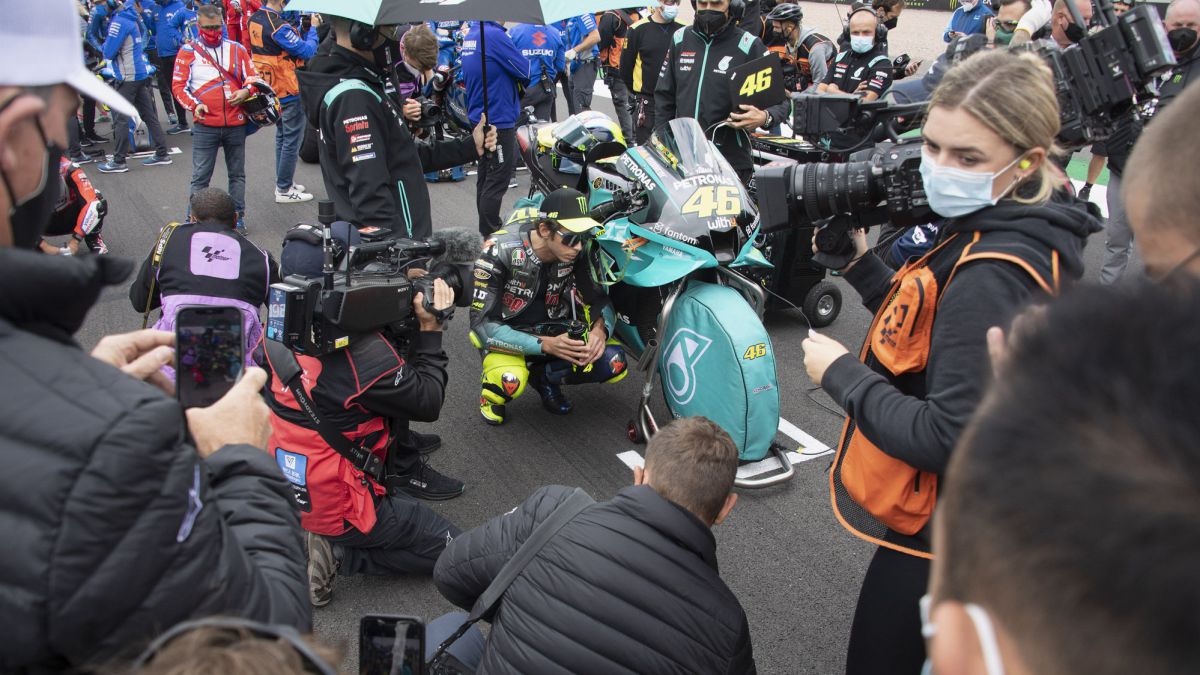 Andrea Dovizioso will join the Petronas Yamaha ranks from the San Marino GP, from September 17 to 19, and will pit with Valentino Rossi in his last five active GGPP as a pilot. The three-time runner-up will be the fifth teammate of the season for the nine-time world champion and he welcomed him yesterday after finishing his poor career at the British GP, where he was eighteenth due to tire problems.
"At six laps, the rear tire fell, as if it were scorched. In the last laps things got very complicated and I rolled almost five seconds slower, so I just reached the finish line," explained El Doctor en his farewell to Silverstone, before answering the question about Yamaha's commitment to veteran Dovizioso, to which he said: "I am happy to have Dovi as a partner, because he is fast and because I have a very good relationship with him. that can bring interesting things to Yamaha to improve the bike. "
Rossi started the season with Franco Morbidelli as a teammate, but with a knee injury they turned to Garrett Gerloff as a substitute at Assen, where he was second to last (17th, 53sec off the lead). The American did not have continuity and in Austria 1 Cal Crutchlow arrived at the box, who also finished penultimate (17th at 40 seconds). It so happened that between the two of them they were 77 years old (42 for Italian and 35 for English), which was the oldest couple of teammates in history. In Austria 2, Cal repeated as Morbidelli's substitute and position in the race (17th, last, 44 seconds behind the head). At this Silverstone event, the Englishman jumped into the official Yamaha box, as a substitute for Maverick Viñales, who was disengaged from the house of tuning forks the day after the second test at the Red Bull Ring, and the new partner of # 46 is once it was Jake Dixon, who from Moto2 could only be 19th (last 50.8 behind the winner, Quartararo) .
With this outlook, Dovizioso will be Rossi's fifth partner so far this season from Misano and they will form an experienced couple whose sum of years will skyrocket again to 77 years, because Forli's turned 35. in March11 have been Rossi's teammates in MotoGP
2000-2001 Without a partner in the Nastro Azzurro Honda
2002 Tohru Ukawa in the Repsol Honda
2003 Nicky Hayden in the Repsol Honda
2004 Carlos Checa on the Gauloises Fortuna Yamaha
2005-2006-2007 Colin Edwards on the Gauloises Yamaha Team
2008-2009-2010 Jorge Lorenzo in the Fiat Yamaha Team
2011-2012 Nicky Hayden in the Ducati Team
2013 Jorge Lorenzo in the Yamaha Factory Racing
2014-2015-2016 Jorge Lorenzo in the Movistar Yamaha MotoGP
2017-2018 Maverick Viñales in the Movistar Yamaha MotoGP
2019-2020 Maverick Viñales on the Monster Energy Yamaha MotoGP
2021 Franco Morbidelli, Garrett Gerloff, Cal Crutchlow and Jake Dixon on the Petronas Yamaha SRT
Photos from as.com