Roque Mesa: "The president does not play, we know what we have to do"
The Real Valladolid midfielder asked not to be obsessed with promotion, he valued the preseason despite the inconveniences and his enthusiasm for playing against Las Palmas.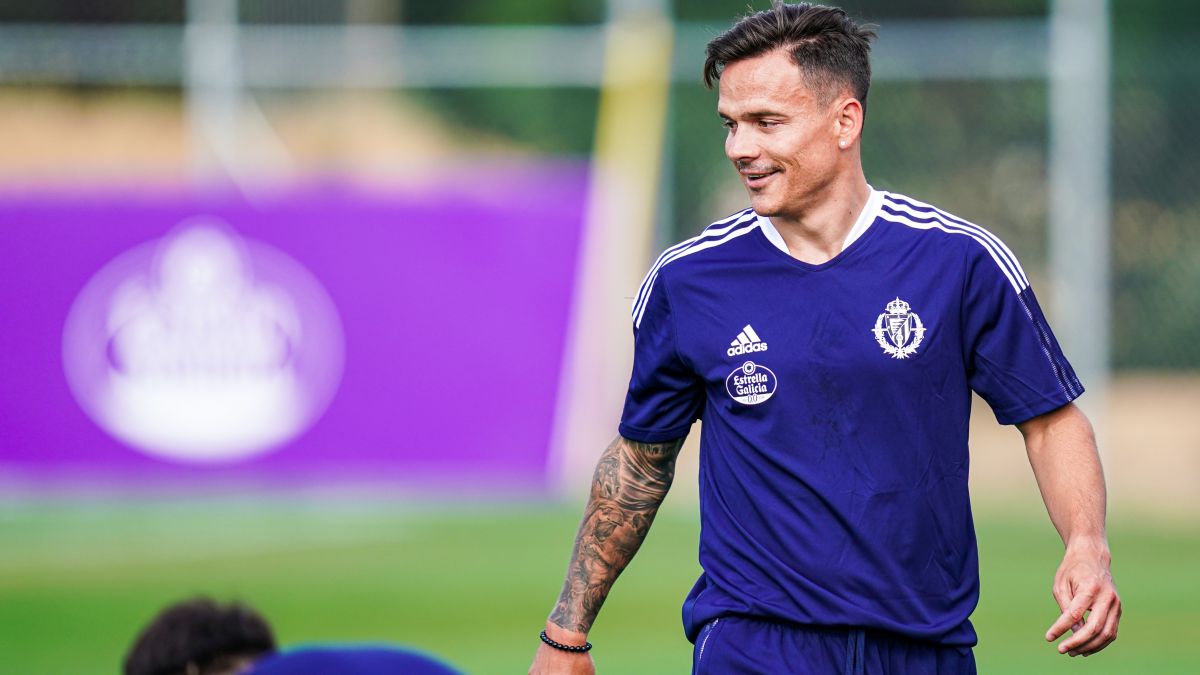 One of the players who arrives with the greatest enthusiasm for the first Real Valladolid league game is Roque Mesa, who returns to what was his home to play against Unión Deportiva Las Palmas. The canary's eyes light up when he explains the illusion that makes him return: "It is my house, the place I came from, the team where I grew up and it is always special to go home and do it with another team as it will be special too" . The soccer player does not hide either when he affirms that "the teams that go down are always candidates to go up, but we have in mind to go little by little, we do not want to set the goal that we have to ascend yes or yes because we all know how complicated it is. It is. Hopefully in May I can tell you that we are candidates to go up. You have to go with humility and step on solid ground "and when he was reminded that Ronaldo had indicated that they had to ascend as first or second he snapped:" The president does not play, we we know what we have to do. We know that this is very long and the Second Division is long and complicated ".
Despite the information that appeared in the last hours that speak of the interest of several First teams in the Blanquivioleta footballer, the canary is forceful in explaining that "I have a contract with Real Valladolid, I intend to fulfill it and I will continue to defend these colors" and insists in which despite having offers: "I have already told my environment that I want to start well here and what has to be will be" .
The midfielder appreciated the work that the team has done during the past weeks despite the inconveniences of the contagions, which has caused "that we have not been able to play games that prevented us from facing the preseason well, but we have worked well, with great intensity and with eager to start the League ", although he recognizes that these friendly matches" help you to add loads, minutes, to be more prepared "and stressed that" although we have not been able to play many preseason games the team has worked very well, there is a lot of intensity in training, the coach plugs in a lot, he gets in a lot and it won't be noticeable that he hasn't played ". And it is that, along these lines, he affirmed that "what I like the most about the coach is the intensity he puts on him, he wants to have the ball, a lot of intensity, a lot of dynamism in the center and verticality" .
About the daily work with so many colleagues in the dressing room, Roque Mesa affirmed that "we are all Real Valladolid players and each one with his circumstances and personal situation. As every preseason the coach has some, with others not, but in this case with Those who do not count are quite professional and continue to work very well and that helps the colleague who is in dynamics and as the market ends, everything will become clear ".Finally, Roque Mesa highlighted the virtues of Las Palmas: "They play very well, they have made a very good team, a dynamic team, they really like to have the ball. It will be a good face-to-face match and it will surely be a fun match where the two teams will want to have the ball ".
Photos from as.com