Rins: "It was time to finish in front of Mir"
"It has been an ordeal. We have made 21 points in the last eight races and today we have taken 20", recognizes the relieved Suzuki.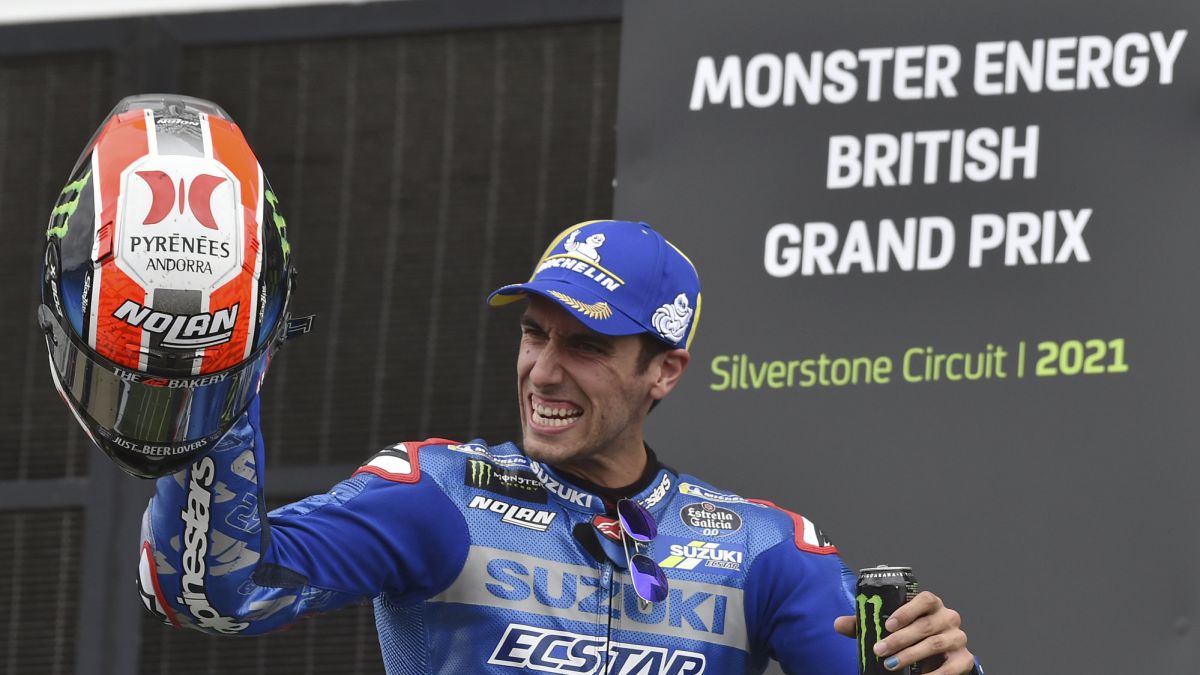 Great second place for Álex Rins, especially considering that he started from tenth place on the grid of the British GP.
-He came from adding 21 points in the last nine races (eight not counting Montmeló) and here he takes 20 at a stroke. Do you have the feeling that you have broken down a psychological barrier?
-It has been an ordeal. We have made 21 points in the last eight races and today we have taken 20. The truth is that I am super happy. I want to thank Suzuki for continuing to believe in me, for not throwing in the towel. Yesterday we had a meeting with Sahara, with Manu and with the boys, and the truth is that it was a motivating talk. We must not forget that in many of the races that I have crashed I was fighting, that I had to put negative thoughts behind during the races. And today I was able to drive very well, very free, and it was great.
-The next one will be Aragón, the home race. Could this podium be good for you to achieve another good result there?
-Of course this podium fills me with energy to get to Aragon and have a good race. Although I keep saying that it will be complicated, because the level that exists right now in MotoGP is super high, with many brands at the top: there is Yamaha, there is Ducati, there is Honda, now Aprilia joins the car ... It will not be easy, we have to fight and give everything. We will arrive with the batteries already charged by all in Alcañiz.
-Will they come to MotorLand worse than last year?
-We arrive prepared, but the others arrive very prepared too. Last year, fighting for the World Cup was Fabio. This year too, but in this race the first six are six different brands, so there is a lot more equality.
-At the beginning of the season he was the only one who tightened the nuts on Quartararo, but he had falls and a bad journey came. Have you recovered that point to fight Fabio face to face?
-In order to do that we have to classify better. Honestly, because of how I went today during the race, if I had qualified in the first or second row, I could have gone with Fabio. Winning him or not, is another story, but we could have done the race with him and thus see things, see where his bike is better than ours. But we have to qualify well to fight in all races, whether with Fabio or with the driver in front.
-When he is so inspired, he seems one of the best pilots in history because of the ease with which he climbs. On what does it depend that it be so?
-It's a mix. In the end, if the bike is going well, the rider is doing well and you are good at the circuit, I think you can be up front. After the break we arrived super strong, but Austria came, which is not one of my favorite circuits, and twice. This is quite a big shock and I finished 11th and 14th, but the truth is that this weekend I felt very good with the bike. There have been the typical weekend problems, but I have felt the support of Suzuki and the truth is that I have felt very good.
-How important has it been to beat Mir and how much can that make him grow in the Suzuki box?
-In the end, the first driver you want to win is your teammate. Today we finished in front of him, who was already playing. In many of the races in which we have fallen, we were in front of him, but in the end it is a zero for the papers. Let's see if we can continue with the same work and giving everything.

Photos from as.com