Rafael Reis achieves his third victory in the Volta and regains the leadership
The Portuguese cyclist has won the seventh stage of the Volta a Portugal and is the leader of the general classification with 28 seconds ahead of Alejandro Marque.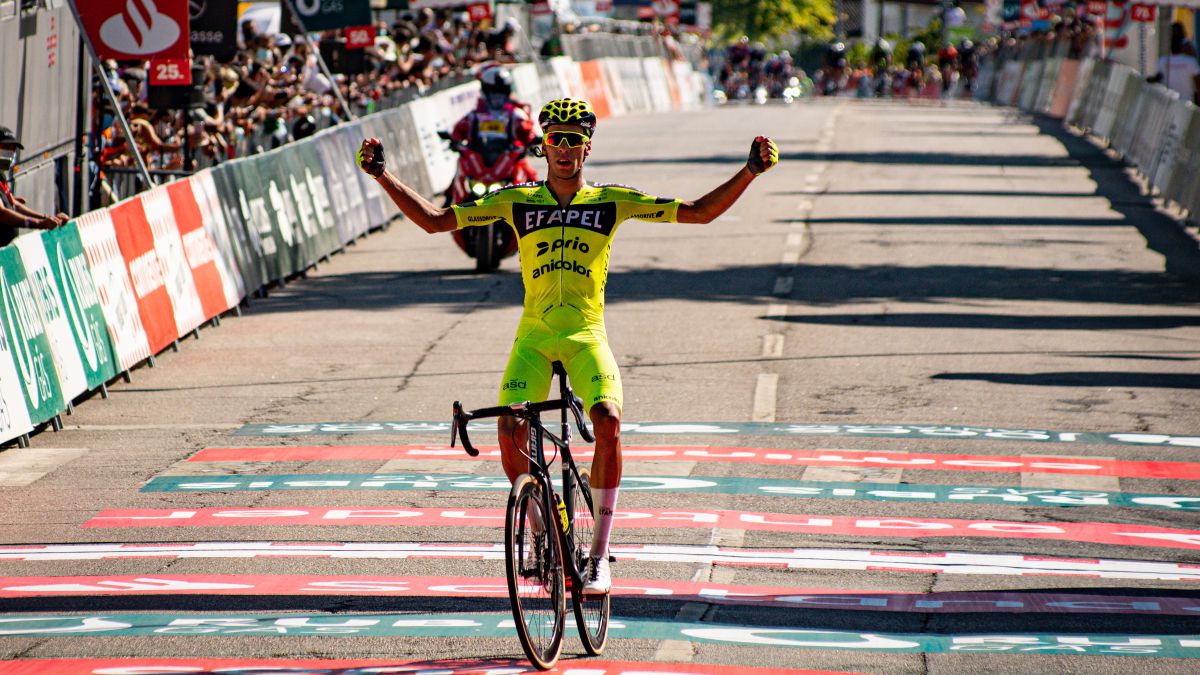 The Portuguese Rafael Reis (Efapel) took his third victory in the Volta a Portugal today, after winning the prologue and the first stage, and managed to snatch the "yellow shirt" from the hitherto leader, the Spanish Alejandro Marque.
Reis, 29, was part of a breakout of 27 runners and left an exhibition in the last kilometers, in which, with the help of his teammate Luís Mendonça, he managed to leave his competitors behind and cross the finish line alone.
A 16 seconds entered a group of runners led by the American Benjamin King, who won this Wednesday and was second today, and the Spanish Diego López Fuentes (Kern Pharma), third in what was the longest stage of this edition, of 193 , 2 kilometers between Felgueiras and Bragança.
Reis, national time trial runner-up only behind João Almeida, managed to get into the select group of riders who have achieved three wins in the same edition of the "Grandíssima" and recovers the yellow jersey that Marque himself had taken from him in the third stage.
The Pontevedra and his team, the Atum General / Tavira / Maria Nova Hotel, worked at the head of the peloton to close the gap with the escapees, but it was not enough to stay ahead in the general.
Marque is now second 28 seconds behind, with Portugal's Amaro Antunes (W52-FC Porto), winner of the 2020 special edition, in third place at 33 seconds.
Two Spaniards who were part of this Thursday's getaway, Javier Moreno (Efapel) and Diego López Fuentes, managed to sneak into the top positions of the general standings and are fourth and fifth at 36 and 44 seconds behind Reis, respectively.
In the absence of three stages, everything is still open in the Volta, where between the first and the fifteenth stage of the general classification there are only 2 minutes and 21 seconds of difference.
This Friday the first of the two tough mountain stages that follow will be run, 160.7 kilometers between Bragança and Serra do Larouco, in Montalegre, which ends in a first-class port and has another at 119 kilometers, the complicated rise of Torneiros.
Two top-of-the-range passes will also be climbed on Saturday, one of them the mythical Alto da Senhora da Graça, where the stage crowns, and on Sunday there will be a 20-kilometer time trial in Viseu that will finish defining the winner of the 82nd edition of the Volta to Portugal.
Photos from as.com