Quartararo takes its toll: "They said he would suffer with the pressure"
"When you have such a big advantage, it gives me more confidence. Now I'm not thinking about the championship and I have the best feelings of the year," he says.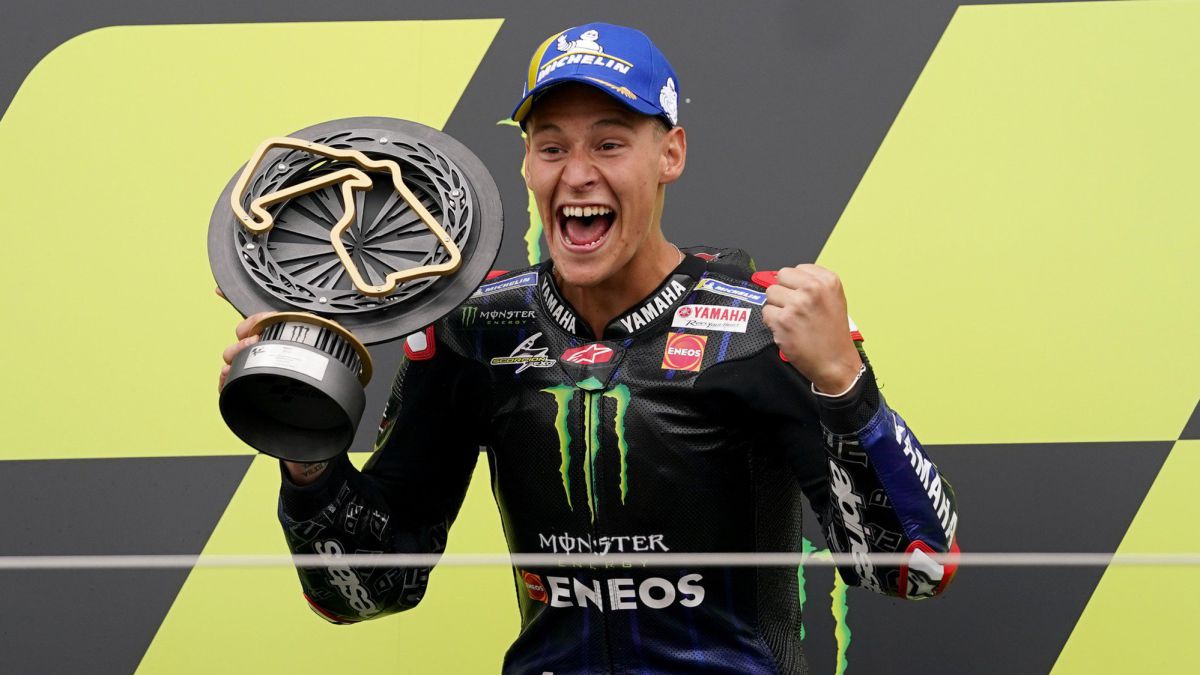 Fabio Quartararo does not trust the title key despite the important advantage he has at the head of the general classification. With his triumph at Silverstone, he already has 65 points over the second, Joan Mir.
-How was the race?
-I was a little scared with the 'holeshot', but I made a great start, I placed second in the first corner but Bagnaia overtook me. In the first laps it was a bit critical and I went a bit long at Turn 8. But I felt very good on this track and the big improvement compared to last year is the confidence with the front end. I am very happy with the race.
-Now has a great advantage in the championship with 65 points over Mir ...
-It was funny because before I got here I saw a lot of comments saying that I was going to suffer from the pressure, that I was going to make mistakes because I was the only Yamaha rider fighting in the front. But I have never felt so good on this bike and Yamaha is not pushing me at all. They are happy with my performance and trust me. When you have such a great advantage, it makes me more confident. Now I'm not thinking about the championship and I'm feeling the best so far this season.
-Is it the most important victory of the year?
-Yes, but like I said, I'm not focusing on the championship. Let's see, if you go from 47 to 65 points in the classification it is clear that it is the most important victory. Before starting this race I said to myself 'don't think about the championship at least until Misano'. And right now I don't want to think about it anymore because I'm enjoying it, I feel good on the bike and I will face the next GP as if it were the first.
-Aragón is not the best circuit for you in theory. Having this advantage will make you approach it in a more relaxed way.
-Aragón is a circuit where I went fast because last year we got pole, but I don't feel great. I have never managed to be a regular and this year is the opportunity to try to improve it. And also the confidence we have in the front end can be a step forward. In Austria we have already taken a step forward and we will try to do so in Aragon as well.
-First race where the top six corresponds to six factories. Is everything as tight as it seems?
-It's very good. I remember when I was watching racing six or seven years ago, when it was reduced to Honda or Yamaha, but now more bikes are being inserted. This is a very good thing and I think it makes the championship more interesting.
-Lin Jarvis has confirmed that Morbidelli will be his partner from Misano.
-It is not something that really worries me, because I am focused on my season. Of course I will welcome him to our team, but I don't look at the other side of the box.
-And Petronas leaves ...
-It's hard for this to happen because we started very well, with seven podiums in our first year. And last year we won six races. It's been a wonderful two years with them and it's a shame to see it close in its third year. I hope you come back to support us again.
-A third place in all races is worth to win the title. Will it be conservative?
-I'm not going to change my focus because I'm really enjoying fighting for victory. The championship comes if you achieve results. It is clear that, if I see that in a race it is not possible, I will not make stupid mistakes. I am not going to change the way I run, if I have the potential to win or fight for the podium, I will look for it. The good thing is that I know I have a little more margin.
Photos from as.com