Quartararo: "It is not a problem to be alone in the team"
On Maverick's loss, the MotoGP leader, with 40 points over Zarco, says: "I don't have much to say. Nor am I very surprised."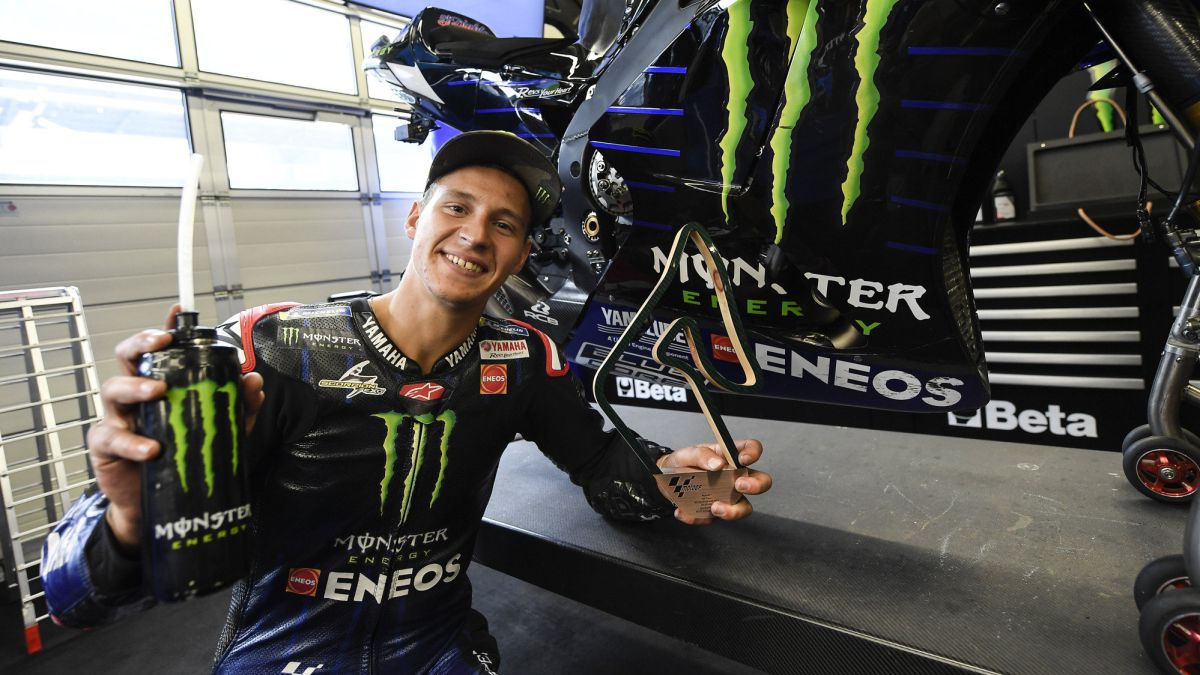 Fabio Quartararo arrives as a solid leader at the Austrian GP, with 40 points ahead of Zarco and 51 over Mir, and assures that he is not affected in the least by having stayed alone in the Yamaha box this weekend, with the unexpected departure of Maverick Viñales.
-Would you sign the third position again?
-Third place would be a good result for us. But these days we have seen a couple of aspects that can help us, although I suppose that everyone will take a step forward. Regarding my riding style, I can improve something here that will make us better on one lap, but it is difficult to improve the result. In last week's FP4 I was faster, but in the race I had tire consumption problems.
-Were you surprised by the news of Maverick?
-I don't have much to say. Nor am I very surprised. It is not a problem for me to be alone in the team. It's hard to say anything about it, better ask the Yamaha team directly. But for my part, the way I face the weekend does not change anything.
-But are you surprised by how the Maverick situation has developed?
-Honestly, yes. I can't say that the bike is fantastic, because they all have room for improvement. But he won the first race, after a comeback. The bike works well and is constant, but I don't know what happened. Logically, the bike is missing some things, but I think we have the potential to fight for all the podiums or at least a top 5. The bike is working on all the tracks, so it is difficult to understand.
-Is it going to be more difficult not to have a teammate?
-It is true that to gather information it is always positive to have the more pilots the better, but it is not important to me. For me it doesn't mean so much to be the best Yamaha, I have my own goal and I don't focus on the other riders.
-There are two pending places still in Petronas, a team in which it started unexpectedly and then came a great race in MotoGP ...
-I had the best Moto2 results at the best time. I won in Catalonia, but perhaps the most important moment was Assen's race when he was very far from the front and driving half a second faster than the driver who was leading, which was Pecco. That race, in which I made a great comeback and very strong overtaking, was what scored. Between Assen and Sachsenring I already knew that I was going to go up to MotoGP. It was incredible. We will see what happens because I got my place in MotoGP only on the basis of two great races and I think that now many Moto2 riders will have that kind of motivation to have this place.
-Will it be the most difficult race of the year?
-I want to be honest. Of course the championship is the most important thing, but I go race by race. The first round in Austria has already passed and I got a podium. I would not say that this second race is crucial, but it is very important to finish in a good position. I think we have a chance of achieving a good result.
-How did you get your father to not get so involved?
-I have a perfect relationship with my parents. In 2017 my father was too involved and we had a couple of fights and he ended up understanding that he needed to take a step back. Later he saw that the result was fantastic and from then on it has always remained in the background. Since 2018 it has been working very well and he is very happy.
Photos from as.com