The txuri-urdines will have Monaco and PSV in a tough Europa League group; the Betics, to Leverkusen and Celtic.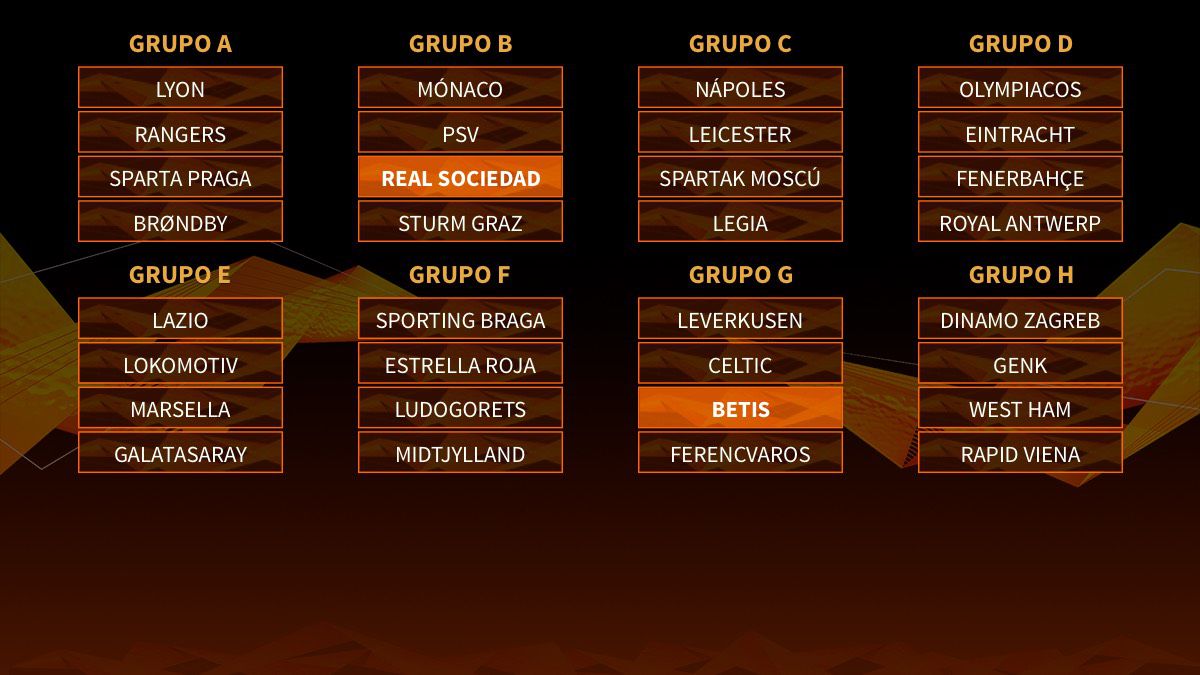 Betis and Real Sociedad will have to face tough but precious groups in the Europa League that was drawn in Istanbul. The txuri-urdines were framed in group B together with Monaco, PSV and Sturm Graz; the Betics, for their part, with Leverkusen, Celtic and Ferencvaros.
La Real will repeat its presence in the tournament for the second consecutive year. They must be measured against two teams that come from the Champions League preview, such as Monaco and PSV. Both were on the verge of qualifying against Shakhtar and Benfica, which is why they are considered to have a very high level for the Europa League. Players like PSV's Gakpo and Madueke have shown themselves in the previous rounds and will be a danger for Real. Of course also the Monaco of Cesc Fàbregas, relegated in recent times to the substitution. The Austrians from Sturm Graz will be the other rival of the Donostiarras.
As for Betis, they will have the difficult mission of playing against historical teams with a long history in Europe. Leverkusen has been a regular in the Champions League in recent seasons and reflects well the current impact of German football with young and projected players. It will also be very nice to visit Celtic Park, a historic place for Betis fans in case they can move. Another historic one, the Ferencvaros, completes the group.
In other groups, there were very striking pairings such as Naples and Leicester in C or Lazio and Marseille in E. average - plus those who will fall as third since the Champions League in December - give great interest to the tournament.The incentive for Betis is that the final of the current edition will be at Sánchez Pizjuán, the stadium of its eternal rival. The group stage will begin on September 16 and will run until December 9. The grand final will be played on May 18 in Seville. All looking to repeat the success of Villarreal last season. That is also the dream of Betis and Real Sociedad. So are the groups
GROUP A: Lyon, Rangers, Sparta Prague and Brondby
GROUP B: Monaco, PSV, Real Sociedad and Sturm Graz
GROUP C: Naples, Leicester, Spartak Moscow and Legia Warsaw
GROUP D: Olympiacos, Eintracht, Fenerbahçe and Antwerp
GROUP E: Lazio, Lokomotiv, Marseille and Galatasaray
GROUP F: Braga, Red Star, Ludogorets and Midtjylland
GROUP G: Leverkusen, Celtic, Betis and Ferencvaros
GROUP H: Dinamo Zagreb, Genk, West Ham and Rapid Vienna
Photos from as.com