Pueyo: "The quarry must raise the level of Biscayan basketball"
The Bilbao Basket sporting director is satisfied with the squad created for the current season and predicts that another very demanding campaign is coming.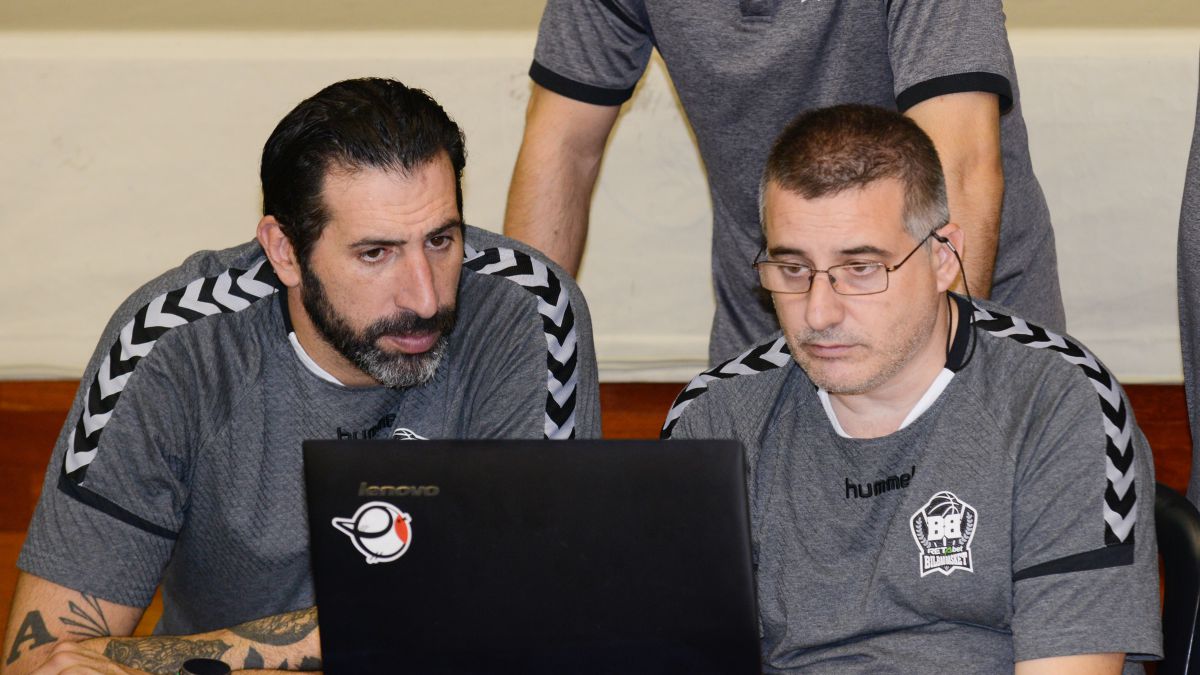 Rafa Pueyo has already passed those crazy weeks that make their way after the end of any season. The sporting director of Bilbao Basket got down to work with another summer full of movements, exits and entrances. Seven signings have arrived and such important pieces as Balvin, Jenkins and Brown have left. In recent times, the good habit of charging for some departures has been established. Pueyo has gone through the microphones of Radio Bilbao.
The hardest work on your part is done.
It never stops, during the season situations always arise in which you have to be attentive to the market. The squad is closed and now the coaches and players have to get to work and get to play good basketball.
Has it been an intense period?
Yes, how it will be every summer. Due to some circumstances or others, in the ACB the templates change a lot. When you do it well, teams of great economic power arrive and take it away and when you don't, you try to make changes. In the end, the squad always has to be restructured and it is difficult for players to spend many years in the same club.
They tried to keep someone from the Brown-Jenkins-Balvin triplet, but it couldn't be.
Jaylon wanted to take another step in his career, he has gone to another league and is going to play the Eurocup. Ondrej (Balvin) changes completely, he goes to Japan, to have another experience, after receiving an economically important offer ... it was not viable to be able to renew him. Jenkins has had several offers, and has not accepted any at the moment. He has been with the United States in preparation for the Games and may be waiting for one last chance in the NBA. If you do not succeed, you will have a good proposal in Europe.
Mumbru says he is happy with the equipment configured.
At the beginning on paper, all the teams believe that we have done a good job, that we have found the players who fit us and are going to perform well. Time will tell if this is not the case or if expectations are exceeded. We'll see if they fit in and make a good group.
The club has established the custom of charging for departures: Bouteille, Lammers, Sulejmanovic, Kulboka ... even Bertans so that they can go to Betis.
Fortunately, in these last two seasons many players have appreciated, other teams have come and we have obtained performance. Kulboka has a dual contract with the Hornets and an amount is already set for that exit. I don't think he will come to Europe because his dream is to be there, we will wait for events.
What are your expectations for this season?
The spectacle of basketball makes sense to audiences and we look forward to playing for them. We hope that the data on the incidence of the virus will continue to improve and the hand can be opened in terms of the capacity that is going to be allowed. The more people the better.
Miguel Ruiz, Betolaza and Del Val have left, arriving at the ACB from the quarry.
It is a good thing, it is not negative, it is one of the functions of our quarry, to be able to nurture Biscayan teams or raise the average level of Biscayan basketball. Players go to EBA or Betolaza, to Silver in Torrelavega. It is good, they have to be tanned and demonstrate their level. Who knows if they can come back in the future. It is good that they are going out and that Santurtzi, Leioa, Getxo ... are taking advantage.
Withey still has to wait to come by the positive.
Tested positive on August 1, it is expected that in a few days they will carry out a second test and hopefully it will be negative. If not, you must stay there until you have a negative test that allows you to travel. Delgado and Goudelock fly today and will be here tomorrow. Therefore, Withey and Hakanson, who is with Sweden, would be missing.
The signing of Delgado has been a surprise. The summer bomb in Miribilla by its numbers.
Angel has had a very good season, he is the MVP of April and May. He has the thorn in that his team (Estudiantes) ended up descending. He had better economic offers from other leagues, but he wanted to stay in the ACB and show that in addition to making good numbers, he can help his team to be very competitive.
What is your opinion of the new ACB League that is coming?
It is always complicated, you think if we have a difficult start, the exits ... but it is that the Endesa League is not easy, you may start with a more affordable one and it is worse because it does not catch you at a good time. Everyone has done a good job, there are good squads and it is going to be a tough league as always.

Photos from as.com