Ponferradina sleeps as the leader of Second
The goals of Yuri and Dani Ojeda give the Bercians their third victory in a row against a Girona that was able to draw and ended the game in a deranged way.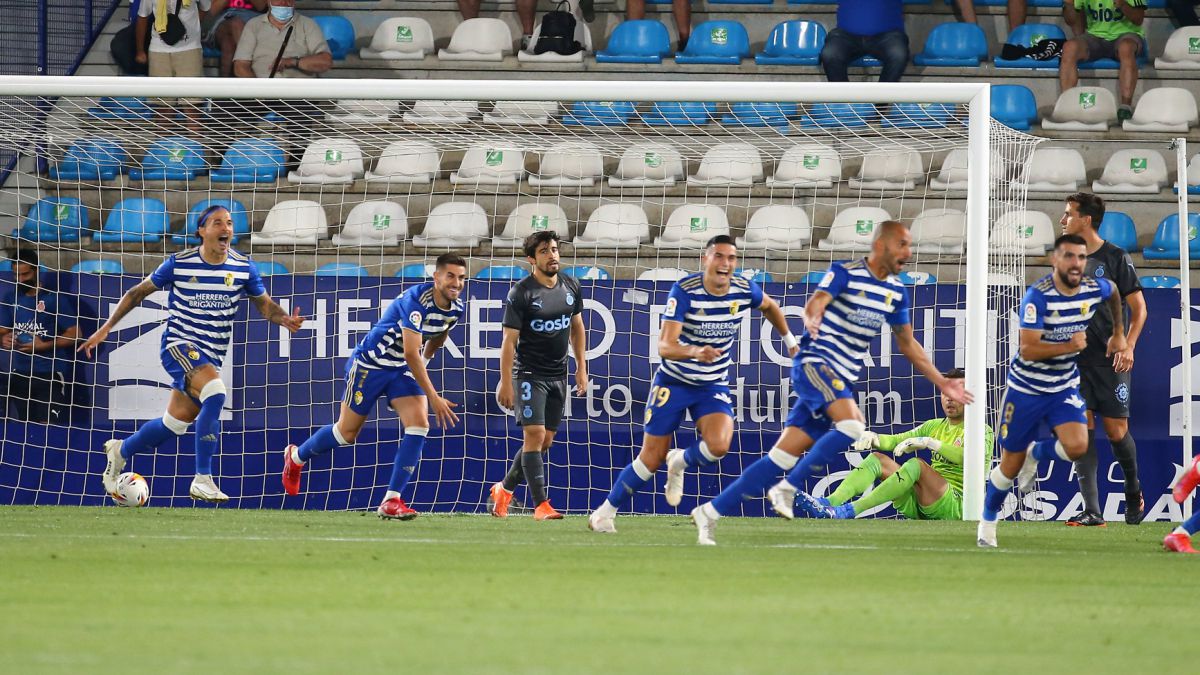 La Ponferradina is the new leader of the Second Division, at least until this Sunday Almería plays. The Berciano team added its third victory in three games and climbed to the first place thanks to the goals of Yuri and Dani Ojeda against a Girona that tried in every way, but that could only tie ephemerally with a goal from Bustos in the final stretch of the match. In the end, Michel's men were unhinged and the Blue and Whites celebrated a dream start on the pitch.
La Deportiva got off to a great start, getting ahead on the scoreboard on its first approach. Agus Medina filtered a pass for Ríos Reina, who won the baseline to put the ball back, where Yuri's bare head was waiting to send the ball to the back of the net.
The Blue and Whites took a step forward in their game, more alive, as Bolo likes, while Girona dominated possession, but crashed time and again into the wall of Amo y Copete in the front of the area. A half-lap by Stuani that Amir stopped well was all that Michel's team could do in the first half.
The Ponferradina, meanwhile, launched contras like fighter squadrons. Naranjo, Espiau and Ojeda drove the defense crazy before the latter fired too focused at Juan Carlos' hands. Already on the edge of the break, a wall between Naranjo and Yuri was topped by the Brazilian too high when El Toralín sang the second.
Girona stormed in the second half and turned the game into a siege of the Bercian area, where Amir once became the protagonist and savior of his team before two very clear shots from Juanpe and Stuani, to the despair of Michel, who did not even with the changes he could find his way to the local goal.
It took Deportiva half an hour to shake off the pressure and look into the rival area with a shot from Saverio that went next to Juan Carlos's right post, but so much was the Girona jug to the source that it ended up breaking in an inside pass for Bustos, who he dribbled over Amir to score the equalizer in the 83rd minute.
After the effort made by the two teams it might seem that everything was done with a draw, but Ponferradina is in a state of grace in this league start and a shot from Dani Ojeda from the front hit just enough on a defender to mislead Juan Carlos and become the 2-1 with which the end of the game was reached.
Photos from as.com