Pol: "Tomorrow we will see the real potential of all"
"When they push a lap to the maximum to get that time, there we will see if I can be in Q2," says the Repsol Honda.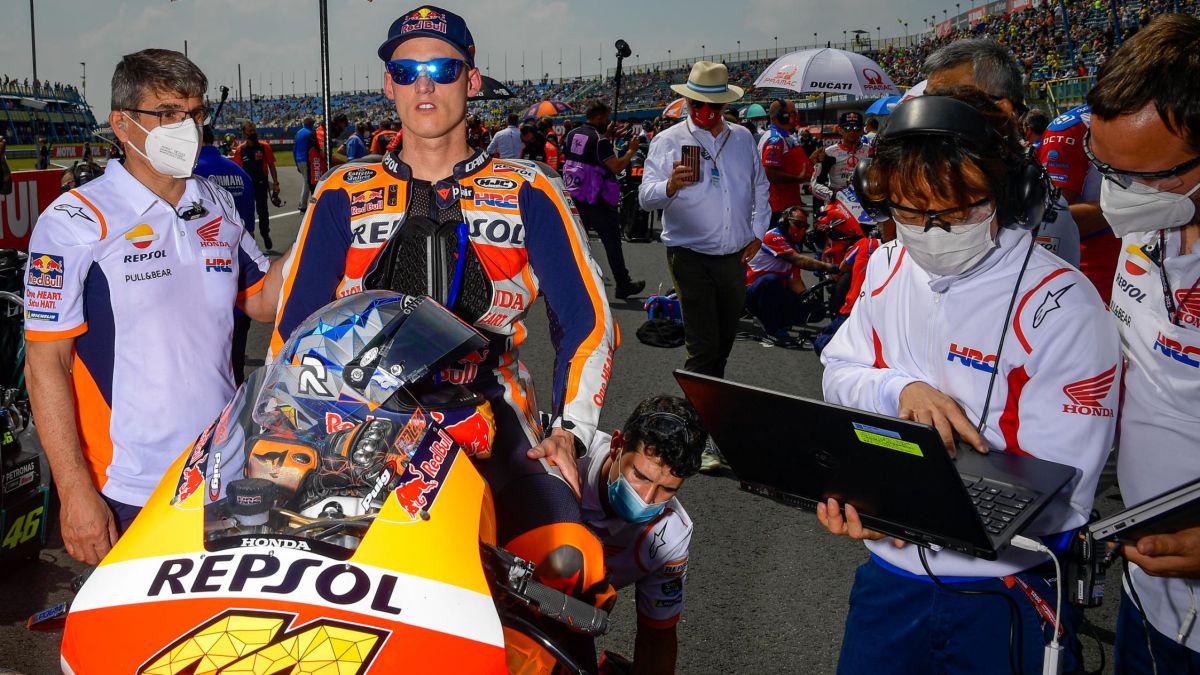 The best version of Pol Espargaró, together with Le Mans, has been seen at the start of the British GP, with a fourth place and very good feelings.
-You have repeated many times the importance of Saturdays and how hard it is for them to go well. Today, when he mounted the new tire, he was very competitive, as he was throughout the day. Do you think that here you could have more weapons so that you can finally leave from where you want?
-Hopefully so. I start them every weekend with the mentality that they are going to be different, that they are going to be better. Obviously, things don't always turn out the way I would like afterwards. It is true that here it has started a little differently but I do not want to trust myself, it is only the first day. In addition, on a circuit like this, with the cold, everyone is more or less testing their set-ups, their motorcycles, trying not to make a mistake on the first day and fall ... Things are already complicated with the allocation of Tires because here we cannot use very hard compounds, you have to throw the softer ones, so a fall forces you to use another set and that complicates the weekend a lot. So I think that tomorrow morning we will see the real potential of all the drivers, when they push a lap to the maximum to get that time, and there we will see if I am capable of being in Q2. I insist, it is only the first day and tomorrow I will have to improve my time because with this I will not be in Q2, so it will be important to have a good day tomorrow because today may be useless.
-I was just behind Márquez when he fell. It had a similar drop in 2016 at that point. Is it one of those places where it is especially scary to fall?
-Yes, my crash was because I crashed right at the exit with Loris Baz and the speed was also very high. It is one of those points where you do not want to fall, I also fell into the water in the change of direction right there and really and it goes very fast ... Luckily at that point there are very large loopholes in which you do not bump into something either , but despite that the speed is very, very high and it is easy to get hurt, and if you do not do it you can lose a little confidence in the front end. The fall was basically due to the temperature of the front tire, it is not Marc's fault, this happens. Cold, it's windy, and just a little bit too much on the front brake with these carbon brakes you lock up really fast. These are things that can happen.
-Is it your best day since you've been from the Honda? And if so, why?
-No, I think that where I felt better and that I couldn't take advantage of the race because it rained was at Le Mans, I think that was my weekend. I think I could have gotten pole if I hadn't fallen, because it was going like thunder, but it couldn't be, and then it rained in the race. Things did not come together so that in the end we could enjoy a good weekend. In any case, it has certainly started well here too, but it is only the first day. In addition, with these cold and windy conditions, everyone takes things a little more calmly, so we do not have many tires and you cannot risk falling and having to use more compounds because that can complicate the end of week. So you have to play with your feet on the ground, and if today's weather does not improve tomorrow, what was done today will be useless, so everything will depend on that lap I make tomorrow, if it turns out well, perfect, and if not we will have to go through Q1. In any case, today things have gone quite well, the only thing that I did not feel very comfortable with the medium tires, it was too cold and I felt a bit insecure, so I did not press too much with these tires to find a good rhythm, although in the end I was able to get a pretty good idea of how to work with the soft and how much to tighten. Things are going well and I feel good with the bike, with the temperature and with the track.
-What can you comment on your incident with your brother Aleix? He was very angry and you seem to have sent him a kiss ...
-No, no, they already told me, that from the outside it looked like a kiss but in reality I was apologizing, I was saying 'I'm sorry', because of course I was in the last lap in the middle, and it's my fault.
Photos from as.com