Pol: "It is very exciting to fight with your brother for a podium"
"Hopefully this result today will lift everyone's spirits a little bit, including mine," he says after his fifth place.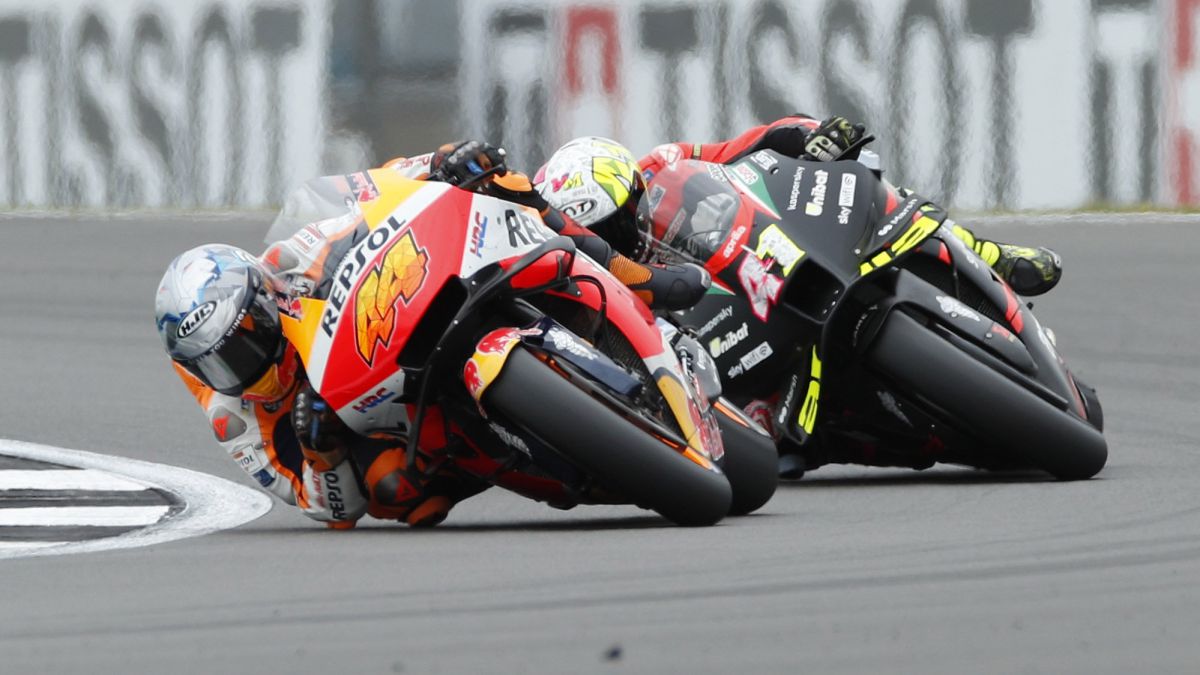 In the case of Pol Espargaró, the pole on Saturday and the good feelings were stronger in much of the Silverstone race, which came to lead several laps, than being fifth and off a podium to which he aspired for the first time with the Honda .
-Since he arrived at Honda it has been the first time he has fought to get on the podium. How has it been seen and what is missing?
-Yes, the truth is that I think it was the first time I really enjoyed riding the Honda in the race. In the end I suffered because we knew that with the soft rear tire very far we were not going to get there, but it was the only option we could use, the rest was too hard not only for me but for all Honda and we knew we could not get out of that soft tire and with that, obviously, we already sacrificed part of the race, the most important, from the middle to the end. Even so, I think it contributes a lot, it has been a complete weekend, where I have had fun, where I have been able to take out my potential in many moments of the weekend and that is how it has been seen on television, it has been seen in the times. I have looked strong, I have seen myself as the rider I was before and not the rider I was being until now, with only bad results and disappointments. Hopefully this result today will lift everyone's spirits a little bit, including mine. Now we are going to Aragon, to a circuit that I like and that I am good at with the idea of achieving a good result.
-Aleix has said that in his ranking of happy days at the World Cup, today's is the second happiest, after the day you won the title in Japan. What do you suppose or how happy are you about your brother's podium with the Aprilia?
-I am very happy, because somehow I can feel what he has felt, because I have been in his position, in a factory that starts from scratch, with the sacrifice that it entails, with all the development behind him, fighting, training, with continuous disappointments, because unfortunately he did not have the luck or the speed that I had in KTM, and Aprilia and him have had a much harder time getting this podium. In the end I am super happy, I think so much for him, for his work, for his persistence, for his effort, for everything, because in the end from the outside you can see that it is a podium, but for us these moments give meaning to everything bad what have you been through so far ... You accumulate all the bad times, the bad times, the falls that Aleix has had during the last five or six years, and you tell him to change them for this podium, he will surely tell you yes, that take. So it is very exciting to see your brother, in addition to fighting with him for a podium in MotoGP, which I think is something quite unprecedented, it is something almost unique, and I am very happy and happy for him and for Aprilia, because in the end they also have part of the guilt and suffering that they have shared among all. I am very happy for everyone.
-How does it feel to see yourself in the photo fighting first and second with your brother?
-I get a little goose bumps, it's something unique, I don't know if I'm exaggerating, but almost historical, to see two brothers fight for a MotoGP race at that time, fighting to win or for the podium. It's something super special that makes me feel super proud. Hopefully we can experience it more times, hopefully the Honda improves and Aprilia continues in the state it is because the truth is that it is something precious, to be able to enjoy a sport like that with your brother. Now I have to travel with him. Imagine the trip home with a pole and a podium in the same category. It's just amazing, it's indescribable, it makes me proud and I suppose it will make Aleix proud. And my parents, his wife, my wife, everyone who has accompanied us on this trip should feel very proud because this is not the result of a day but of a lot of work and sacrifice and each one puts their grain of sand so that we can do what we end up doing. There are an incredible amount of people who help us every day.
Photos from as.com