Piqué debuts on Twitch: "I'm playing for 4 dollars!"
The defender explained in a talk with Ibai Llanos how his salary cut was conceived and insists that it was the first due to timing.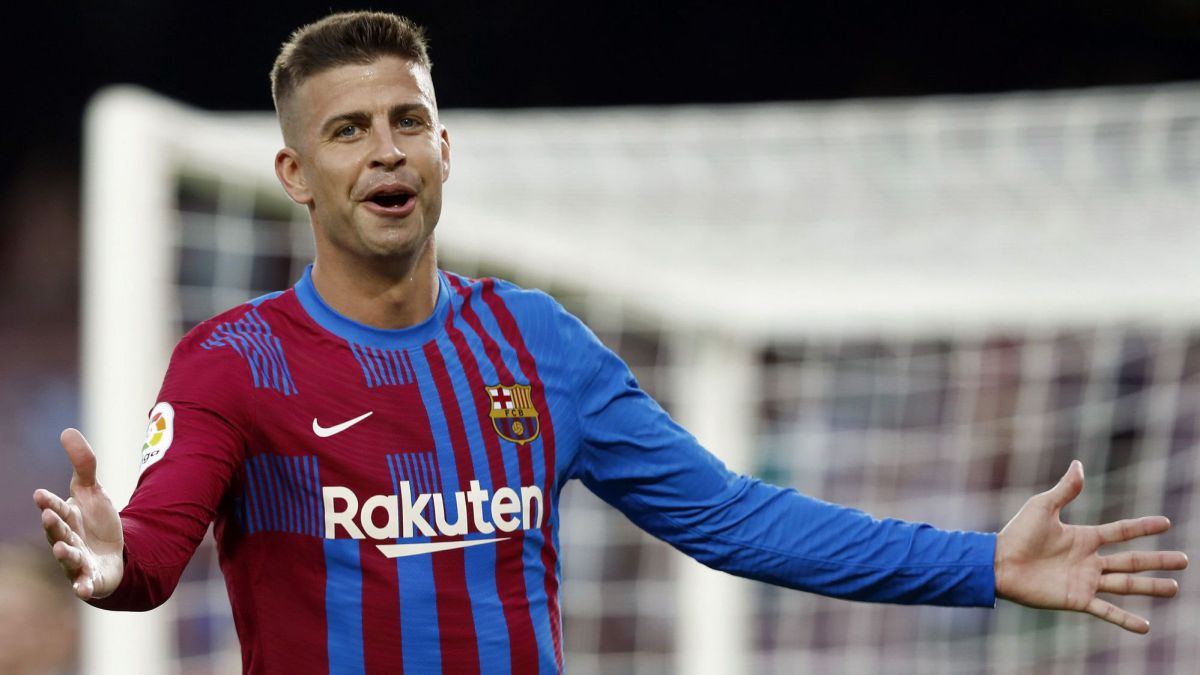 Gerard Piqué spoke into the Movistar LaLiga microphones. And he issued a challenge to those who have left Barça for dead before the season begins.
-Is the best way to start a season like this?
It was difficult for us at the end but overall it was a great game. We have had it controlled for 80 minutes. You have to be satisfied. The image has been good. The new ones have adapted and people are plugged in. You want to concede two goals.
-What does the affection of the people mean?
I was born here, I have grown up here, I have been a fan and a player. The gesture is what touched and I want to say that we have been in contact with the captains and they are going to give the pass. This is a family, we all go to one. The captains intend to adjust to what the club requires. It is the decision we have made. We are proud of that but want to keep performing.
-Are you saying it for the whistles to Alba?
Sometimes there are misunderstandings. I have been in contact with the other three captains and we have lined up. Now they needed to make a reduction official but the others are on point. I know that sometimes people receive a communication that is not one hundred percent true. It's an all player thing. I am proud of it and we want to be together. Everyone has wanted to contribute.
-It was the first day without Messi.
We knew people were going to react like this. Messi is the most important player in the history of football but everything happens and you have to continue. We will be very competitive, we will fight for everything. Without Leo we will not have the talent of before but we are at one. We have a goal and I think this year we are going to have fun.
Sergi Roberto confirmed that he will also agree to reduce his salary.
Sergi Roberto confirmed on Barça TV what Piqué revealed at the end of the match against Real: "Our predisposition from day one is to help the club. We want the club like the most. It is false. that we refuse to lower our salary, we have wanted to help from the first moment "
After the game, Piqué chatted on Twitch with Ibai Llanos.
PSG Fair play. "I don't know him. I am sure UEFA is aware of the numbers. If they have signed them, it is because they can."
Mbappé or Haaland. "They are the ones who come now, they are different. One is very similar to Ronaldo Nazario. Haaland is more powerful, stronger. He is a killer of the goal, he is showing it"
Super League. "Someday there will be a change. There are smaller cities that with a Super League would be excluded. As football is now, the one behind it is very important. The fact that there are countries financing will make Barcelona and Madrid have it increasingly difficult. There is no investment behind it. We have to work a lot with the quarry. An impressive generation comes here. We have a high level and Barcelona is the essence. La Masía for us is everything. To be able to compete with these clubs or countries have to invest a lot in that ".
Audios by Florentino. "They speak for themselves" .
Drop in salary. "I'm playing for four hard! They contact us, the captains, we were very open. The Eurocup passed, the contacts began, the interests were aligned. The days were ending and there were still several that had to register. Then it was decided that I was the one and today they were able to play. In the next few days the rest will be made official. It is what we have to be grateful for. Barcelona makes us all great. The world impact is given to you by clubs that fit you in the fingers of one hand. I must have been at the club for 20 years, in two stages. There has been no problem. The first one was me, but the other captains will follow and it will be a relief. The club will be able to bill more and be able to sign to more players and invest. The club has to have that capacity and in this market it has been difficult ".
Goodbye Messi. "Messi was a blow that was not expected. I have known him since I was 13 years old and he has made us all better. We have to accept it, because it is reality. We must try to take a step forward to be able to remain competitive. Wish him luck and see what we can do both in LaLiga and in the Champions League ".
Projects with Ibai. "I don't do things for money. The mentality is to do things well and make it a hit. It is invested so as not to lose money and from there, whatever comes out. The America's Cup was an example. We have a very large set up. with Ibai in relation to a team ".
Memphis joke. "I was to sign the reduction with the president and Memphis appeared. I told him:" Memphis I am going to sign and thanks to this they will register you. Let's see if you can give me something of yours ... "Today, at least, he gave me the goal pass.
More of Florentino's audios. "Florentino gave host to all God in the audios, I do not think me too. Ibai, do not deal much with those of Madrid that later you will appear in the audios" .
Players and money. "There are people from the National Team who have crocodiles in their pockets and they go for a flat euro" You get into a wide standard of living and when you retire it is the warning. It happens to a lot of players. We can't live off soccer until we're 60. We play until we're thirty-something. People don't know what it's like to earn a lot of money when you're young. You have to manage that well. I have told LaLiga to help players manage their assets. People do not realize. It would be nice if players had the tools to be able to manage fame and money. From the outside everything looks very nice ".
Memphis: "He has positively surprised me. He is involved and can give us a lot upstairs."
Happier with Laporta than with Bartomeu: "There were quite a few players who felt cheated and with Laporta order is being put in place. The president takes command and makes decisions."
Neymar: "We have a brutal relationship with Neymar. We understand life in a similar way even though we are different."
PSG: "It will be difficult to beat but we will try to do it."
Mundial: "Very unique due to the conditions that are going to be played. The players are going to go like bullets."

Photos from as.com