Pedrosa was scared by the fall and KTM offered him to stop
This is how the Catalan rider described his experience in Austria: "In that second, because everything happens very quickly, you think:" No, not this, again ".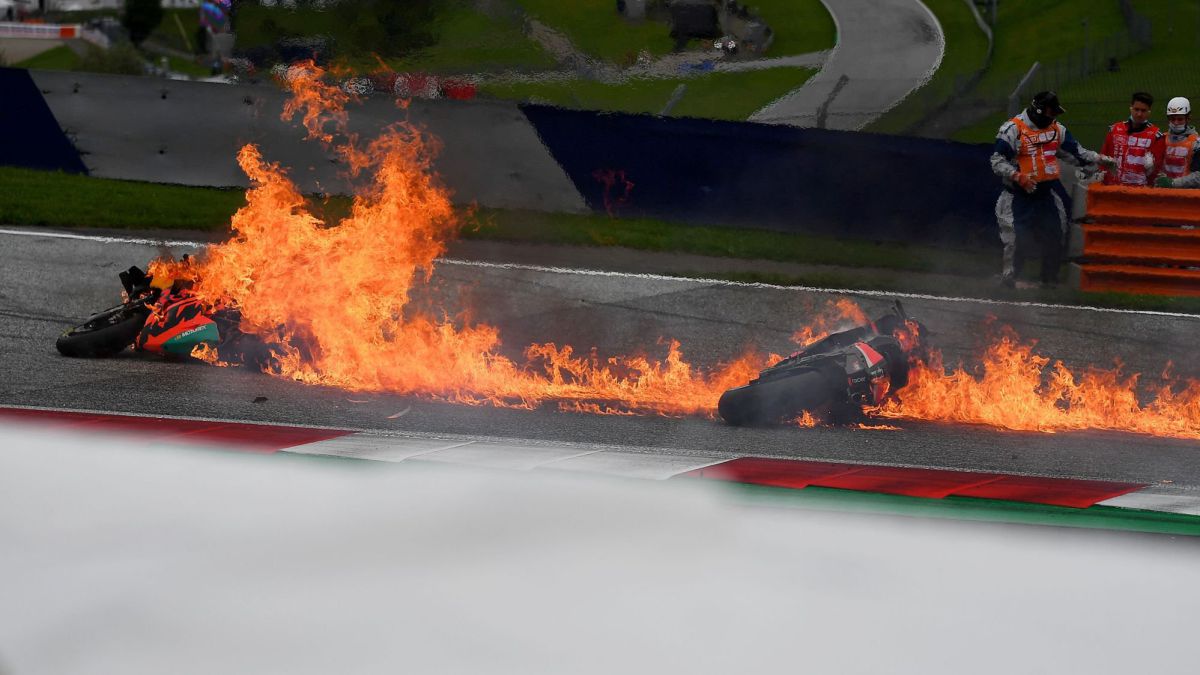 The shock of the MotoGP race was carried out by Dani Pedrosa and Lorenzo Savadori, with worse luck for the Italian, since the talus of his right foot broke, while the Spanish came out absolutely unharmed. The KTM one went to the ground at the beginning of lap three, coming out of the third corner, and there were several pilots who passed close to the three-time champion without anyone touching him. Savadori did hit the fallen motorcycle, causing a fire that was quickly put out and the track was strewn with gasoline, with which the red flag appeared and it took more than half an hour to clean the asphalt. The KTM tester was able to take part in the second start and, although he acknowledged that he was scared by the maneuver, he turned a deaf ear in the box when he was told that he could avoid going out again.
"I don't know why I have had this fall. Maybe I touched the inside line or the tire was still a little cold on the right side. I was in the corner at maximum incline, I tried to lift the bike but I did not lift it and it was on the ground. I was left in the middle of the track, and unfortunately Savadori collided with my bike and hurt himself. I'm sorry for him. I 've been very lucky. I don't think I have had this situation before in my career and it was a bit of a shock to see all the bikes go by. Luckily, everything went well, "Pedrosa began by recounting.
The Catalan was aware at all times of the danger he was running: "I was scared, I am not going to lie. I was scared because recently the Jason (Dupasquier) thing happened and the Aragon thing happened with Hugo Millán. In that second, because everything happens so fast, you think: "No, not this, again." We have had that scare and not only me, but also the whole team, friends and family. But hey, it turned out well. "
Asked if the question of 'who would send me back' crossed his mind, he said "Honestly, everything has been quite like in a row, one thing after another has been hooked. It has happened to me and when I am out of trouble, the first thing I was thinking about is the people who were at home, my family and my friends, who were at home: ". Then I went to the box and when I arrived they told me: "Hey, if you don't want to go out, nothing happens." But I have told them: "I am here, I have come to do this and I am going out. I'll take it easier, but I'm going out. "
Regarding the balance of a weekend in which he qualified fourteenth for the grid and finished the race tenth, all two and a half years after hanging the suit, he summarized: "I had fun, I had a good time during All weekend. Maybe with one more click at some point, like for example the FP3, which I stayed close to Q2, maybe it could have been a row or two ahead and it would have been even better. But I'm not complaining, it's okay. I am satisfied, which is what he tells me, and so is the team. We are all very happy. "
And in terms of the aspects that he has seen to improve in the KTM: "The only thing I can say for now is that I have seen things, and I have some clearer ideas about the areas in which we will have to focus for the development in the future. That's good, because we have an idea of where to focus the energies. "
He has the possibility of returning to a GP at Misano, because KTM requested a 'wild card' for him at that event, but will only do so if it is absolutely necessary for its factory.

Photos from as.com