Pacheta: "We managed to win without being brilliant"
The Real Valladolid coach makes self-criticism of the victory against Real Zaragoza, although from optimism, he values the victory positively.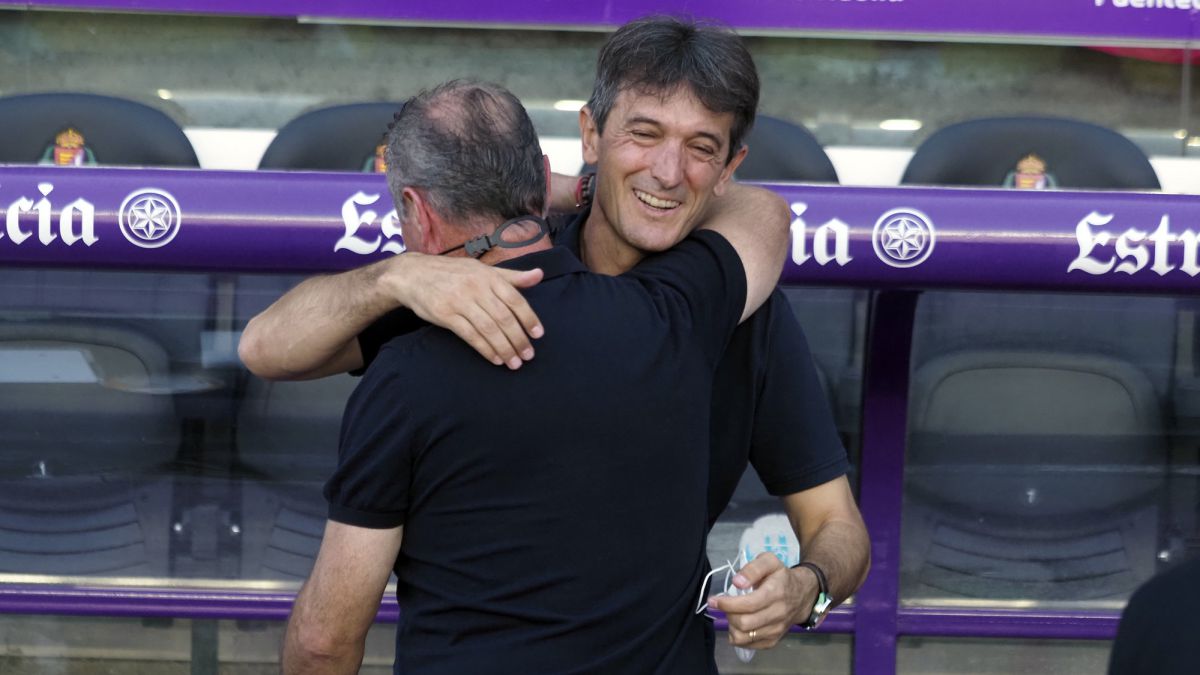 José Rojo Pacheta positively valued the triumph achieved by Real Valladolid against Real Zaragoza, the first that he achieves as a Blanquivioleta coach, although he did it from self-criticism, knowing that from the victories it is built better, but also that there is still a way to go. travel until you are the Real Valladolid you want. The coach from Burgos, who left Marcos André out of the call, acknowledged not having been "brilliant", but he accepted the first four points obtained over the six disputed.
How do you rate the game?
We have had 20 minutes of the first half to suffer, to be at the mercy of the rival. They have given us more chances to score than Las Palmas and they have not scored deserving a goal, probably. We are changing that we are going to go for the rival on top of everything, and if we are not adjusted, we have to run a lot. I said it in the previous one: Zaragoza is very precise, and we have seen it. There are another 20 minutes of the first very good part and the second has been controlled. That the result is bulky for what has been seen and there have been many moments in which we have not been the Real Valladolid that we want? Sure, but we come from a very difficult preseason.
What happened in those 20 minutes?
We gave the feeling that we were not well or physically, but it is a matter of adjustments and trust. Real Valladolid had not won in the League for five months and it is many months, even with vacations in between. In those 20 minutes we did not adjust, we were late for an action, we got tired, in the next we were late again and the sky fell on us. They are the same boys and many ghosts come to you, but now they win. In addition, the changes have been at a very high level.
Doesn't that starting midfield give you a flimsy feeling?
We bet on having the ball and on those talented players. Sometimes it is not consistent and some things will have to be changed, but I trust the ball because it is our great difference, the dynamism we have. We are very good at adjusting the pressure. We are in that process and we have managed to win the game without being brilliant. There have been good moments and not committing those imbalances, because we know how to fix them. We have to evolve. We play with three center-backs because from there they jump one by one, we play with players inside because they are very good with the ball and with lanes because they arrive by surprise and we have a lot of strength.
How did you experience the reunion with the fans?
There were 10,000 and I miss the 6,000 that were missing. They have tightened us, but they have been with the team. Don't worry, the team is going to go, it is going to show signs of a powerful team and it is going to be a strong team. They will like what they are going to do, but that takes their process.
What balance do you make of these first two days?
We knew we had three of the first four away games. I'm never happy with a draw, but at the end of the game they can sometimes be good and Las Palmas was. The three points give us confidence because, in addition, we have scored one of the goals in moments when the team suffered a lot. That goal also clears doubts. I am very happy with all the response from the players. The player wants; sometimes he is wrong, but he does not doubt. The player is convinced of what we do and that is very important; it is the path we have to travel to be better and to win.
Why hasn't Marcos André played?
As I said the first day, I only put the player who is committed and who has the head here.
If you go out, will you need another striker?
If players come out, I hope others will come; we will see how we solve it. If we don't think we have the solution, others will come. I like to have two players per position, although I can sacrifice some; for example, if the central five stay, I can sacrifice it. But there are positions in which if a player comes out, you have to bring another.
Are you afraid of the market closing?
I'm shitting, because I have very good players and they can come for them. The club wants to keep all the good guys, but it is inevitable that they will come. Do you know how this would be avoided? Now what I said ten days ago acquires value. If you close the market two days before the League starts, you would avoid it.
Photos from as.com