Pacheta: "We are only going to have one proposal: win"
The Real Valladolid coach acknowledges his concern about the rumors surrounding Marcos André, although he trusts his team ahead of the home debut.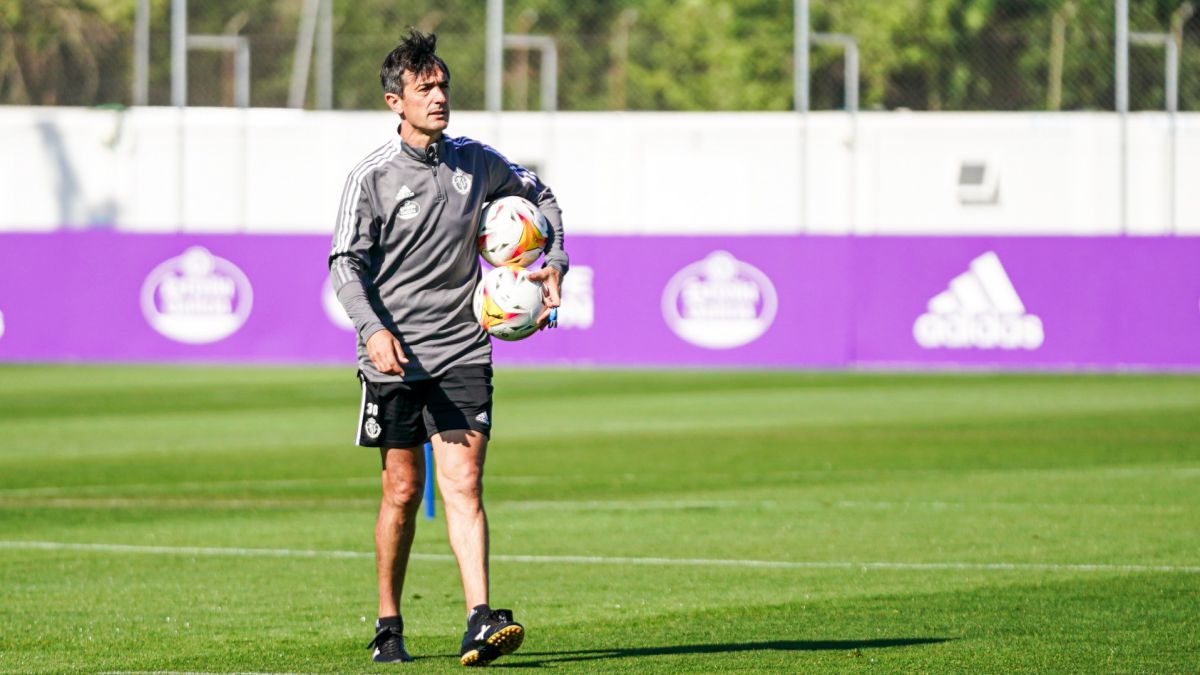 Real Valladolid receives Real Zaragoza on Friday in the league debut of the Pacheta team at home. The coach appeared before the media on Thursday, claiming again that the transfer market closes earlier on future occasions to avoid the "sinvivir" suffered this week with Marcos André, for whom Valencia continues to insist. Although the surplus of footballers will continue to mark the days that remain until the end of the market, the coach's speech does not vary one iota: he works to win every game.
Do you see the team especially motivated by the return of the public?
I have not seen any special nervousness, but I have seen that extra motivation of going to have our own people and that they have to leave proud. Getting people back to the stadium is fantastic. I see the team motivated and I am too. We always have the burden of responsibility of having to win. I think we showed signs in the previous game that we were closer to victory and we want to endorse it here. We want the fans to be proud. We have to send that message to our subscribers.
How do you see Marcos André?
Has received a hit in training, but in principle it will be from the game; we hope so. All the news around him is a complicated situation for everyone that would be avoided by closing the market earlier. All those rumors worry me more than the blow, because they don't let the player or anyone else be calm. My job is for everyone to focus on the game and I think we are succeeding, although there are personal situations that they have to handle. There is a very important block whose situation is clear, but all this generates not knowing who we are going to be; it is a sinvivir. If we knew, we would talk much more about Zaragoza.
Do you feel like you have a porter to spare?
I have three and the tees are very good. As there are 15 days left, we are pending. Ownership will depend on the time of the goalkeeper; I am not someone closed to always playing with the same eleven. We also have Samu Casado, from Promesas, and I am delighted with all four of them.
How are the other players?
We have recovered all the players with discomfort and we have recovered very well. We recovered El Yamiq, who is an important player for us, because the more we are, the better we will be. Joaquín has recovered very well from the small ankle sprain and Javi Sánchez has recovered very well from the effort of playing many minutes in a row. I am very happy.
Are you planning to make changes?
The game we played in Las Palmas was worthy, well, I would say powerful. The equipment worked well, so there are probably not many changes, although we have to fine-tune things so that this works better.
Will the team insist on being brave?
We are only going to have one proposal: to win. I want to make it clear that whenever we don't win we are screwed, but you can draw, stay close to victory and have a good taste in your mouth. In Las Palmas we were a brave team and I am not going to play differently at home and abroad; I only know how to send the message to score the first goal and then the second. I do not understand speculation and I am not going to speculate, because after time I receive more rewards than disappointments being brave, but this takes a process that we are going to try to be as short as possible.
What would you say to the fan who was not satisfied the other day with the result?
Not promoted in August, September, October or November. In First the difference is from 1 to 20 and here from 1 to 8, we are very close to all the other teams. I intend to convince as many people as better than what we do, how we work and that I do not make a single decision that is not based on everyone's appreciations, because there are intangibles that cannot be seen with data, but not I intend to convince everyone, because it is a utopia.
How do you see Real Zaragoza?
They are having difficult years. They are the second team with the most seasons in the First Division ahead of us. It is a team with a history that has a coach who did a very good job that they will want to endorse. It is a very dangerous team, which goes well to space and insists a lot on it. That is where we are going to have to adjust. We have to be very careful, but we are going to fight the game to win it. I think we are in a good moment.

Photos from as.com