Óscar García: "Today is a historic match"
The Catalan coach, now at Stade Reims, attends AS a few hours after facing PSG in a match that will be a party for French football.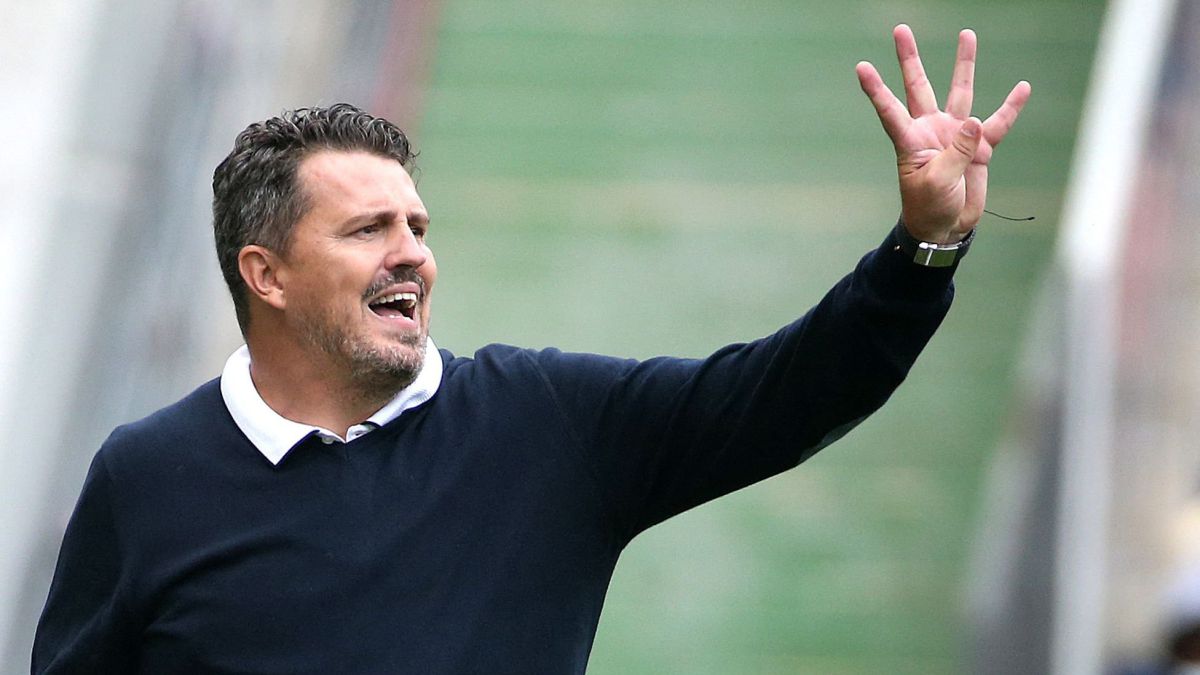 Óscar García Junyent (1973, Sabadell, Spain) faces today one of the most important matches of his coaching career. The Catalan will be the first coach in Ligue 1 history to face Messi, who will make his debut in Reims with PSG. After a start with three draws in three days, the former Celta coach attends AS a few hours after facing PSG.
Óscar, the first thing I want to ask you is what a coach is going to feel on Sunday with everyone watching a Ligue 1 match. In Spain, Telecinco is going to broadcast it openly and even Ibai is going to give it via streaming.
We know that it is a historic match because it is Messi's first game in France, but hey, what a coach has is to isolate himself from that and focus on what is going to happen on the pitch. It is a game that does not admit distractions because a team like PSG, with so many quality players, if you are distracted and thinking about other things, it penalizes you a lot.
Do you feel that Ligue 1 can grow with the arrival of Messi or will it only increase the difference with the rest of the teams?
Logically, Ligue 1 right now the focus will be on PSG matches. I believe both. On the one hand, the league is going to grow, but with Messi at PSG, logically the distance between the team and the rest of the teams, if it was already great in recent years, except for the last one, with him in the team it will be much more.
Do you have an anti-Messi plan or are you going to come out with the idea of hurting PSG? Although it is a cliché, I sense that the presence of the Argentine completely changes the way of planning a game.
There are many coaches who have faced Messi and none have yet managed to stop him. It has to be in a collective way, that he does not have a good day and that everything turns out perfect for the rival. If there was a way, then all the coaches would have used it by now.
When you were Celta's coach, you faced Messi, do you think he could suffer more in Ligue 1 as it is such a physical competition or will talent, as with Neymar, prevail over everything?
Ligue 1 is a more physical league than the Spanish one, less tactical, there are physically strong players, but also less tactical. I think he is a player who in any league will adapt very quickly and will continue to make a difference, I have no doubt about that. And much more with all the players to be surrounded.
Is Ligue 1 an underrated competition? From Spain, it is disparagingly defined as "A League of Farmers" .
I always is a competition that I have looked at a lot, it is very different from the others. It is more similar to the Premier, since it has a lot of rhythm and transitions. It is true that here, the young people who stand out a bit, and both the clubs and the players want to sell them. The players also want to leave soon, especially to England, and that means that young people do not spend many years in Ligue 1 clubs and almost all go to England, some to Germany ... Moreover, an export league that Importer, although it sounds strange now because the best player in the world has come to Ligue 1 to play.
How about your first months in Reims? Have you noticed the change compared to Saint-Étienne when working?
Very good. We have found very modern and good facilities to work with. There are young people, they are working very well in grassroots football. It is a project that will take time, since we have many 18-year-old players who have to grow little by little based on matches, but the project is very different from Saint-Étienne.
You have always defined yourself as a technical cruiser. However, in Saint-Étienne we saw him practice a very vertical football and in Reims, as for example in Nice (matchday 1), he came out with five defenders. Does a coach adapt to his players regardless of his ideas or does he have to evolve?
A technician always adapts to the players he has, mainly because of the game system. Because even if you don't have wingers, it is almost impossible for you to play with wingers or that you have to adapt the winger to another position, but what does not change is the philosophy. The philosophy of the coach must always be the same and then the tactical system does depend a little more on the players you have, on their characteristics, and that is where you have to adapt a little more. On evolving, I have tried to be in many countries, soak up many things, improve as a coach, soak up other cultures ... For example, a British player is not the same as an Israeli player, an Austrian or a French player, But I have been adapting as a coach and what I want and like is that I consider that every year I am a better coach.
Do you think it is possible to implement an idea of positional play in France? For example, Sampaoli practices it (although with a higher budget) or modest technicians such as Gastien (Clermont) or Batlles (Troyes) could do it in Ligue 2. Or, on the contrary, he believes that it is more difficult due to the idiosyncrasy of the competition. .
Logically, I am clear about the position game how to play it. In France it is more complicated. It is a competition of many transitions. We seek to control these transitions with positional play, because we don't have a physical team for those transitions. It is the most logical thing for the template that I have. My philosophy is to play a very clear position game to correct the physical with the technical and with the intelligent. If you don't have the same physique as your rival, you have to use your head more, you have to use position more, you have to use other things that for the players is very good because they are improving.
Reims was for several seasons one of the teams with the fewest goals under David Guion and was characterized by being an eminently defensive team. Is it difficult to mentalize a squad accustomed to that style that you have to vary in order to turn the trend towards a more "associative" game?
Yes, the style of play that the previous coach had is practically the opposite of how we want to play or how we have started to play. People here are very happy, because from the first game that change has been noticed. The players also appreciate it. That is the path we want to follow, but as I always say, we are building a house. And a house is built little by little so that it is solid. In the season there are many moments of highs and lows and of wind and, if the house is not solid, it can collapse. We don't want that. We want it to be a very solid house with very good foundations.
What is Reims's long-term goal? I sense that, beyond salvation, the team may aspire to be a candidate to gradually approach the European positions.
The objective is to settle in Ligue 1. To try to be as high as possible, focusing on the match, the day-to-day, match by match and, well, the mission here, like all teams, is to win as many matches as possible, but also to develop the great players that we have. In three days we have already made two players debut in Ligue 1. That is the path that the club has marked out and that is the path that they explained to me and convinced me and we are in that process.

Photos from as.com