Notice from Nacho to Luis Enrique
The Real Madrid defender, who was left out of Spain's squad for the Euro Cup, scored the Whites' 2-0 in the league debut.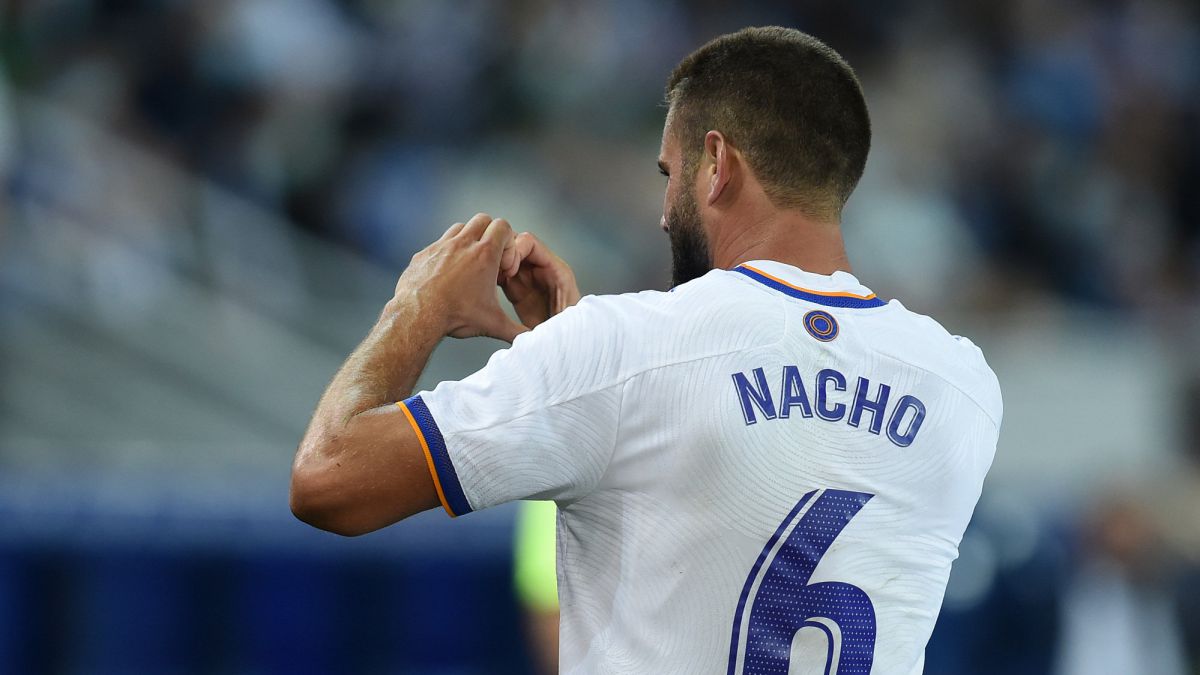 Nacho Fernández drew a match in Vitoria "to frame", as the classics said. The youth squad ended up with the captain's armband, after Benzema was substituted, and it was luxurious, making it clear that the departure of Sergio Ramos will not leave a desert in his wake. Nacho has been an imperial 2021 year, since since January he acquired the title after starting Ramos' injuries in the Super Cup (in Malaga against Athletic) and far from being just an acceptable substitute, what he has shown is that he has hierarchy, quality and gallons to become a bastion of the Madrid defense and an undisputed starter. In fact, his great game against Alavés was considered by many people as a registered letter sent to Luis Enrique. Now that three qualifying matches for the World Cup in Qatar are coming, against Sweden (September 2), Georgia (5-S) and Kosovo (8-S), and before the safe withdrawal of Pau Torres for being on vacation, it seems Hard to believe that this time the Asturian considers that Nacho does not have a place among the four centrals chosen for that triple appointment.
Nacho did not even complain about being left out of the Eurocup list despite the great season carried out in recent months under Zidane. At 31 years old, he is in a personal and football maturity that allows him to better assimilate these processes. In fact, he insisted that he would continue working to be called up one day: "Everyone knows that playing for the National Team is one of the greatest things that can happen to you as a footballer." His answer is in the field, as before the Vitoria. Nacho was superb in his particular duel with Joselu, with whom he coincided in that Castilla that was promoted to Second in 2012 along with Lucas Vázquez, Jesé, Morata and Cheryshev. He was very fast and forceful at the crossroads, in equal parts. Of 59 passes he gave 57 well and only failed in two, added 6 anticipations and 6 recoveries, as well as two firm clearances in compromising situations. Of all the starters he was the one who lost the fewest balls (only two) and, as if that were not enough, he scored a goal in his only shot on goal, taking advantage of Modric's assistance to launch himself to finish off in the small area as if he were a killer of the area.
A few days ago Nacho renewed his contract with Madrid until 2023, which further establishes him in a position that has him enthroned on an altar for the Madridistas. Nacho is the fifth One Club Man in the history of Madrid, that is, the only one who has developed his entire football career completely with the white jersey. Only Zárraga, Chendo, Camacho and Sanchis (son) can say the same. Nacho has spent three summers turning down major offers from Italy and England to stay at the club of his life. Analyzing his great game against Alavés it is clear that he was right. It only remains for Luis Enrique to remember the alcalaíno and do justice to him when he gives his list of summoned in the next few days. Nacho played with dedication in Mendizorroza. The Asturian now has the floor.
Photos from as.com