"I never thought I would see La Vuelta in El Barraco"
Víctor Sastre explains to AS how he lived the homage of the Spanish round to his figure, Chava, Carlos Sastre and the cycling tradition of this town in Avila.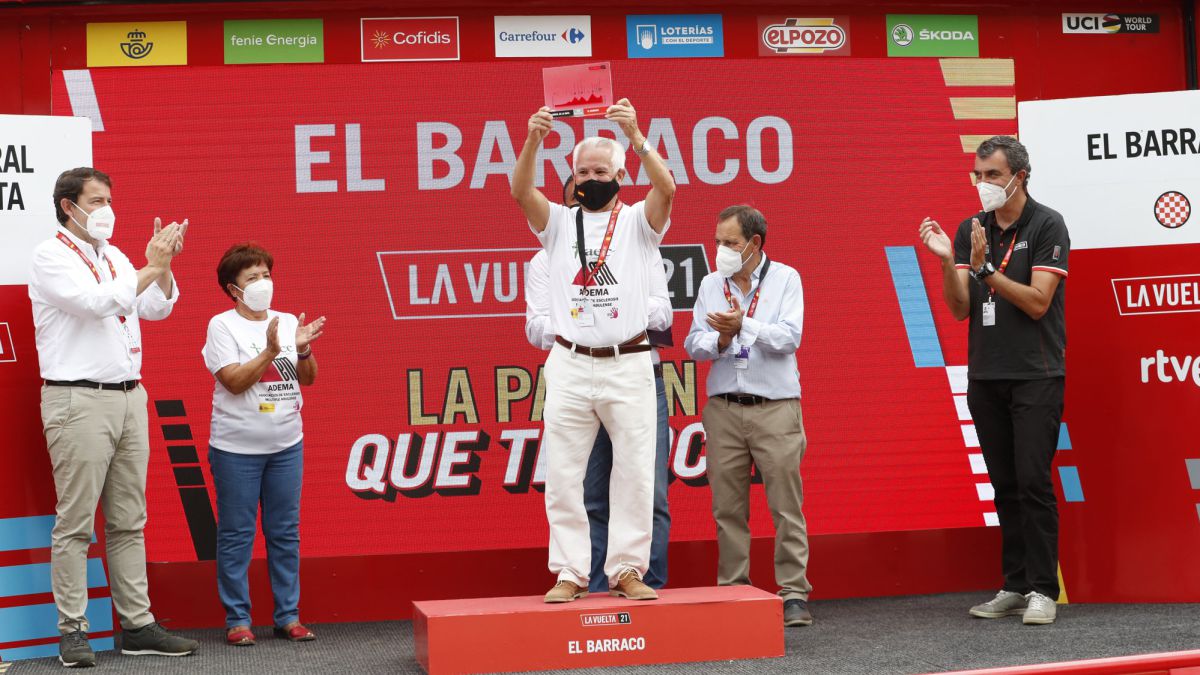 "El Barraco, always with La Vuelta", proclaims a poster on the soccer field of the Carlos Sastre Sports City, dedicated to the winner of the 2008 Tour. It is at the end of José María Jiménez street, el Chava, where there is a sculpture the great climber who died in 2003. From there, inside the complex, you can see the façade of the Víctor Sastre Sports Center. Cycling jerseys can be seen on all balconies. Reynolds, Banesto, CSC… The town of Avila, the birthplace of so many runners, breathed cycling like never before at the arrival of La Vuelta. A goal that wanted to do justice to one of the populations that has done the most for this sport in Spain.
"I would never have thought that I was going to see a stage ending in El Barraco. To be at the door of my house and see the platoon arrive. It is exciting to see how all the people are enjoying it so much. After such a hard time, the town has a nice excuse to celebrate something with joy ", says Víctor Sastre, who never stops greeting locals and cycling race staff, while worrying about what to do so that each and everyone be at ease. His cycling school was in charge of germinating that seed that emerged with Ángel Arroyo and gave so many other race cyclists, from his son or the aforementioned Chava, to Lastras, Mancebo, Pecharroman, David Navas, Curro García ...
"The only regret is not having seen all those great runners arrive here as members of the La Vuelta peloton, but that little seed is still there, with Diego Rubio, who is doing a very good race", highlights the father of a Carlos Sastre al that, with great pride, stands out as one of the culprits of this enormous tribute to Barraca cycling, together with the Ávila Provincial Council, the Barraco City Council and Unipublic, with its director Javier Guillén.
As he explains, children dressed as Movistar pass by, mothers with the shirt that the town has dedicated to the arrival, or older people who proudly wear a photo of Chava in action with the title 'King of Angliru'. Because at the finish line, very close to the house where the climber lived, the La Vuelta party had its nostalgic part, and they received a warm tribute dedicated to cycling on the land that conquered all of Spain. Victor, who knew Chava so well, was moved by the beautiful memory: "Jiménez was unique and unrepeatable. And, as everyone has seen, no one here has forgotten him. "
Photos from as.com