Mustache flees comparisons with Bouteille in Bilbao
"He had a great season here and I don't put that pressure on myself," assumes the French forward, who was on Miribilla's agenda last summer but did not end up signing.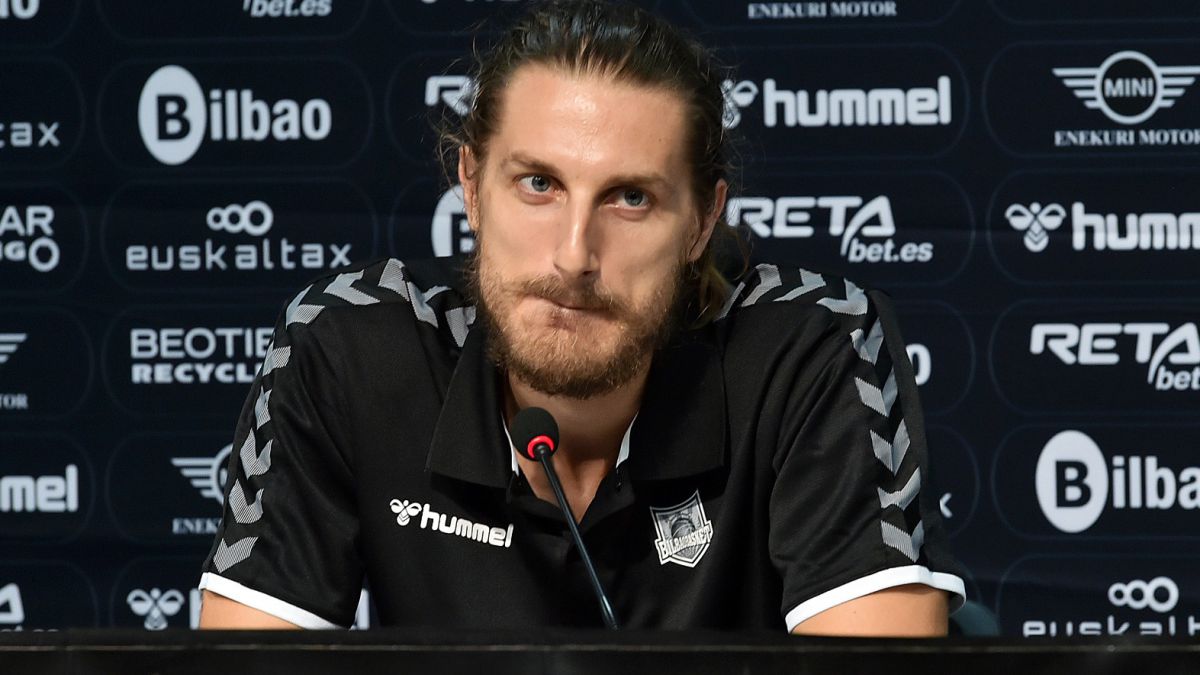 Bouteille set the bar so high in Bilbao that it is foolhardy to try to compare yourself to him or to say that you aspire to match his legacy. This is what Mustache, his compatriot and player of the same position, does. His name is Mustache, but he has a beard. Stupid joke. "We are quite different, although we are similar in offense. He had a great season here and I do not put the pressure on myself to compare myself with him. I will do my best, playing as I know how. The first thing is to understand what I am ask the coach and I will give the best of myself ", he explains developing his answers with calm and dedication, moving his leg with a certain nervous tic before the press conference of his presentation. The sporting director, Rafa Pueyo, elaborates on this: "They are both very aggressive towards the basket, but Alex's season was exceptional. The comparisons are not good, surely Valentin plays great games and we are happy with his contribution. His way of scoring is different. Sometimes performance depends on many things. " He is giving the hints that Mustache can play in the open field, generate shooting situations, his first step is fast and he is skillful coming out of blocks or generating from the 'pick and roll'. He's a great passer, too.
The French forward was tried to bring in last year, but it was not possible. He had two more seasons under contract with Le Mans and there was no money to compensate his club. In his place came Zyskowski and what this player contributed, you know, is not a question of torture. "Now I only have one year left on my contract and it has been easier to disengage," he resolves. At 29 years old, it was perhaps the last train to make the great leap in his career, "I wanted to try the experience, it was my chance", the moment to take the leap
It is his first experience away from France and he is excited about this stage. He knows the club through references from Rouselle, the captain of the men in black, and other French people who have worn the black Bilbao Basket shirt. The point guard explained that he opted to continue in the ACB because things weren't going well in his country and here the game is more tactical "and that would be good for me too." They have a certain eagerness to discover new places and have had time to see the city and get closer to the sea. But the sun has seen little in this dark summer in Mordor mode in the Basque Country. "They had already told me that it rained a lot here," he resigned himself looking at the sky. "It was a dream to come to the ACB since I played when I was little, my intention was to come sooner or later," he is happy.
You are now eager to get started. "The team was saved in the last game last year and we know this is not going to be easy." Setting goals now is difficult, "I would love to be able to fight for the playoff, but it is difficult. All training sessions so far are physical, there are no players, we have only done some game simulations, we will see in preseason the level we can give as a team ", goes detailing.
Photos from as.com