Moving 400 tons of material: the logistics challenge of La Vuelta
Correos provides 28 tractor units and 20 platforms to travel the more than 3,400 kilometers of the cycle route loaded with the necessary material for its celebration.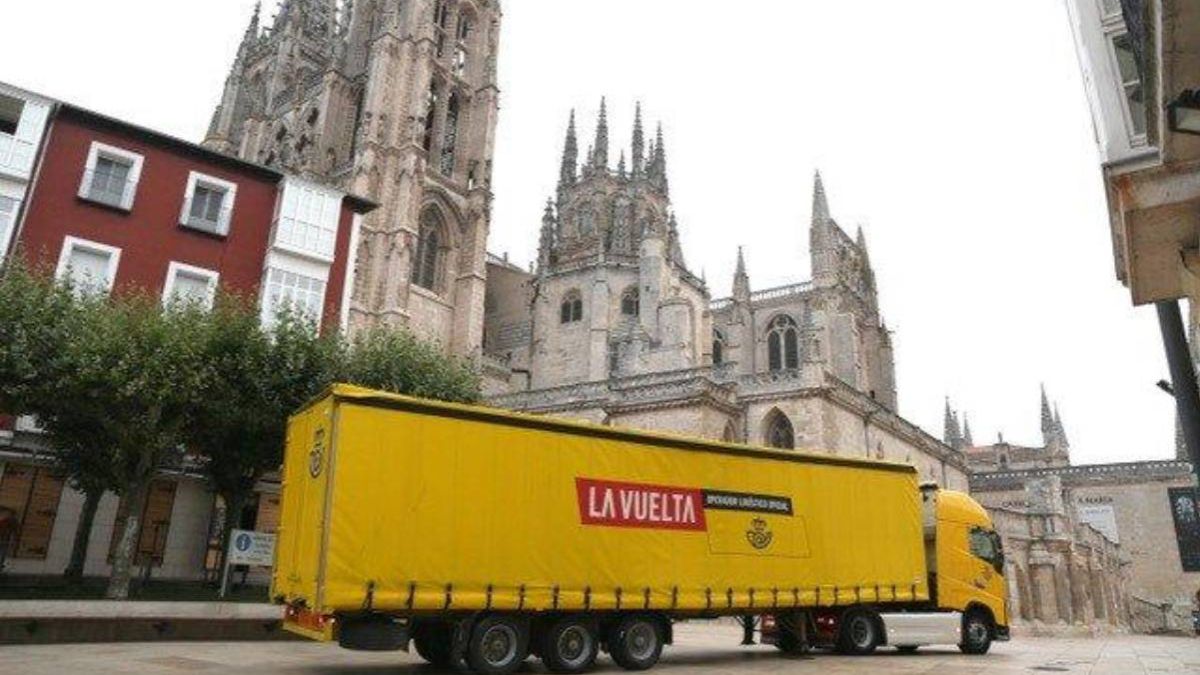 The 76th edition of La Vuelta a España has been delighting the fans since last August 14th it kicked off from Burgos. The final destination is Santiago de Compostela. From cathedral to cathedral. More than 3,400 kilometers divided into 21 stages make up the route of a cycling round in which more than 400 tons of material necessary for each test are transferred.
At the forefront of this authentic logistical challenge is Correos, which for the second consecutive year is responsible for the transport of the key infrastructure of the prestigious Spanish event. And it is that after the success of the agreement between Correos and Unipublic, the organizing company of La Vuelta, in 2020, it only remained to repeat.
00 tons of material needed at 42 locations
As the official logistics operator, Correos has made available to Unipublic a total of 28 tractor units and 20 platforms that will end up traveling more than 3,400 kilometers loaded with the key material necessary for the celebration of the race.This is how the more than 400 tons of materials are moved throughout the Spanish geography at the 42 venues (21 starts and 21 goals) of the cycling round.
It is what the eye does not see of the great Spanish cycling tour: motorhomes, fences, posters, signage, security elements, mobile infrastructures such as the podium, the press room (375m2 inflatable tent that is installed on the mountain tops) , the control of signatures, anti-doping, the kitchen truck ... Everything is part of the race infrastructure that is assembled and disassembled at each start / finish and that has the Post Office behind it. Sponsor of the team classification
But Correos' commitment to La Vuelta a España goes further. The public brand is also the main sponsor of the cycling round, once again sponsoring the team classification.
This ranking, one of the most prestigious, is established by adding the three best individual times of the riders from each team.
Thus, the best team of each stage goes up to the podium of the control of signatures daily to collect their award and wears a red number with the Correos logo, thus distinguishing their runners as members of the best formation of the peloton.Games, raffles and prizes in the Vuelta Park
The renewed alliance between Correos and Unipublic will be visible in 2021 in the Vuelta Park of each stage, where the Correos tent will be located in which an activation of Correos Market, the e-platform will be carried out. commerce of Spanish companies, with quiz games, raffles and prizes in which everyone attending La Vuelta can participate.
* This content offered by Correos has been prepared by Diario AS.
Photos from as.com