Morillas: "Malaga has many arguments to do harm"
The defender of the UD Ibiza, one of the veterans of the squad, awaits with "enthusiasm" the premiere at home, in which they want to give "a joy" to the Ibizan fans.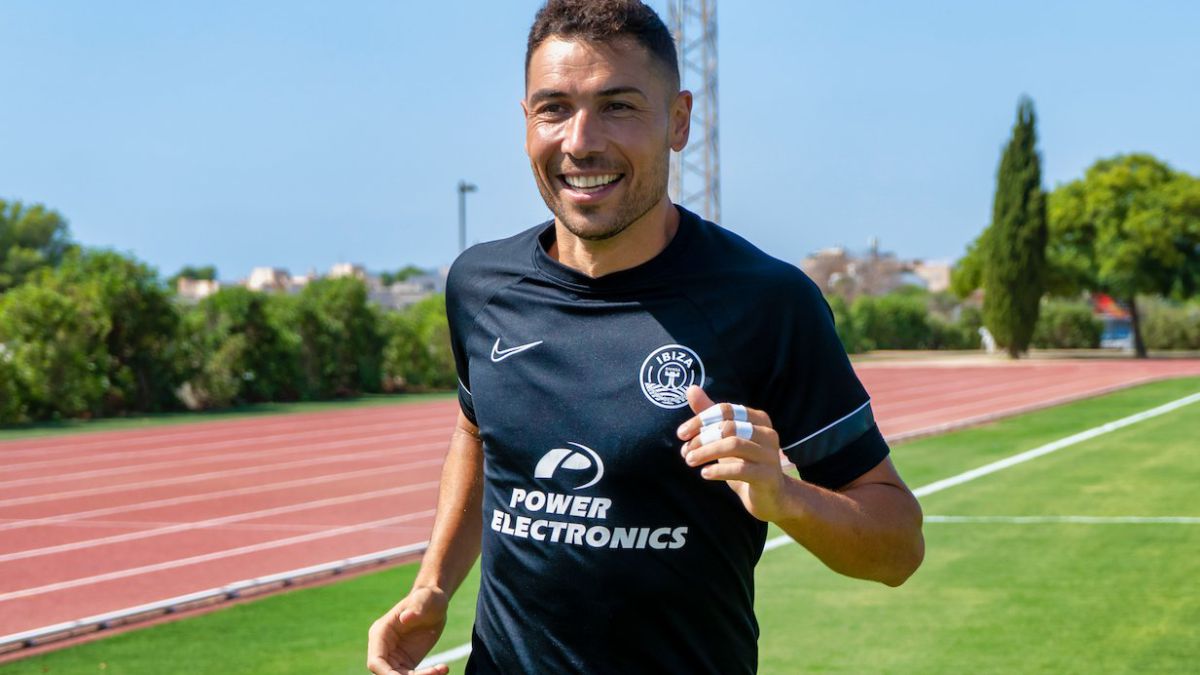 David Morillas Jiménez (Águilas, September 28, 1986) is one of the veterans of the Unión Deportiva Ibiza squad and one of the heroes of the team's promotion to Second Division. After the debut in La Romareda against Zaragoza, the Murcian is already looking forward to Sunday to face Málaga in Can Misses.
How do you see it for the game against Malaga this Sunday?
We face it with great enthusiasm and enthusiasm, especially on the issue of people, who can go back to the stadium. Little by little, as we are seeing, with the protocol that we have here in the Balearic Islands. But we really want to see each other again and be encouraged. We know that they are important in this project. In sports, a new stadium, new facilities, debuting on the island for the first time in the Second Division ... We want to bring joy to the people and try to achieve victory.
At La Romareda it was beautiful, but at Can Misses it will be more so because it is at home…
It will be much more beautiful here, with our people, our new stadium ... It has much more value.
What the team made clear the other day is that they are very serious about this season. What do you think?
Since last year we are clear that we have a good nucleus, which is very important when facing this project in Segunda. Whoever is coming, who is getting into it. It is very important to have a good dressing room, with healthy people. We have a lot of automatisms taken and a very clear joint idea. It is none other than always going for the game, not giving up, giving everything for the teammate and for the team. That will help us a lot to face this year in the category.
With regard to La Romareda, what has to change to get the victory against Malaga?
Perhaps we needed to believe it a little more. The heat also took a toll on us. There was a lot of humidity, your mouth was dry and you couldn't practically speak. It was complicated. Above, it was the first league game, you want that you don't have to pick up a bit of competition rhythm. But I think that little by little we will refine. Surely this week there will be people like Guerrero or Cristian [Herrera] and in the end there will be a proper squad. We will be a competitive team, for sure, and from there we have to continue training. We must try to make a good defensive block, as I think we have been demonstrating since last year, which was a bit of the base; and then fine-tune your aim a bit, we'll get it.
What Malaga do you expect?
A Malaga like us, who wants to go and win the game. It is a team already made in the category, which has many arguments to do damage. During the week we are looking at their type of game, the footballers they have… We have to try to counteract what they have, both in attack and defense. We are going to play our game and go after them.
How do you feel personally?
Very good. Despite being 34 years old, I am physically strong. Hopefully it will be a beautiful and exciting season. That at least the injuries respect me and I feel good. I am a person who trains every day and tries to do my best. Then, whoever plays depends on the coach, but I will always try to be one hundred percent to be there at the foot of the canyon.
What category awaits us for those of us who did not know it?
Those of us who know it already know what the Second Division is. You can't relax because any team can beat you. A game can change you at any minute. Those who have not played in the category come quite well informed and have wickers to play in it. The most important thing is to believe it. Last year we were in Second B and we were Second B players. This year we are in Second Division and we are Second Division players.
After the first day, only two of the newly promoted scored. You and the Royal Society B. What does this tell you?
It is a very competitive League. We played a good game in Zaragoza, in front of its people, with 8,000 people who pressed. In the end we gave the image of a competitive and iron team.
It's too early, but what do you think your team is for? Fight not to go down, be calm in the middle of the table or something else?
What I cannot tell you is that we are going to go up to the First Division. We are going to compete, not match by match, but training by training. At least I've seen it that way since I've been in this club. It has always been to set very close goals, and the closest this week is Malaga. In a newly promoted team like us, setting other goals would not be right and I don't think it can be the reality.

Photos from as.com