Mirotic: "Knowing Gasol, I think he would like to continue"
The Hispanic-Montenegrin confessed in 'Tu Diràs' (RAC1) that nobody knows the decision that Pau will make. In addition, Mirotic believes that this season's Barça will be better.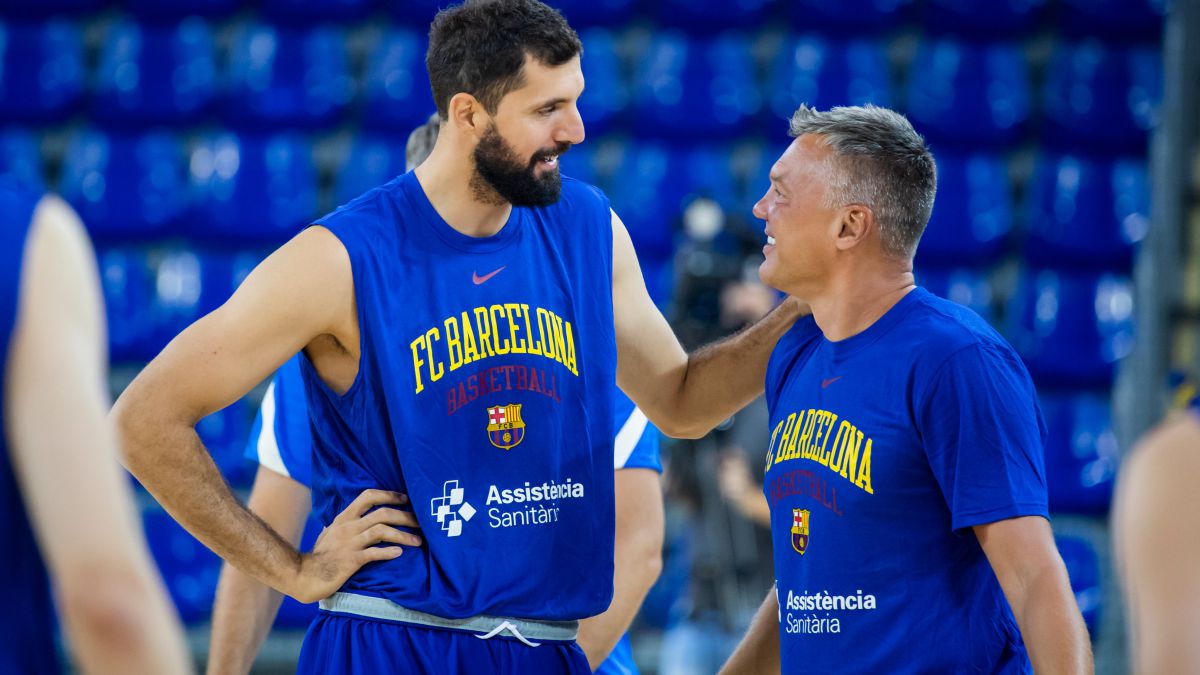 Nicola Mirotic spoke on the microphones of RAC 1, on the Tu Diràs program, about the future of Pau Gasol. The Spanish-Montenegrin, a close friend of Sant Boi's, admits that for now he does not know what he has decided, although he would like him to continue. "I have no idea, because he has left it so much in the air ... I think nobody knows. Knowing him, I think he would like to continue a little more. He loves basketball, he is a very competitive guy, he likes to win titles .. I think he would like it. The question is whether or not it is possible and I am not involved in that. Personally, I would love for him to continue playing for Barça in any other team. "
Gasol, after playing the Tokyo Games, confessed that he would make the decision taking into account his family, which was expanded almost two years ago with the birth of Elisabeth Gianna. "You can reconcile personal and professional life. It is a great sacrifice, being away from family for so long and missing important moments. I have seen Pau differently since he became a father. I have seen him happier. Life has him changed and without a doubt he wants to be closer to the family, but knowing how he plans everything to the millimeter, if he wants he can do it. The question is what he wants to do ".
Mirotic landed at Barça in the summer of 2019 with the aim of winning titles. The first two arrived last season: Copa and Liga Endesa. "Yes, last year's double has been valued. There were many expectations to win the Euroleague and it was a very personal goal for everyone, but considering that we have played the four finals and we have won two titles, especially that League final After so many years, I think it was a great season. People who know basketball have valued it very much. "
Barça had not won the League and the Cup in the same year since 2011. "The data says it all. We always want more and this year we will have to go for more." Mirotic believes that "there is Barça basketball for years." "Many players have a long-term contract. That is the goal, to keep the group. There is more stability. The average age is about 28 years with something, which is perfect."
The Hispano-Montenegrin reveals that "the dressing room is more than quiet", despite the noise that may be outside and that he is in tune with the new directive. "I had good contact with them. We sat down to get to know each other better and to appreciate how important I am to the club." Mirotic feels happy in Barcelona. "Every morning when I get up I feel excited and grateful to God for where I am, for the job I have, for the city I live in, for seeing my family happy ... Everything I wanted. I wanted stability and I have it. found here, the locker room is a big family. See my wife happy, my children going to school, speaking Spanish. The oldest is learning Catalan and is teaching me. It's all I could ask for. I said it when I arrived, I wanted stability , a more different role than I had in the US. I think I have more than I deserve as a person. "
Barça currently has 13 players in the first team. Enough to face such a long season? "You have to think about the quarry and Barça has a couple of special players who can contribute to the team. They will have to work, but they will have a chance. Saras likes the quarry, as he has already shown."
Finally, Mirotic admits that he likes "the team that has remained", although he values the work of the three players who have left the team. "Hanga and Claver have been great professionals, also Artem (Pustovyi). Perhaps they have not been players that showed much in the statistics, but what they contributed to the team was incredible: with their defense, with their character, availability for the team ... Thanks to them we got the double. I wish them good luck. With the new reinforcements, the team has changed a bit, but we will see how they adapt. If they have been signed, it will be for some reason. The team will be better. " .
Photos from as.com