Mir: "It has been a difficult day and I have laps to go"
"They bring us preheated tires and it's a bit of a lottery. In FP1, you go out and, especially in colder conditions, you notice a little more about the tires," he explains.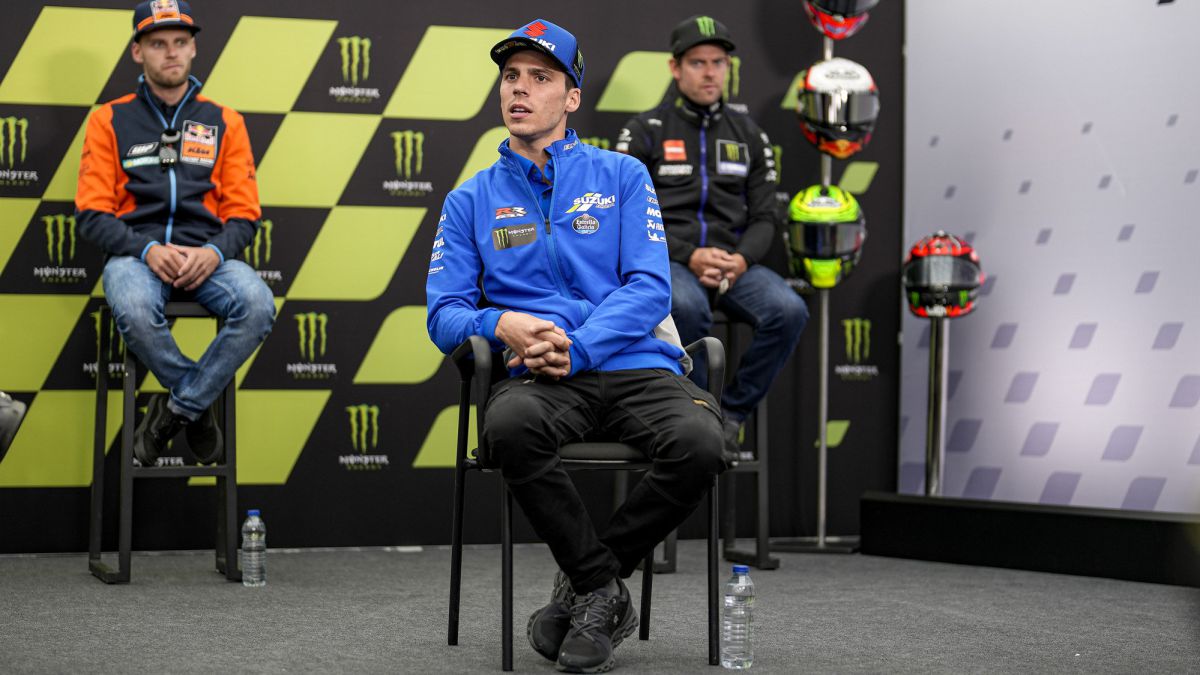 Complicated day for Joan Mir at the start of the British GP. A lack of experience in MotoGP has been compounded by a preheated tire problem that has made him lose practically all of FP1. Despite this, the champion is confident that he will go further.
-Assessment of your first time with MotoGP at Silverstone?
-It has been a very difficult day. In FP1 I had some problems with the front tire and then we took the wrong direction. I have lacked laps. There are times when the package works when you put the bike on the track and other times you have to adjust everything a little more and today everything has come together a bit. I hope to be more competitive tomorrow, because I didn't go fast. I will try to improve.
-Is Silverstone a circuit that has always cost you more?
-I don't think that's the case. I've actually shot very little here. In 2016 and 2017 I went well even though I couldn't win or make the podium. I was quick. In Moto2, with all the problems I had, it was another one of those weekends that was fatal to me, like Austria. I just need to get around here and understand more. Losing a year here with a big bike ... And I don't remember what was shot with the Moto2, because we rode very little. I don't think I'm going that way. It has just been put together a little bit.
-How have you seen the falls of Márquez and Quartararo and say if it makes your ears stiff or intimidating to see heavy weights from the grid fall like this?
- (smiles). No, it doesn't do that. One thing was Marc's fall, very fast, and another Fabio's, slower. I try to do my thing and not look at the falls much. It is a track in which it is important to have a good temperature of the tires, if you do not see drops of these. It is normal to see falls like this here.
-Are the tires working as expected? There have been quite a few falls ...
-Well, the problem I had this morning is that they bring us preheated tires here and it's a bit of a lottery. In the FP1, you go out and, especially with colder conditions, you notice a little more this of the tires. You can touch a rubber with which you do not notice anything or one that behaves a little differently. Also, as it is the FP1, you don't really know what it is either and you haven't compared it to the other. That has made us give information about the bike that was still not adequate, because the tire did not quite work well. The tires? They work well and I don't think we have many more drops than other categories that go with a different tire. You can always improve everything, but the Michelin level is high, yes, yes.
-He spoke yesterday of the importance of starting well on Friday, of taking the line from the beginning. Will you have to row against the current?
-Let's see, it all depends on the work done this afternoon. That will be the key. If we can put everything right and tomorrow, when I put the bike on the track, find myself in good shape at the moment, that will make a lot of difference. I'll try to do my best to be competitive and then see where we are.
-Says he lacks laps. Will you have enough time with the training system out there? Actually the only pure free is the FP4.
-It's difficult. It is not that I have not had time but that we have not had quality laps. In FP2 I was able to do the first laps well, then test the front tire and then the time attack, but FP1 did not count and that penalized the day. The first outing of FP3 will be crucial, to see how I feel, and from here to try to do a good time attack, but it all depends on the pace. If I have it, well, I'll be able to do a good time attack. And if I do not find the sensations, which I think I do, it will be more difficult because I will have to go to tow later.

Photos from as.com