Michel: "Sylla can leave, it would be a significant loss"
The Girona coach will have the casualties, against Las Palmas, of the injured Valery and Santi Bueno. Baena, the brand new signing, is ready to debut.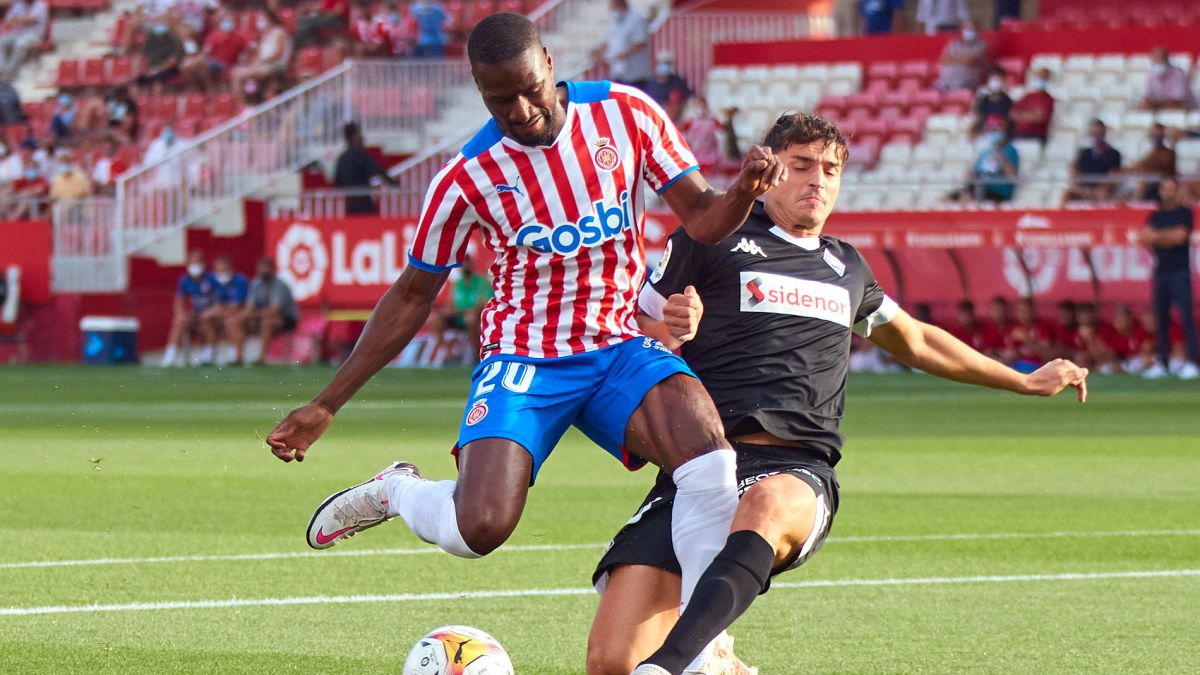 Girona host Las Palmas in Montilivi this Sunday and will seek its second success in this league. The sensations after beating Amorebieta were unbeatable and Michel wants to give it continuity. The rojiblanco coach has offered a press conference this Friday at noon and, after praising Pepe Mel and the Canarian team, he did not avoid any questions about the market. Mamadou Sylla can go to a First team, but "the leaders are not going to leave." He also expects three signings.
Team feelings: "A good week of training, adjusting things about the game model and situations of the game against Amorebieta to see the possible improvements. The intensity has been good and the group is fantastic. Valery still cannot play due to discomfort in the knee (it will be available next week), like Santi. They are two players who are low, but we have Baena high ".
Market: "We have to be open to everything, both in registrations and losses. If a player comes out in an unexpected position, we would have to make some changes to what was proposed. A right-back, a midfielder and an offensive player must come. be a band or a striker. The sports management is in it. Let's see what exits there are, it is not at all clear. Perhaps there is some surprise, although we hope that in the important structure of the team there is not. I am very calm from what I see on a day-to-day basis, the base is solid, very good and I have top-level players. The leaders are not going to go out and build from there is to have a lot of won. "
Las Palmas: "He had a great preseason. He was Pepe Mel's player and I know his teams try to play. The feelings in his first league game, against Valladolid, who aspires to everything, were very positive. Possession will be decisive and we have to Make sure that Las Palmas is not comfortable. They have a very good footing. We have to be aggressive in the pressure and we have to go forward with the ball. We need them to feel harassed. It is a team that comes with continuity on the bench and they have many automatisms I expect a very difficult game. We will have to take a step forward with the ball. "
Mamadou Sylla: "He is in that phase that he can leave, but we are delighted with him in his daily work and in the competition. The other day he played with gastroenteritis, it was seen that he was not at his best level, but because of that disease. He did not want to remove himself. He knows that he can leave, we all know it and we have to wait. It would be a significant loss, but it is in the market ".
Samu Saiz: "He is there to compete and the reality is that the players vindicate themselves and he has done so throughout the week. For a coach it is the best to have that competition, he will make his teammates better. be at your best level because if you succeed it would help us a lot ".
Álex Baena: "He arrived yesterday, he has not trained with us, but he comes with training dynamics with Villarreal and is ready to compete. He is a one-on-one player, dynamic, he is different in the different meters and he can play inside and out. outside. I want to know him and he can help us a lot. Within the three midfielders he can do it as '8', '10' and '11' ".
Win two games in a row at the start of the League: "We always talk about day-to-day more than long-term goals and things are going that way, it would reinforce us a lot to add six out of six. We talk about being a strong team that achieves results and if we win on Sunday it would be very good for morale. But this will be a very long process and we want to go day by day. We always want to win at home and it is very important that we can win against Las Palmas ".
Photos from as.com