Martín: "I knew from the beginning that I hadn't made pole"
"The closed park has been fun. As I arrived, I said: 'It's not pole, you need to check it and I'm going to the box," says Martinator.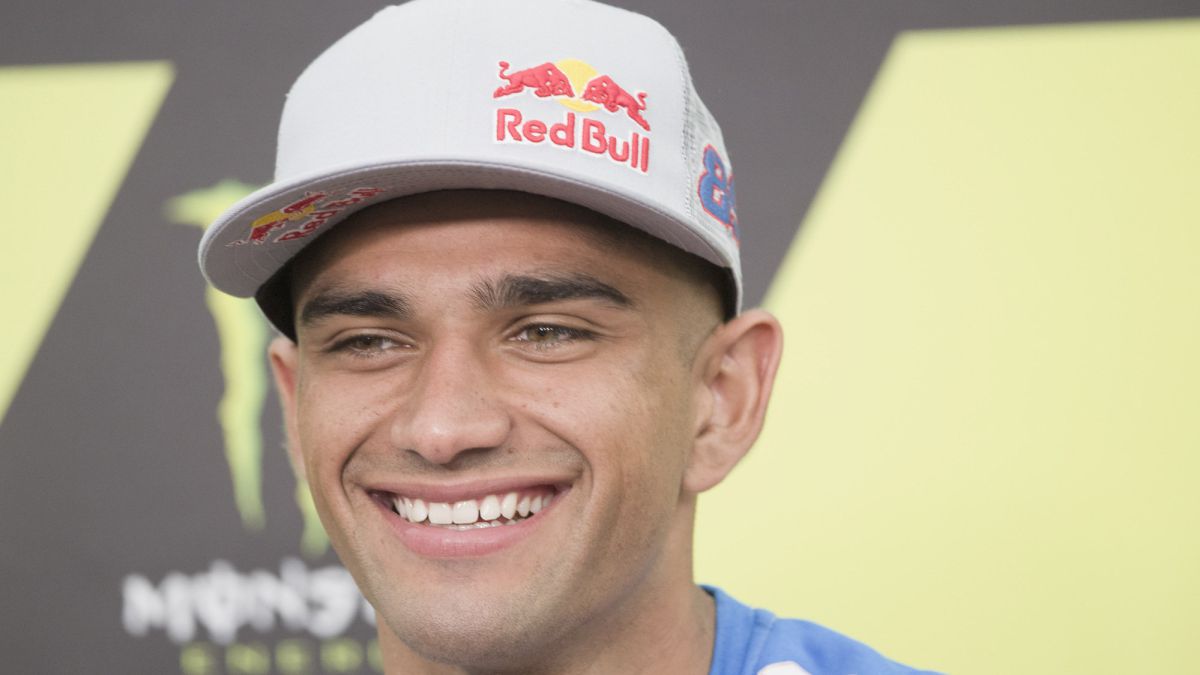 Jorge Martín was not angry with the cancellation of his lap at the end of Q2 of the British GP. The man from Madrid was the first to know that he had saved.
-Count about the shortcut on the last lap.
-I wanted to find a good place, because I saw that Márquez was in front and I thought that was the perfect place for the last lap. I knew from the start that I hadn't been on pole, but fourth position is good, the pace is good too and I think we can fight for the podium tomorrow.
-What have they told you in the closed park?
-The closed park has been fun. As I arrived, I said: 'It's not pole, you need to check it and I'm going to the box'. But then I had to go back because I was the first satellite pilot. Then with Fabio and Pecco we have laughed, because it could not be that it did that time. Anyway I finished close to one tenth of them and we are strong.
-What was the team's reaction?
-With the team there has been laughter. In the end I'm fourth, it's a good position, but they were a bit impressed. I think it was logical, to come a second behind in a sector in which it was not being competitive this weekend, it was unreal. They have had the doubt, but I had it very clear and I have not celebrated or anything, because I knew that something was wrong. What I did not know was how it came out, but fourth is very good. I am happy and eager.
-Rivals for the race?
-I see Fabio very strong. It is difficult to know, because in FP4 everyone had a new tire. Of all the riders in front of me, you do a lap with a new wheel, but you have to see at the end of the race. It is clear that one lap I am competitive and with a used wheel I don't feel bad either, but I am not there for the victory. I think Fabio is ahead and then Pecco, Aleix, Márquez, Miller ... All of us will be there to fight for the podium or the top 5.
-What about Pol?
-Let's see, he has pole, but looking at the pace I think he will suffer in the last laps. But starting on pole, with the motivation that that gives you, surely I have a plus. But I don't know, we will have to wait for tomorrow, I think that in the last laps he will suffer a little.
-Miller used the hard butt ...
-Looking a bit at FP4, Miller on the fifth lap with the hard one rode like I did on lap 22 with the medium. So, it is clear that the hard one is not the rubber, although Jack also spends a lot because he usually uses the rear brake a lot and does a lot of spin. I think that at the end of the race, with the little grip that there is, the tires drop a lot. With so many doubts about the tire, many people have gone to test it in FP4 and not to work at the end of the race. I am clear that I will wear the stocking behind. It is more doubtful with the front tire, but I have mostly worked with a used tire for that reason.
-Márquez said that if he was also fast on other circuits, such as this one or Aragon, as in Austria, he would be a candidate for the title next year.
-I think I'm making good progress. Today he has been looking for me a wheel since the beginning of training, which I think is a good sign. But you have to ask him how he saw me today. When I gave him a wheel then he made a gesture with his hand to say thank you. I feel fine, I don't need a wheel, I just wanted that wheel to try to fight for pole, but going alone I am capable of doing great times. After Austria we were all wondering what would happen here, because it is a track that has nothing to do with it, where there is a lot of cornering, where there is no braking at an angle and even so I am always in the top 4-5. For me it is very positive to be competitive, more than to make another pole. But it is clear that I am a rookie and that we must also vindicate ourselves in Aragón or Misano. But I'm going track to track, race to race, and for the moment everything is going well.
Photos from as.com