Márquez: "My fault, because I was too optimistic"
"When I wanted to cut gas, I came too fast and I could not do anything. I apologize to Martín. I feel very bad about ruining the career of a driver and a team," he says.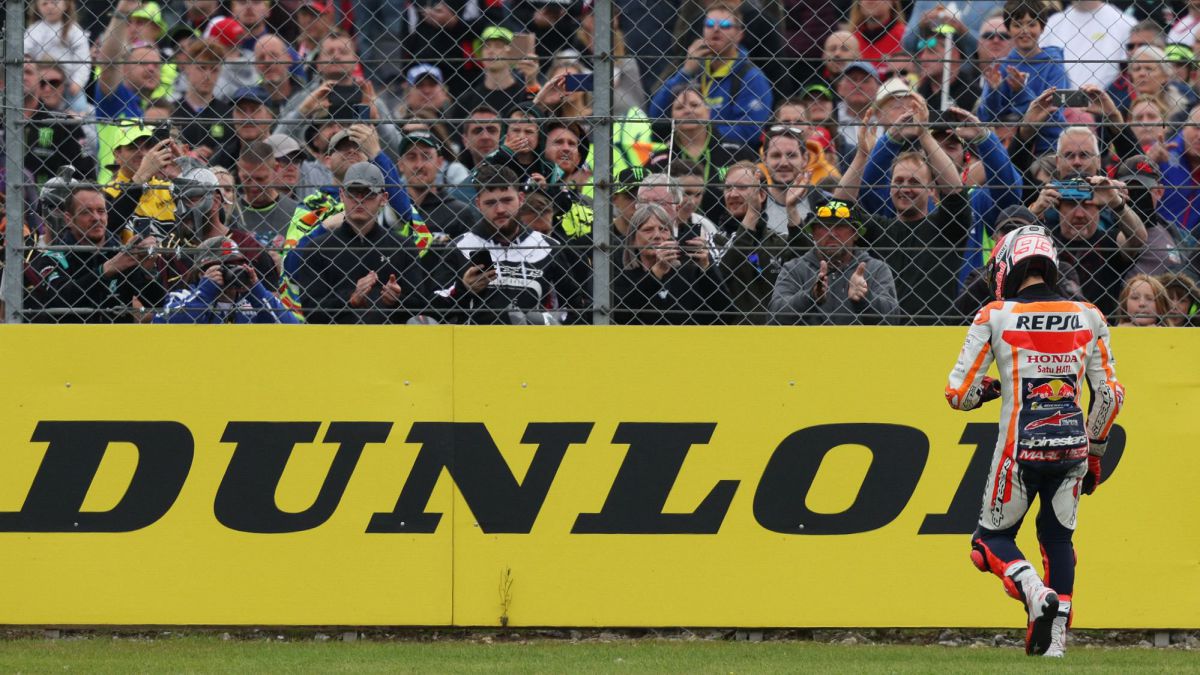 No discussion possible. Marc Márquez has assumed as his own the error that has brought him to the ground and that has made him throw Jorge Martín in the MotoGP British GP.
-He has made it clear in his English version that he assumes the error in the fall with Martín. Tell what happened and say if you plan to apologize to him personally.
-It is the first thing I have done when the MotoGP race has finished. I went to apologize to the team at his box and he was not there, so I went to look for him at the hospitality, where he was eating. I've sat with him for a while. I have apologized and told you that it was completely my mistake. It tastes bad to me, because both he and I had the rhythm to fight for the podium, but today it was like that. I have been too optimistic in overtaking. It was the first round and it was not necessary. It is true that he and Quartararo came a little outside the line and that made me overconfident that I could overtake him on the inside, without thinking that he was not in the correct gear, that he was not well positioned and that we were not even him nor me on the good line. When I wanted to cut gas, it was coming too fast and I couldn't do anything. Apologize. I feel very bad about ruining the race and the weekend of a driver and a team. Luckily this has happened to me very few times in my sports career on a Sunday. To turn the page. It's tough psychologically. If you fall alone, well look, but if you fall with another it tastes worse.
-What did Martín tell you? How did your apology fit in?
-He has accepted them. If I had gone there saying 'what are you doing!' But I went with my head down. It had been my fault. Logically, you have accepted my apologies. There had been a touch two turns before, at seven. We were in the first lap and we were not on the good line or with good speed. This sometimes happens and here it has happened. The mistake was made by me and I have to accept it and apologize.
-It is not very common to see someone with his background and his record being so clear. This is not the first time he has done it. Do you think that makes you stronger, because you accept it, eat it, and get rid of it?
-At all times, one of the things that has helped me the most, although sometimes it is psychologically harder, is to see reality at all times. The reality of the moment that we live this year, the reality of what we lived today and knowing and thinking about what my intention was in that curve. My intention was to overtake him. I have imagined a situation that has not happened and I have been too optimistic. I thought that Martín would go much longer and I have not been able to see that he was slower, that he did not come with the correct gear. He was also badly positioned with the touch of turn seven. Everything has come together. When I make the mistake, I have to eat it, lower my head, fit all the clubs that fall to me and in Aragon it will be another weekend.

Photos from as.com