Márquez: "Jerez's crash was worse than Silverstone's"
"The eye is better. It's a stupid thing, but it bothers a lot and it was actually my fault when I rubbed my eye," says Marc.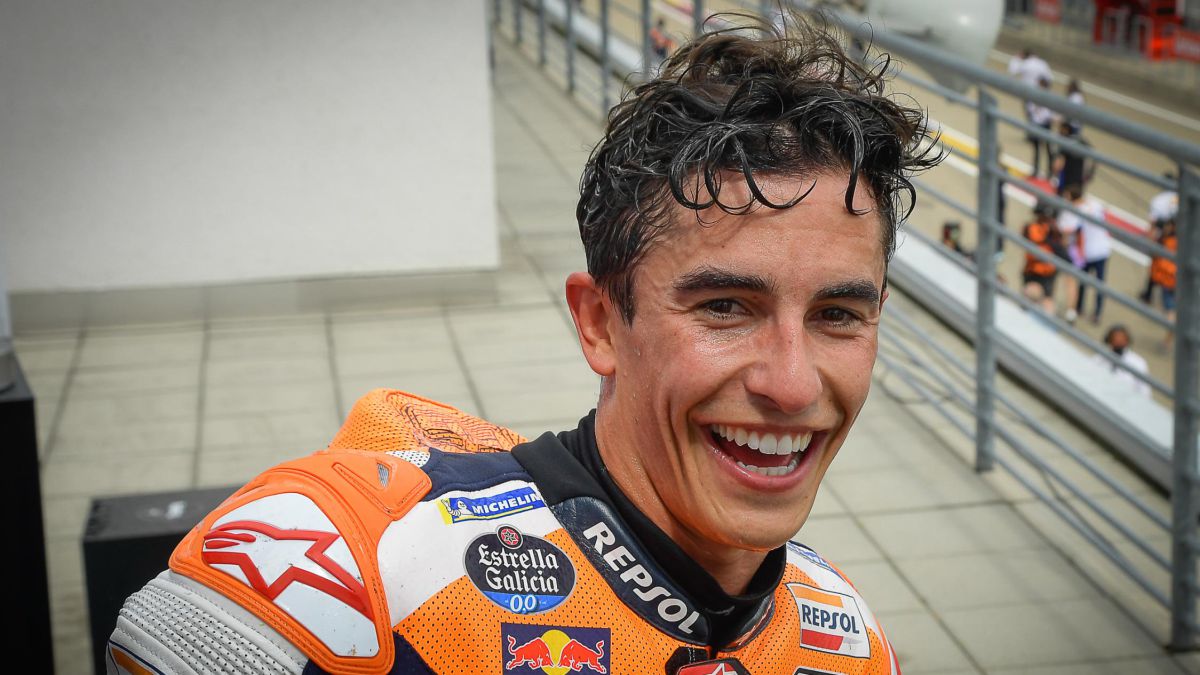 Marc Márquez is fine. His wound in the eye after yesterday's dragging today has not given him a fight for Q2 of the British GP, in which he has qualified fourth.
-How is that right eye that got grit on Friday with the fall?
-The eye is better. It's a stupid thing, but very annoying and it was actually my fault rubbing my eye.
-Do these results mean that you are back?
-I already said from the beginning that it is being difficult, you have to get it right and, above all, you always have to understand that I cannot drive naturally, if not, I make many mistakes and that is why I have to go much finer, more precise . That takes away that extra that we need, but little by little we are getting closer and closer, more and more constant in different circuits and that is the important thing. What I want is that progression and what I don't want is what happened in the first part of the season: on a very fast circuit, on a very slow one. I want to start being stable and I'd rather be stable by being in the top five by the end of the year than not winning one and suffering in three, so for now we are getting there.
-Isn't it a nuisance to have the eye like this?
-It does not bother, I feel heavy, as with a little conjunctivitis, but it does not bother me much. Cries more than usual, but no more. Yesterday it was very bad. I am sorry that I could not attend the media, but I was very bad and would not stop crying and bothering. Today has not been a problem and tomorrow it should be much better.
-What does Pol pole mean?
-Pol has always been a very fast one-lap rider since joining Honda; One lap has always taken a lot of time and, in fact, this weekend from the beginning we have both been at the top and that means that here we have a good opportunity to make a good result. It is normal. He has celebrated it a lot, because logically it is costing him much more than he expected surely, and that is good. I already said it, with this motorcycle it is not that it goes very bad, it is a motorcycle that I have had in recent years, which is critical and difficult and now I can not get all the juice, but when you get all the juice , it is a competitive motorcycle. What happens is that it is difficult and we have to work to make a more competitive motorcycle in easier conditions in the future.
-How was the fall yesterday and in what position does it place you in the ranking of your hard falls?
-I no longer know in what position to place it because I have a few hard ones, but yes ... (He smiles). The crash was strange because I was coming out of the pits and there was temperature in the tires, but I don't know, maybe I opened a little too much. It was a weird crash, because I was also slower than on the fast lap, but hey, it happened and the good thing is that I didn't do anything. I was able to protect myself well and I didn't do anything to myself but I did get scared, of course. Within the ranking I don't know, but this year Jerez was worse than this one. The curve seven was worse than this one, so in the 2021 ranking I would put it second and, in the total ranking, the Mugello one was worse. That I would put it first. There are several, but I prefer not to remember the falls and leave it here at Silverstone.
-How do you approach the career approach?
-It all depends on the pace of the race, if the pace is fast it is more stressful for the tires and for the physique and this would make us rush to the end. If the pace is slower, there will be more ability to manage, but it will be interesting, because I think Quartararo is the one with the most pace, he is the one who goes the fastest. Then I would put Bagnaia and then there would be a series of riders like Pol, Martín, Miller or Zarco and I include myself in that group in which we have a similar rhythm. In the end, it will be time to wake up in the last laps and it will depend a lot on who leads the race there will be one pace or another and one strategy or another.

Photos from as.com