Luis Carrión: "We have a better team, but we have to prove it"
The Albinegro coach understands that after the renewals of Castro, Gallar and De Blasis and the signings made, something more than permanence is required.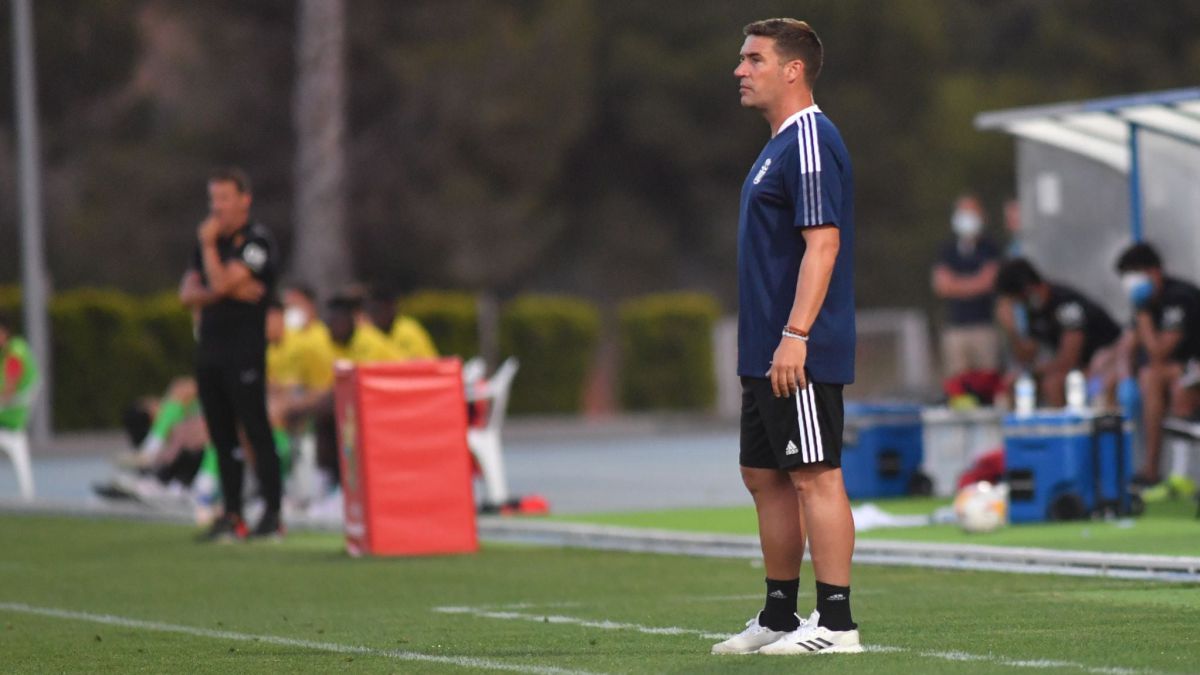 In the week of the start of the competition, Diario As talks with Luis Carrión about the changes in the squad, the new season that starts against UD Almería and the objectives that the Catalan coach sets himself in 'his' first project with FC Cartagena , which he arrived in the middle of last season and with whom he achieved salvation after an outstanding end of the course.
First of all, belated congratulations on your renewal. The agreement was reached very quickly ...
Thank you very much. The truth is that you don't negotiate too much. The club wanted my continuity for this course and my idea was the same. It was easy to understand each other.
Were you so clear before the match against CD Castellón?
Now everything looks different, but I trusted in the team and in salvation. We had just lost in Fuenlabrada and the situation was not the best. But I knew we were going to get it and we did.
When you achieved permanence and there was talk about your renewal, you said that in order to stay you wanted "a winning project". What did you mean?
Last December, within the club's budget, an attempt was made to improve. Now we have also done it and we have better players, a better team. It is difficult to achieve it because in Segunda there are clubs with a lot of economic potential and it is not easy to compete with them. I was referring to taking a step forward in the campus within our possibilities.
And do you have that winning project?
A priori yes, now we have to prove it in the field. I am happy with the staff I have to face the new course.
Do you understand that the renovations of Castro, Gallar and De Blasis and the signings of Tejera, Alcalá, Boateng and Bodiger, among others, are asking for something more than salvation?
I understand, perfectly. But you have to think about overcoming last year and that will not happen just because. We have to work harder than the previous year to achieve it and I have told the players that. Then there is also luck, which will be important to accompany us.
Carrión has never cut himself, he has always said what he thought for better or for worse ... Would you now say the objective for which FC Cartagena must fight?
I want to fight to beat UD Almería, then SD Huesca and Real Zaragoza. I don't want to think further, to be in the top ten, for example. This FC Cartagena can beat anyone and our first objective is UD Almería. If we think in the long term, about how we will be on a certain date, it will be a mistake. There will be good and bad times. We will go game by game.
When Castro and Gallar spoke about the reasons for their return to FC Cartagena, they highlighted that they spoke with the coach. What did he say to them?
I don't think they decided on a talk I had in one day, yes more on what they saw during the season. I renewed because I believed they could do it, they wanted to be here. We talked about how we could improve, they are footballers of a high level in the Second Division and they want to fight for beautiful things. I gave them my opinion, how I saw it, as did the club. And they were attracted to the project.
With a week to go before the start of the League, what could the team lack in terms of signings? 444 444
We are looking at a center-back, as long as what we have improves, and a goalkeeper. In addition, we are still attentive to the market in case we find something that gives us a leap in quality. But I don't want a large squad, I want to count on the young people who come from the subsidiary and have had a good performance: Neskes, Teddy, Farru, Sergio… 444 444
Do you trust the incorporation of another signing before the duel with UD Almería?
This is very slow at times and very fast at others. But I'm not worried, with the team we have right now we can get a good eleven for the debut.
Was the loss of Navas broken the planning or was it something that was contemplated?
I didn't think it could happen. I talked to him, he explained it to me and I understood. I didn't waste much more time. It is a personal decision and must be respected. We had to look forward and that's what we did.
One of the reasons why Carrasquilla wanted to leave was because he considered that he did not have his trust. Do you see it like this?
I fully understand that 'Coco' would like to leave. I could have kept him, be selfish and keep him here, but he's a footballer with potential and he has to play, that's what I told him. I did not put problems in that sense, as with Navas. Nor would I do it if another player comes tomorrow and says so. We want footballers who have the full conviction of being here.
Weren't the signings of Tejera, Boateng and Bodiger a message for Carrasquilla? Or was one made knowing it was going to come out?We were not aware that he was going to leave, really. He would see that he would have fewer options to play and asked for his exit. And we understand that it cannot be without continuity. It is a respectable decision for all parties: club, coaching staff, player, representative ...
With respect to 20/21, how has FC Cartagena improved?
Regarding experience in the Second Division, but it must be revealed. We are happy because we have taken a step forward and the players think the same. I have seen Tejera, with a long career in the Second Division, working hungrier than young people and that has been a long time ago.
Would you have liked the continuity of any of those who left (Datkovic, Elady, Aburjania)?
We have tried to keep some of them going, but they had a good season and received cheap offers with which it was difficult to compete. On the one hand, I'm happy for them, but on the other, it's a bummer for us.
What player can be the surprise of FC Cartagena in the 21/22?
I hope anyone. It does not have to be a young man, who knows if we do not see the best year of Rubén Castro, Alcalá, Andújar, Gallar ... Hopefully everyone improves.
UD Almería, SD Huesca and Real Zaragoza. A difficult start to the course.
Yes, they are good teams, but we are trained to defeat them. First we are going to try it with UD Almería. It would be good for everyone to start with a victory.
In the first games, with the market not closing, there is uncertainty in many squads about the players who will continue or leave. UD Almería is one of them. Can you take advantage of it?The truth is that it is not the best to start a season, the ideal would be to start the competition with the transfer market closed. In Almería there is talk that many players will come out. They have doubts with Sadiq and Lazo, both of great level. They will get a good eleven anyway because they have an excellent squad.
Go to Gallar at 100% for the premiere?
He is working very well and in the friendly against Real Murcia he could have minutes. We will see how it arrives on Monday.
When will De Blasis be here?
The idea is that in five or six days you start working on the rest. It will go little by little.
Photos from as.com